If you find yourself confused about who to believe when it comes to the state of the U.S. economy, then the following podcast with Peter Schiff should help make the decision a little easier. On one hand, there are some economists saying the sky is falling, and the U.S. Dollar is inevitably going to collapse, but on the other hand, U.S. markets are at all time highs, so how is a layman to make sense of any of it?
The following podcast was recorded a day or so before the Fed announced what was arguably its biggest decision ever this past Wednesday, regarding whether or not to raise interest rates for only the second time in years, as they've been hinting they might do for some time now… or "bluffing about" as Peter has been accusing Yellen of since last December. He claims, and many agree, the constant bluff that rates could go up give the illusion to those who don't know better that the economy is getting better. The truth, is that the economy is getting FAR worse, as Peter covers in many of the links at the bottom, and Yellen is bluffing with the intent to artificially manipulate the market from dropping.
Peter explains that no matter what decision the Fed ultimately came to this past Wednesday, they were damned if they raised rates, and damned if they didn't. He argues that the meeting was more likely about discussing the corner the Fed has painted itself into with Yellen's lies, and by the fact that so far, the Fed's decisions have been 100% political, rather than based on economic data.
Janet Yellen claims that the decisions made by the Fed are "data dependent," however the one and only time the Fed has raised rates, they did so at a time when the data was significantly worse than just a month or so prior when the same idea was considered "crazy." The driving force behind contradicting all the data, and raising rates anyway back in December: Perpetuating the Obama recovery narrative for election purposes, even though there is nothing that even remotely resembles a recovery taking place once you remove all the smoke and mirrors.
What was the result of the one interest rate rate hike that took place contradicting all the data available at the time? All the U.S. markets plummeted, and 2016 was the worst start to a year in stock market history. That is why so many people knew, Peter included, that no matter what Yellen "said." about potential rate hikes this month, it was pure bull. Rates were not going anywhere. There was NO WAY this close to the election, the highly partisan Fed Chair, and Team Obama player would risk the markets tanking again.
In short, the Fed "bluffed" again this week and punted for a future date. By not raising rates, which was the final decision, the Fed cried wolf once again when it said it would leave interest rates unchanged, however it stressed that the case for a hike in rates has "strengthened." What-E-ver! Conversely, if the Fed had felt pressure to call their own bluff, they would have done so based on anything but a decision that was "data dependent," hence the dilemma they're in.
If nothing else, take away from the awesome analysis Peter gives (in advance remember), that you are being lied to. The Democrats care more about perpetuating their lie about a so-called "recovery" just long enough to get Hillary in office, because the facade won't last much longer than that… if it lasts that long. Far be it from the Democrats to care about the millions who will be wiped out in the near future. based on the fact they're being lied to. "The ends justify the means" with liberals. Remember that.
If you still have your 401(k) statements from 2008… perhaps you should bring them with you into the voting booth come November as a reminder… because this next crash is going to make that one look like a walk in the park. Be sure to check out some of the links below for much more information.
SUBSCRIBE TO THE TOP STORIES OF THE WEEK IN THE NEWSLETTER HERE
FOR MORE NEWS BY VOICE OF REASON CLICK HERE!
The Fed held its key interest rate steady Wednesday at 0.4% It said the case for a hike "has strengthened." Most officials expect an increase later in 2016 Fed policymakers last raised the rate in December Before that, it had been 9 years since the last rate hike WIBBITZ
Stocks rallied Wednesday as the Nasdaq closed at a new record high after the Federal Reserve opted to leave interest rates unchanged but stressed that the case for a hike in rates has "strengthened."
The Dow Jones industrial average rose 163.74 points, or 0.9%, to 18,293.70 after being up just 28 points before the Fed statement. The Standard & Poor's 500 stock index jumped 23.36 points, or 1.1%, to 2163.12. The tech-heavy Nasdaq composite added 53.83 points, or 1%, to an all-time closing high of 5295.18.
In its statement, the Fed said the "case for an increase in (short-term) rates has strengthened" but that the Fed "decided, for the time being, to wait for further evidence of continued progress toward its objectives" of full employment and inflation moving back up to its 2% target.
Market watchers interpreted that Fed statement, which had three members dissenting and favoring a hike, as a signal that the odds of a rate hike in December are rising.
Says Luke Bartholomew, investment manager at Aberdeen Asset Management: "It was pretty much a done deal that we weren't going to get a rate hike today. This meeting has really been about setting the stage for a December hike and what happens after that. The fact that three voters dissented is interesting, and it is pretty clear that the Fed plan on hiking in December this year as things stand."
BE SURE TO CHECK THELASTGREATSTAND.COM FOR SURVIVAL GEAR!

FREE DETAILED GUIDE TO SURVIVING ECONOMIC COLLAPSE OR MARTIAL LAW HERE
In addition to holding rates steady, the Fed also downgraded its view of where short-term rates would be at year's end, as well as the end of 2017 and 2018. In general, the Fed now sees short-term rates half of a percentage point lower in 2017 and 2018 than it did back in June, when it made its last projections. The Fed kept its growth outlook for the U.S. economy unchanged at 2% for 2017 and 2018 but did lower its forecast for 2016 to 1.8% from 2%.
Lowering the trajectory of the future path for interest rates sent prices of U.S. government bonds higher, and yields lower. The 10-year Treasury note yield dipped to 1.661% following the Fed news, down from 1.694% prior to the announcement.
The U.S. dollar also sold off vs. foreign currencies, with the Wall Street Journal dollar index dipping sharply on the news.
The odds of hike in December rose to nearly 60% following the Fed statement, up a tad from before the Fed news, according to CME Group.
Earlier in the day, Wall Street was digesting a new approach to boosting inflation announced earlier by the Bank of Japan.
Jeremy Zirin, chief equity strategist at UBS Wealth Management Americas, says the Fed was expected to hold off on a rate hike today. The Fed has time to wait given that inflation at the consumer level remains below the central bank's 2% target and recent economic data related to both manufacturing and services part of the economy came in weaker-than-expected.
"A December rate hike is more likely," Zirin told USA TODAY. "The Fed doesn't want to be disruptive to the market, and it would clearly be a surprise to the market" if the Fed does hike today.
Earlier Wednesday in Japan, the Bank of Japan opted not to push a key interest rate further into negative territory, nor did it boost its 80 trillion yen a year asset-purchase program. Instead, the BoJ surprised investors by announcing a "new framework" to combat persistent deflation.
The BoJ introduced a 0% target for its 10-year government bond and also said it will continue to stimulate the economy after inflation has overshot its 2% mandate. Japan's 10-year bond has been trading in negative territory – or below 0% for awhile now. Earlier today the Japanese 10-year yield creeped up to +0.011%, before dipping back to -0.022%.
Stocks in Japan jumped on the BoJ news, with the Nikkei 225 index closing nearly 2% higher. Stocks were also higher in Europe, where the Stoxx Europe 600 index was up 0.4%, but off its highs earlier in the session.
Target (TGT) stock got a boost Wednesday after the retailer announced a $5 billion share buy back program.
The new round of stock repurchases will kick off after a separate $10 billion buy back ends before the end of this fiscal year. The news lifting Target's stock price 1.2% to $69.47 a share.
BE SURE TO CHECK THELASTGREATSTAND.COM FOR SURVIVAL GEAR!

FREE DETAILED GUIDE TO SURVIVING ECONOMIC COLLAPSE OR MARTIAL LAW HERE
IF YOU READ NOTHING ELSE, THE FOLLOWING POSTS ARE ESSENTIAL:
Dr. Jim Willie: We Are on the Brink of World War; Americans Totally Clueless (Audio) – Pt. 1
Dr. Jim Willie: We Are on the Brink of World War; Americans Totally Clueless (Audio) – Pt. 2
Dr. Jim Willie Reveals 2nd Death Threat From U.S. Government (Video)
Bill Holter: Newly Solidified Chinese Superpower Will Replace Dead U.S. Dollar (Interview)
Peter Schiff: Don't Believe the Hype! The Real Economic Fallout From Brexit (Video)
Dr. Jim Willie: China Isolating the U.S. (and U.S. Dollar) From Trade (Video)
How Will the U.S. Conduct Trade With Worthless U.S. Dollars and No Gold? (Video)
Why Did Illuminated George Soros Liquidate 37% of His Stock to Buy Gold? (Video)
What Exactly Does Global Economic Collapse Coming May 2016 Mean?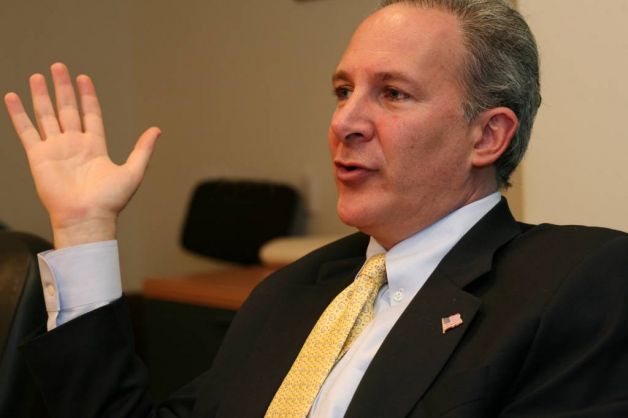 FOR MORE GREAT MATERIAL FROM PETER SCHIFF:
Peter Schiff: Fed's Trial Balloons Exploding in Flames Like the Hindenburg (Video)
Peter Schiff: America Is so Broke We Cannot Even Afford Peace (Video)
Peter Schiff: Expect An Economic Crisis Infinitely Worse Than 2008 (Videos)
Peter Schiff Calls Federal Reserve's Bluff, Scott Nations Folds As Usual (Video)
Peter Schiff: Don't Believe the Hype! The Real Economic Fallout From Brexit (Video)
Peter Schiff and Jim Rogers on the U.S. Economy: Be Afraid… Be Very Afraid (Videos)
Peter Schiff: Are People Going to Wake Up? The Economy Is Out of Road! (Video)
Peter Schiff: "Trump's Very Massive Recession May Have Already Begun"
Peter Schiff: Americans Fear Future With 'Dead-End Economy, Crap Jobs, and Awful Wages'
Peter Schiff: "Can Donald Trump Really Make America Great Again?"
Peter Schiff: Dollar Collapse Will Be the Single Biggest Event In Human History
Peter Schiff: Obama "Peddling Fiction" As Unemployed Tops 100 Million People
Peter Schiff: Here Comes the Great, Great, Great, Great Recession!
Peter Schiff: "Whatever Obama Was Calling Recovery… is OVER!"
CNBC Actually Admits Peter Schiff Was Right… Again (Video)
Peter Schiff and Reagan Advisor: Complete Economic Collapse Immediately Ahead
Peter Schiff: Warning! Economic Storm Clouds Ready to Rain
Peter Schiff: Death of the US Dollar Is Imminent; Fed Out of Options
SUBSCRIBE TO THE TOP STORIES OF THE WEEK IN THE NEWSLETTER HERE
FACEBOOK | GOOGLE+ | TWITTER | PINTEREST | STUMBLE UPON | TUMBLR
FREE GUIDE TO ECONOMIC COLLAPSE OR MARTIAL LAW…
AT THE OFFICIAL BLOG SITE BELOW!
FACEBOOK | GOOGLE+ | TWITTER | PINTEREST | STUMBLE UPON | TUMBLER