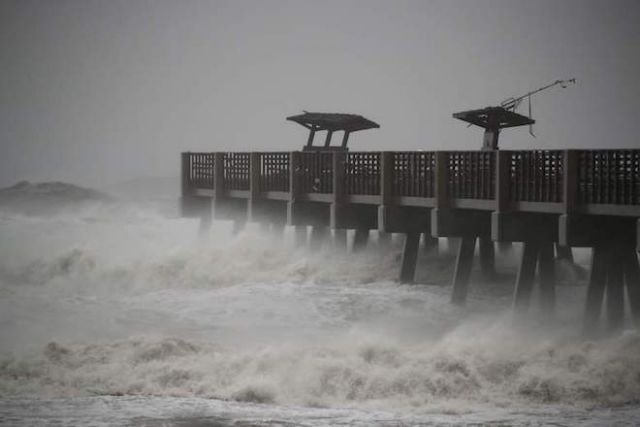 As someone who just went through Hurricane Matthew in Jacksonville, Florida, this post is intended for anyone who thinks there isn't a need for them to begin making preparations for some type of catastrophic emergency that could strike in the near future, whether it's man/government made, or an act of nature.
As you'll see In the video below, during the height of the hurricane I recorded just two short pieces of film on new my iPhone 7, the new phone that is alleged to have good recording in the dark, to demonstrate not just what "could" happen at any given time, but what DID happen to me just within the last 48 hours.
If you doubt the authenticity of the video, think I've got my hand over the lens, or think I'm kidding, I encourage you to take the video to any video expert you choose. Not one will be able to question the video's validity.
UPDATE: Be Ready For Any Emergency – Crucial Guide For Any Family
SUBSCRIBE TO THE TOP STORIES OF THE WEEK IN THE NEWSLETTER HERE
FOR MORE NEWS BY VOICE OF REASON CLICK HERE!
NOTE: According to the reports I was getting over my hand-cranked radio, there were no emergency crews operating at the time this video was taken, because wind gusts were between 50-80mph, and I was at least 20 miles from the beach.
If anyone at the beach had a similar experience to mine, with even worse conditions, and with no backup lights, I can only imagine how scary that must have been with gusts 20+ mph stronger than where I was. Conditions were FAR worse at the beach. If there had been any group of armed ill-intentioned hoodlums on patrol, and looking for victims to rob, or to do God knows what to, there was a ripe opportunity for them to do so. Guess what:
BLACK LIVES MATTER HAS MADE AN ANNOUNCEMENT:
"WE'RE RAIDING AND LOOTING ALL CITIES HIT BY HURRICANE…"
WHAT ARE YOUR PLANS WHEN EMERGENCY SERVICES ARE SHUT DOWN?
WHAT ARE YOUR PLANS WITHOUT THAT POLICE LINE?
How would you feel if you had conditions like mine last night, and Black Lives Matter showed up at your door? Are you prepared? Do you have a support network in place? What steps have you taken? Do you think they won't be armed too?
At the time the recordings were taken, I was not at the beach where my family lives, or where conditions were infinitely worse. Rather, I was significantly west of the beach, and staying in what is normally a high-end, and very safe place. Said another way, it would be the type of place that groups with bad intentions would go first. Still, all the money in the world didn't stop the emergency backup lighting from going out!
As you'll see in the video, I could not see my hand in front of your face. Someone less prepared would have been helpless. Thankfully, considering I practice what I preach about being prepared, at no point did I feel like I was personally in any danger, regardless of how scary the video above may seem.
I had two months of food, water, a water purifier, about 2,000 rounds of ammo for two different hand guns, a hand crank radio that was giving me live coverage, and could have held out for a prolonged period if necessary, because I'd taken other steps as well. As it turns out, almost 500,000 people lost power, but at least half of them allegedly now have power restored already.
UPDATE: When Obama Suspends 2016 Election, a Guide to Survive Martial Law (Videos)
Now, consider what would happen if an EMP attack struck the United States… something both the United States government and peppers actually agree is something people should be fearful of. The nation would lose power alright, and not just for 24-72 hours… but for months, if not years. Below I'll include a few posts I've done on EMP attacks, but the danger hardly stops there.
EMP Attack Will Kill 90% of US Population In One Year; Politicians Totally Safe
'NO HELP COMING': STATE PREPS CITIZENS FOR EMP ATTACK
In a recent post titled, FEMA plans along with 1,500 pages of new documents exposed reveal our government's Martial Law agenda, I reveal links that can be downloaded to over 1,500 pages of documents that detail our government's plans for Martial Law, and that 1,500 pages barely scratches the surface.
What would YOU do if YOU were in a situation like I was last night, with a family, and only had enough food or water to last 2-3 days, and the disaster went on for weeks? Worse, what if the Black Lives Matter crew came calling? Do you have a plan?
Not long ago, on May 31st, 2016, from the FEMA National Response Coordination Center in Washington, Obama said the following the following, which is an excerpt from Obama's speech that comes directly from the official White House website…
"One of the things that we have learned over the course of the last seven and a half years is that government plays a vital role, but it is every citizen's responsibility to be prepared for a disaster. And that means taking proactive steps, like having an evacuation plan, having a fully stocked disaster supply kit. If your local authorities ask you to evacuate, you have to do it. DO NOT WAIT!"
Since Obama's warning, Germany and the Czech Republic have since started telling their citizens to begin preparing for the possibility of what Germany calls an "existence threatening" event. In addition, the French Army has begun preparing for civil war to purge the "undesirables" from their country (aka the Muslim migrants), and we already know Russia has been conducting ongoing training for an incoming nuclear attack on its civilian population.
1. What do they know that you don't know?
2. Have you begun your preparations, because obviously something is going down… but what?
Michael Snyder of the Economic Collapse Blog said if best not long ago when he said, "War is coming, but unfortunately most Americans are completely oblivious to what is about to happen." Regardless which one of the many fuses just waiting to go off ultimately lays the groundwork for World War III, it will be a global economic collapse that ultimately thrusts the world full force into that last war that mankind doesn't fight with sticks and stones.
Don't take my word for it, take the warnings of the major European leaders who are warning their people. Those leaders aren't worried about TV ratings, or worried about covering for the Democrats like the mainstream media here is.
UPDATE: United Nations Troops on U.S. Soil Prepared to Assist With Martial Law? (Videos)
YOU ARE BEING LIED TO!
THESE ARE YOUR TWO WORST CULPRITS!
I promise you, when it's as dark as my video above, and you hear over the radio that rescue teams are NOT coming, not until morning at the earliest, you're not worried about what Donald Trump tweeted at 3am, or what he said about Rosie O'Donnell. You're worried about SAFETY.
Here in the United States, any number of ticking time bombs could ultimately send the country into a death spiral, and we see the imposition of Martial Law. Several potential catalysts include a west coast earthquake, a New Madrid earthquake, a tsunami on either the east or west coasts, a meteor impact, Islamic terror, war, an EMP burst that takes down the power grid, cyberwarfare, economic collapse or civil unrest which results in the imposition of Martial Law, and that's just to name a few.
UPDATE: Know Where FEMA Camps Are Before Martial Law Gets Declared
WHY DOESN'T IT MAKE SENSE TO BE PREPARED, AND NOT NEED IT…
THAN NEED SOMETHING, AND NOT BE PREPARED!!!!!
For those of you who are finally starting to realize there is major trouble on the horizon, largely as a result of the colossal failure of the U.S. Dollar, failing Western banks, and preparations by the global elite for a total police state, then I suggest you get your FREE GUIDE for how to survive Martial Law here, because if/when things begin to go south, by then it will be too late to do anything about it. The writing is on the wall everywhere…
In prior posts or videos I've also suggested one of the best tools I've found to help ordinary people of average means make sure their families and loved ones are taking the BEST steps to protect themselves is the book is titled, "Conquering the Collapse." Since I have it, you can read my personal review of it here: Be Ready For Any Emergency – The Crucial Guide For Any Family's Safety.'
BE SURE TO CHECK THELASTGREATSTAND.COM FOR SURVIVAL GEAR!

FREE DETAILED GUIDE TO SURVIVING ECONOMIC COLLAPSE OR MARTIAL LAW HERE
FOR MORE LINKS ON MARTIAL LAW:
Mainstream Media Blasts Alternative News Personality on FEMA Camps (Videos)
Ron Paul: Undeniable Proof Martial Law Is Coming Because of the Economy (Video)
Virginia Police and Homeland Security Doing Exercises for Marital Law Conditions (Video)
Latest News on Government's Preparing For Civil War or Martial Law (Videos)
Martial Law Convoys Sent to Baton Rouge, Dallas, and St. Paul Before Shootings (Videos)
Pentagon Approves U.N. Use Of Force Against American Civilians (Video)
What Is the U.S. Government Endlessly Preparing For (Videos)
Patriot Films Shocking New Video of a FEMA Camp Recently Discovered in Texas
Major Update to Military Movement and Actual Documentation of Their Plans (Video)
United Nations Troops on U.S. Soil Prepared to Assist With Martial Law? (Videos)
Obama Has Prepared FEMA for All Four Storms… Are You Prepared?
13 States Obama Is Using for His Nefarious Secret Agenda (Video)
Obama: Be Ready For EMP Attacks, Engineered Pandemics, Earthquakes, and Martial Law
How Likely is Martial Law in the US, and What Happens Under Martial Law
Law Enforcement Preparing For Rioting on National Scale (Videos)
All Armed Americans To Be Detained In FEMA Camps Starting In 2017? (Video)
Beware of Martial Law: Obama Will Confiscate Firearms Of All 50 States in 2016
Army Not Prepping for Battle; Training For Riot Control and Martial Law
Pentagon Says Preparing For Huge Civil Unrest in U.S. (Videos)
Political Dissidents Homes Being Marked By FEMA Prior to Martial Law?
All You Need To Know About Obama's Coming Gun Grab
Obama Signs Executive Order Permanently Implementing Martial Law
FEMA Concentration Camps Disguised As Malls Being Built Everywhere
Government "Threat List:" 8 Million People To Be Detained Immediately
SUBSCRIBE TO THE TOP STORIES OF THE WEEK IN THE NEWSLETTER HERE
FACEBOOK | GOOGLE+ | TWITTER | PINTEREST | STUMBLE UPON | TUMBLR
FREE GUIDE TO ECONOMIC COLLAPSE OR MARTIAL LAW…
AT THE OFFICIAL BLOG SITE BELOW!
FACEBOOK | GOOGLE+ | TWITTER | PINTEREST | STUMBLE UPON | TUMBLER
We encourage you to Share our Reports, Analyses, Breaking News and Videos. Simply Click your Favorite Social Media Button and Share.