As you'll learn below, on Friday things seemed to be turning around, if only slightly, for the much beleaguered German Deutsche Bank. The bank's stock rose around 14% on rumors that Deutsche Bank had reached a settlement with Obama's Department of Injustice regarding a $14 billion demand.
It was believed that a settlement was reached with the DOJ for $5.6 billion, which would still utterly cripple Deutsche Bank, but since the $14 billion originally demanded is the entire market capitalization of the bank, $5.6 billion felt like a little hope anyway. As it turns out, the rumors were false, and there was no validity to the existence of a settlement.
Despite the fact that Deutsche Bank is already teetering on the verge of collapse, and its collapse would rip the heart out of Europe's already fragile banking system, the Obama administration is still proceeding ahead demanding $14 billion.
If Deutsche Bank does collapse, the shockwaves will undoubtedly be felt here in America, and it could trigger a free fall in U.S. markets. For those on the fence about Obama, and what his real motives and intentions are before he leaves office, let this recent act serve as a window into how little respect he has for our German allies, who are calling the DOJ's most recent stunt "economic warfare," or even what the DOJ's actions could do to U.S. markets and investors here at home.
When you consider that all this is taking place while Hillary Clinton, a serial felon, has been permitted by the DOJ to continue her campaign for president unimpeded with no threat of a pending indictment, it's hard not to see the DOJ's actions as yet another attempt by Obama to weaken the United States.
SUBSCRIBE TO THE TOP STORIES OF THE WEEK IN THE NEWSLETTER HERE
FOR MORE NEWS BY VOICE OF REASON CLICK HERE!
When we first heard the news that the US DOJ had slapped Deutsche Bank with a $14 billion settlement on September 15, a number that looked oddly similar to the $14 billion fine the EU slapped on Apple, we determined that this was likely nothing more than "blowback" on behalf of the US, saying "just a few weeks after the EU slapped Apple with a $14 billion bill for "back taxes," the U.S. has apparently responded with a $14 billion fine of their own to Deutsche Bank to settle an outstanding probe into the company's trading of mortgage-backed securities during the financial crisis."
Today, after three weeks of unprecedented volatility in the stock price of the German lender which sent its shares to all time lows as recently as Friday, Germany has latched on to this line of attack as German politicians accused the US of waging economic war against ­Germany as, in the words of the FT, "concern continues to rise among its political and corporate elite over the future of Deutsche Bank."
The German parliament's economics committee chairman Peter Ramsauer, in an interview with Welt am Sonntag, said the move against Deutsche "has the characteristics of an economic war", adding that the US had a "long tradition" of using every available opportunity to wage what amounted to trade war "if it benefits their own economy", and the "extortionate damages claims" being made in the case of Deutsche Bank were an example of that. According to the German politician, the threat to force Deutsche Bank to pay a $14 billion fine over its mortgage-backed securities business before the 2008 global crisis "has the characteristics of an economic war.""Extortionate damages claims" in the case are an example of that, said Ramsauer.
Another German politician, Merkel ally and MEP Markus Ferber suggested, as we did, that the Deutsche Bank investigation is a "tit for tat response" from the US Department of Justice after Brussels imposed a record €13 billion penalty against Apple's tax misdoings in Europe. It's not just Apple however: earlier this year, Germany's Volkswagen agreed to pay $16.5 billion in the US for cheating on American diesel vehicle air pollution tests between 2008 and 2015. The fines still risk growing by billions and VW needs to recall 85,000 vehicles.
As we reported last night, while the business community in Germany has taken a stand to support Deutsche Bank, Economy Minister Sigmar Gabriel hit back at chief executive John Cryan over his comments. Cryan told employees his bank was suffering from market speculation, after Deutsche stock plunged to an all-time low last week. "I did not know if I should laugh or cry that the bank that made speculation a business model is now saying it is a victim of speculators," Gabriel said on Sunday.
Late Friday, media reported that Deutsche and the US regulators were close to a settlement of $5.4 billion, which pushed the stock six percent higher. The report has been largely denied, not only following reports that Cryan is only now set to fly to the US to negotiate the deal in Washington, but because Deutsche Bank has an obligation to confirm the rumor if it were true. Meanwhile, Moody's said it would be good news for bondholders if the settlement was $3.1 billion. Fines as high as $5.7 billion would erase 2016 profitability, but not fatally damage the German bank.
German parliamentary budget spokesman for the ruling conservatives Eckhardt Rehberg has ruled out state aid for Deutsche, saying its risky business abroad has resulted in billions of euro in penalties. "At the present time I would rule out any capital help. That would not be the right way to go," said the politician.
Perhaps the best news for Deutsche Bank after a weekend in which many were expecting some formal confirmation of a reduced settlement is that the country's markets are closed due to the German Unity Day holiday, giving the German lender another 24 hours in which to come up with some positive headline news. As the FT wrote, hedge funds have bet heavily against Deutsche by short selling its shares.
Investors are worried that if the bank does not manage to agree a settlement with the DoJ over the weekend, its shares could be hit when they resume trading on Monday in New York and on Tuesday in Frankfurt. One hedge fund manager said it risked being "a black Monday for Deutsche".
Perhaps he was unaware that Deutsche would not trade on Monday, meanwhile DB's ADRs are modestly lower in the US premarket, down less than 1% at last check, although this level may not hold if any additional news of liquidity outflows were to emerge in the next few hours.
BE SURE TO CHECK THELASTGREATSTAND.COM FOR SURVIVAL GEAR!
FREE DETAILED GUIDE TO SURVIVING ECONOMIC COLLAPSE OR MARTIAL LAW HERE
FOR MORE ON ANALYSIS OF DEUTSCHE BANK AS IT HAPPENED:
Dr. Jim Willie: When Deutsche Bank Fails, Barclays, Citigroup, & More Will Follow
Dr. Jim Willie Predicted It; Deutsche Bank Admits to Rigging Gold Markets
Dr. Jim Willie: Deutsche Bank Could Very Well Collapse Entire Banking System
Dr. Jim Willie: Brexit Result Could Detonate Deutsche Bank!
Dr. Jim Willie: Deutsche Bank Valued at -$1 Trillion; Economic Chaos Ahead
Dr. Jim Willie: Deutsche Bank on Verge of -$1 Trillion Collapse; Destroy Global Economy Too?
IF YOU READ NOTHING ELSE, THE FOLLOWING POSTS ARE ESSENTIAL:
Dr. Jim Willie: We Are on the Brink of World War; Americans Totally Clueless - Pt. 1
Dr. Jim Willie: We Are on the Brink of World War; Americans Totally Clueless - Pt. 2
Dr. Jim Willie Reveals 2nd Death Threat From U.S. Government (Video)
Bill Holter: Newly Solidified Chinese Superpower Will Replace Dead U.S. Dollar (Interview)
Peter Schiff: Don't Believe the Hype! The Real Economic Fallout From Brexit (Video)
How Will the U.S. Conduct Trade With Worthless U.S. Dollars and No Gold? (Video)
Why Did Illuminated George Soros Liquidate 37% of His Stock to Buy Gold? (Video)
What Exactly Does Global Economic Collapse Coming May 2016 Mean?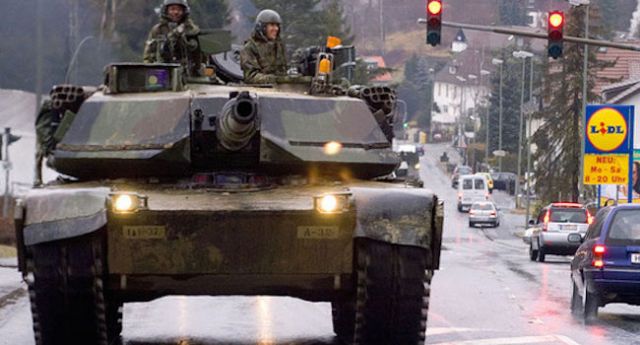 FOR MORE LINKS ON MARTIAL LAW:
Mainstream Media Blasts Alternative News Personality on FEMA Camps (Videos)
Ron Paul: Undeniable Proof Martial Law Is Coming Because of the Economy (Video)
Virginia Police and Homeland Security Doing Exercises for Marital Law Conditions (Video)
Latest News on Government's Preparing For Civil War or Martial Law (Videos)
Martial Law Convoys Sent to Baton Rouge, Dallas, and St. Paul Before Shootings (Videos)
Pentagon Approves U.N. Use Of Force Against American Civilians (Video)
What Is the U.S. Government Endlessly Preparing For (Videos)
Patriot Films Shocking New Video of a FEMA Camp Recently Discovered in Texas
Major Update to Military Movement and Actual Documentation of Their Plans (Video)
United Nations Troops on U.S. Soil Prepared to Assist With Martial Law? (Videos)
Obama Has Prepared FEMA for All Four Storms… Are You Prepared?
13 States Obama Is Using for His Nefarious Secret Agenda (Video)
Obama: Be Ready For EMP Attacks, Engineered Pandemics, Earthquakes, and Martial Law
How Likely is Martial Law in the US, and What Happens Under Martial Law
Law Enforcement Preparing For Rioting on National Scale (Videos)
All Armed Americans To Be Detained In FEMA Camps Starting In 2017? (Video)
Beware of Martial Law: Obama Will Confiscate Firearms Of All 50 States in 2016
Army Not Prepping for Battle; Training For Riot Control and Martial Law
Pentagon Says Preparing For Huge Civil Unrest in U.S. (Videos)
Political Dissidents Homes Being Marked By FEMA Prior to Martial Law?
All You Need To Know About Obama's Coming Gun Grab
Obama Signs Executive Order Permanently Implementing Martial Law
FEMA Concentration Camps Disguised As Malls Being Built Everywhere
Government "Threat List:" 8 Million People To Be Detained Immediately
SUBSCRIBE TO THE TOP STORIES OF THE WEEK IN THE NEWSLETTER HERE
FACEBOOK | GOOGLE+ | TWITTER | PINTEREST | STUMBLE UPON | TUMBLR
FREE GUIDE TO ECONOMIC COLLAPSE OR MARTIAL LAW…
AT THE OFFICIAL BLOG SITE BELOW!
FACEBOOK | GOOGLE+ | TWITTER | PINTEREST | STUMBLE UPON | TUMBLER
We encourage you to Share our Reports, Analyses, Breaking News and Videos. Simply Click your Favorite Social Media Button and Share.