There are two compelling reasons which clearly open the door to the distinct possibility that Paul Ryan may weasel his way into the Presidential after all. First, there is strong evidence being revealed by multiple sources that Paul Ryan is responsible for the release of the Trump tape. Secondly, there is irrefutable proof that Ryan has been planning to run for President in this election cycle all along.
Paul Ryan Is Responsible for the Release of the Trump Tape
Alex Jones makes a very compelling case that Paul Ryan's top aide, Dan Senor, was behind the leaking of the Bush tape in which Trump is heard to make several lewd remarks about women.
From Info Wars:
"That's the story swirling around the Internet after Senor's wife, former NBC reporter Campbell Brown, appeared to confirm the claim.

Brown quoted a tweet that said, "Rumblings that Campbell Brown and Dan Senor are behind the Trump tape leak," and then responded, "Yep. Still having fun after all these years. Key to a happy marriage."
A similar story released by WND confirms Info Wars claim that Dan Senor leaked the Trump tape in an obvious attempt to sink the Trump campaign.
After reviewing the Info Wars, WND and other similar claims, there is little doubt that Paul Ryan deliberately sabotaged Donald Trump's campaign. But why? Why would a prominent Republican sabotage the campaign of the Republican nominee? Well, it is for the same reason that anyone engages in treason, for personal profit.
Paul Ryan Is Aligned With Clinton and Obama
Paul Ryan has done his best to help Hillary Clinton defeat Donald Trump. In fact, with encouragement from Ryan, through his very shallow endorsement of Donald Trump, it is becoming a distinct possibility that Trump may not be the nominee when the election finally takes place.
There is no way that the establishment and their minions can afford to have a Trump Presidency. This means that in order to dump Trump, the globalists must create a world where up is down and down is up, white is black and black is white. To some degree, the "tape" has accomplished this.
Paul Ryan, much to the detriment of the American people, is where he is today because he was willing to ignore the following as if they did not exist:
The free trade agreements which have caused the loss of millions of American jobs so that manufacturers could send millions of jobs offshore to cheap foreign labor markets and then turn around and ship these products back into the United States tax free. Trump has pledged to stop this.
Ignore the illegal alien crisis which continues to undercut the wages of the working class, thus leading to much lower salaries and higher unemployment for American workers.
Support Obamacare and its provision which forces employers to purchase Obamacare medical insurance for its full time employees. This has greatly added to the demise of small businesses.
The undermining of American national security through the admission of UNSCREENED Muslims to America.
Supporting former Secretary of State Hillary Clinton led State Department policy which protects certain Mosques and Muslims with extreme terrorist ties such as what we saw with Omar Mateen. Ryan is complicit in allowing the same chaos that is destroying Europe with UNSCREENED Muslim immigration, to come to America and destroy this country. His failure to oppose should be construed as tacit support. This attitude has given rise to the attitude that it is acceptable for these Refugee/Resettlement immigrants to support Sharia Law over our Constitutional law.
Trump is on the record as opposing each and every one of the above policies which are destroying America. Most Americans support Trump in this endeavor of putting America first and Making America Great Again! However, most of Congress is on the take and avail themselves to what should be illegal bribery through corporate campaign contributions. In order to keep the gravy train rolling, politicians, like Paul Ryan, are willing forsake their Constitutional oath and oppose Trump's pro-Constitutional stand on these issues. In fact, Ryan is of such low moral character that he is even willing to destroy the GOP in order to preserve the criminal status quo, while he receives blood money from the corporations, as evidenced by his release of the Trump tape.
At the end of the day Paul Ryan is partnered with Obama in depriving Americans of their Constitutional liberties and standard of living. In fact, it can now be accurately said that the Speaker of the House supports Democrat and sociopath, Hillary Clinton, in her bid for President over the will of the rank and file of the GOP. Or does he?
If Hillary Cannot Continue…
Yesterday, I published a report which announced that Hillary Clinton had cancelled all public events from October 12th up until the election. Further, I have sources which tell me that Clinton's health has been so bad that the Democratic power elite considered dumping her at the convention. And now, information is leaking that the strong medicine that keeps her on her feet during the debates is having a very debilitating effect on the Democratic nominee and continued use of these drug is life-threatening.
Further, I reported that my Democratic source told me that the Democratic leadership is looking for a "slip and fall" excuse to not participate in the debate. First, with the tape, they feel they have done enough to win. Second, the leadership questions if Clinton can make it through another debate. Third, they fear that the Trump card at the next debate will be the sale of uranium to the Russians and other assorted misdeeds by the Clinton Foundation.
What if Clinton cannot continue? If a major party candidate cannot continue, there are two possible delays with regard to a postponement of the election. Initially, the election would be pushed back to December. Secondly, the drop dead date for an election would be January 3, 2017.
Getting Trump Out of the Way
The MSM has alluded that there is more damaging evidence yet to be released that will further impugn the character of Donald Trump. Trump, at that point, may drop out of the race.
If Clinton and Trump as sidelined, the race could come down to Kaine vs. Ryan. Yes, Paul Ryan and he is eligible to run for President this year! In fact, a case can be made that this has been his intention all along. And the facts support this assertion. I believe that this is the Globalists Plan B.
There is yet another reason that Ryan would forsake the will of the people and work towards the defeat of the people's choice, Donald Trump. Simply put, Paul Ryan wants to run for President.
Here is the proof that Ryan is eligible to run for President.
From the Federal Election Commission website:

FEC FORM 1

STATEMENT OF ORGANIZATION

FILING FEC-1047622

---

1. ROMNEY FOR PRESIDENT, INC.

C/O RED CURVE SOLUTIONS, LLC
138 CONANT STREET, 2ND FLOOR
BEVERLY, MA 01915

NOTE: Address is different than previously reported

Email: rfp@redcurve.com

2. Date: 01/30/2016

FEC Committee ID #: C00431171
This committee is a Principal Campaign Committee.
Candidate: MITT ROMNEY / PAUL D. RYAN
Party: Republican Party
Office Sought: President
State is in District:

Affiliated Committees/Organizations

ROMNEY VICTORY, INC.
C/O RED CURVE SOLUTIONS, LLC
138 CONANT STREET, 2ND FLOOR
BEVERLY, Massachusetts 01915
Affiliated Relationship Code: Joint Fundraising Representative

Custodian of Records:

TIM JOST
C/O RED CURVE SOLUTIONS, LLC
138 CONANT STREET, 2ND FLOOR
BEVERLY, MA 01915
Title: Form 1

---

This form would allow Ryan as well as Romney to run for President in 2016. Why would either man go to the time, trouble and expense to file this paperwork and then NOT campaign? Why? It makes sense that this has been the globalists Plan B all along with Paul Ryan waiting in the wings just in case Donald Trump's candidacy could not be derailed.

I certainly do not see the impotent Romney running for President again. However, I do see Paul Ryan being drafted to run if Clinton cannot complete her candidacy and the globalists find a way to sideline Donald Trump. You see Ryan has filed the same paperwork in order to run as Vice-President. Now that Ryan is registered, he, too, can run for President. This has always been the globalists Plan B. The forces have aligned and in a nonviolent confiscation of the candidacy process, the Republicans will ignore the will of the people and Paul Ryan would go to the head of the line. This would explain why Ryan released the Trump tape now wouldn't it.

Can I say for certain that this represents what is going to happen? No, but it is certain a viable option that the globalists have left on the table to purse.

By the way, Paul Ryan would be just as dangerous as Hillary Clinton should ever occupy the Oval Office. Please continue to pray for the welfare of both America and Donald Trump. For obvious reasons, his life is still in danger just as RFK was in 1968.
Please Donate to The Common Sense Show
PLEASE SUBSCRIBE TO OUR YOUTUBE CHANNEL AND DON'T FORGET TO "LIKE" US
This is the absolute best in food storage. Dave Hodges is a satisfied customer. Don't wait until it is too late. Click Here for more information.
---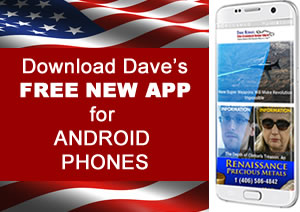 We encourage you to Share our Reports, Analyses, Breaking News and Videos. Simply Click your Favorite Social Media Button and Share.