Because of the horribly disturbing nature of the group known as The Satanic Temple that has finally being granted approval to have an after-school program designed for TEN year-olds, before reading the article below I try to explain to the reader in the video how such a program could possibly be either legal or constitutional, because believe it or not, the program is both!
In the video, first I'll explain what The Satanic Temple "says" they plan to do with the brand new after-school group that officially begins on October 19th, then I explain how despite the distasteful and horrific nature of the program, it does not violate the constitution in any way, much as that might really bother people.
Last, and I would argue most importantly, I explain how this has EVERYTHING to do with the coming election in November, and why it affects us all. After the article from CBS News below, you'll find links to many of the posts I discuss in the video about the larger effort at work behind this, and where the money is coming from to fund it.
SUBSCRIBE TO THE TOP STORIES OF THE WEEK IN THE NEWSLETTER HERE
FOR MORE NEWS BY VOICE OF REASON CLICK HERE!
PORTLAND, Ore. - The Portland chapter of The Satanic Temple has succeeded in its efforts to bring an after-school program called "After School Satan" to a Portland elementary school.
The Oregonian/OregonLive reports the organization has been approved to begin a program on Oct. 19 at Sacramento Elementary School.
Finn Rezz, one of the group's leaders, says their program focuses "on science and rational thinking," and it will promote "benevolence and empathy for everybody."
The group says it hopes to counter the influence of Christian after-school programs, such as Good News Clubs, that have popped up at schools in the wake of a 2001 U.S. Supreme Court ruling that paved the way for religious organizations to establish after-school activities at public school facilities.
The Good News Club is put on by the Child Evangelism Fellowship, "a Bible-centered organization composed of born-again believers whose purpose is to evangelize boys and girls with the Gospel of the Lord Jesus Christ and to establish (disciple) them in the Word of God and in a local church for Christian living."
The Satanic Temple is also seeking to place its programs in Los Angeles, Atlanta, and Washington, D.C.
The Satanic Temple has said it would prefer to exclude religious teachings altogether from school sites, but feels compelled to establish after-school programs to provide an alternative to Christian teachings.
Editor's Note: Below is a video released by the Satanic Temple promoting its after-school program. Some viewers may find the images disturbing.
FACEBOOK | GOOGLE+ | TWITTER | PINTEREST | STUMBLE UPON | TUMBLR
CHECK OUT THE NEW GOOGLE+ PAGE!
"Once religion invades schools, as The Good News Clubs have, the Satanic Temple will fight to ensure that plurality and true religious liberty are respected," the group said in a statement on its website.
"Twisted Evangelical teachings of The Good News Clubs robs children of the innocence and enjoyment of childhood, replacing them with a negative self image, preoccupation with sin, fear of Hell, and aversion to critical thinking," the group added.
Doug Mesner, the Satanic Temple's co-founder, told USA Today that the group has reached out to nine school districts located near local Satanic Temple chapters and is targeting schools that "have hosted, or are now hosting, Good News Clubs." He said that since the Washington Post first reported on the program, the Satanic Temple has been inundated with emails from potential volunteers looking to help establish After School Satan clubs.
The Satanist after-school clubs would be operated by volunteers at local chapters of the Satanic Temple "who have been vetted by the Executive Ministry for professionalism, social responsibility, superior communication skills, and lack of criminal history," the group says. Mesner told USA Today the meetings would be held for one hour, once a month.
SUBSCRIBE TO THE TOP STORIES OF THE WEEK IN THE NEWSLETTER HERE
FACEBOOK | GOOGLE+ | TWITTER | PINTEREST | STUMBLE UPON | TUMBLER
MORE ON THE OBAMA/HILLARY/SOROS CONNECTION:
Riots in Charlotte Reveal Soros' Plotting and Scheming As Usual (Video)
The Clock Is Ticking Before the U.S. Devolves Into an Armed Revolt (Video)
Soros Predicts Trump Wins Popular Vote, Claims "Hillary's Win Already Done" (Video)
Soros: Western Society Must Fall Before One World Gov't Can Be Established (Video)
Leaked Soros Memo Reveals Plan for Federally Controlled U.S. Police (Video)
Leaked Docs Show How Soros Continues to Massively Reshape US Elections (Video)
Soros Funding Censorship of Social Media News to Rig 2016 For Hillary (Video)
Shadow Government: WikiLeaks Exposes George Soros Controlling Clinton
Operation Gladio: BLM Are Being Used as Soros Pawns to Destabilize U.S. (Video)
Trump Protesters Admit Answering Craigslist Ad Paying $16/hr to Protest (Video)
To Keep Obama in Office: BLM Promising Chaos at Both DNC and RNC Conventions (Videos)
Soros Executes Major Brexit Gold Buy, European Union Teters on Collapse (Video)
C.I.A. Links Top Clinton Donor, George Soros, to Terrorist Bombing (Videos)
Why Did Illuminated George Soros Liquidate 37% of His Stock to Buy Gold? (Video)
Stop 2016 Election, Then Begin Martial Law Is Goals of Soros' Democracy Spring (Video)
FOR MORE ON LIBERALISM: THE IDEOLOGY OF HATE, GENOCIDE, & IDIOCY:
New York Times Drops Huge Bomb About Trump Debates… (Video)
Hundreds of Delegates Walk Out of DNC and Launch Protest In Philly Streets (Video)
New World Order's Plan for the Fall of America Upon Us? (Video)
Scientists: 40% Of People Have Newly Discovered Brain Parasite (Video)
Disbarment Charges Are Filed Against Baltimore State Attorney Mosby (Video)
Watch: BLM Protesters Block Roads… Motorists Take Brutal Action (Video)
Why Are Mass Shootings Up 700% and at an All Time High Under Barack Obama (Videos)?
New World Order's New Super Weapon Almost Complete (Video)
Video: Sharpton Begs for Mercy as Megyn Destroys Him on National TV
Millennials: History Tells Us Socialism Always Ends in Genocide (Video)
Secret Audio Of Hillary Clinton's Real Plans For Guns Leaks Out (Videos)
Top 10 Liberal Lies About The Constitution
Florida Drunken College Students 'Urinate and Spit' On Wounded Veterans
Which Corporations Use Aborted Fetal Cells to Sell You Products
Peter Schiff: This Is Who Really Determines U.S. Presidents
FACEBOOK | GOOGLE+ | TWITTER | PINTEREST | STUMBLE UPON | TUMBLER
DEPLORABLE LIVES MATTER TOO!
Get Your T-Shirt… Many to Choose From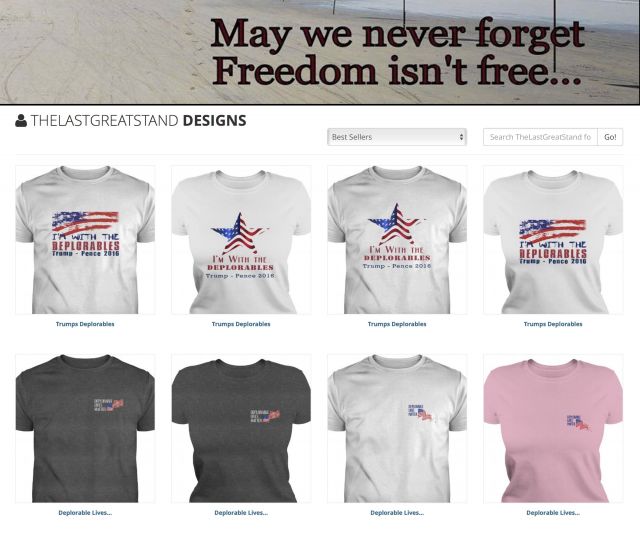 FACEBOOK | GOOGLE+ | TWITTER | PINTEREST | STUMBLE UPON | TUMBLER
We encourage you to Share our Reports, Analyses, Breaking News and Videos. Simply Click your Favorite Social Media Button and Share.