Slowly but surely, more and more of the "mainstream" is beginning to realize that America is indeed headed for the worst times that we've EVER experienced, and in the end it isn't going to make a difference whether Donald Trump is in the White House or not. The current U.S. economy, created almost exclusively thanks to the Federal Reserve, is the largest economic bubble in history, and throughout this past election cycle, rather than be honest with the people, the Fed has done nothing but compound our problems with its lies about the economy slowly recovering.
That blatant lie has been fueled purely for political reasons in the hopes of securing a Democrat win for the White House during the 2016 presidential election, however, regardless of who the winner of the election eventually turned out to be, it has always been inevitable that the smoke and mirror charade could only be kept up for so long. Now, the gig is up, and it's time to pay the piper.
DO NOT MISS: Dr. Jim Willie: The Dollar Collapse Has Begun; U.S. Bank Failures to Follow
Just as Americans are actually beginning to believe that a Trump version of "Hope and Change" is really possible, expect the Fed to hike interest rates in December at their next meeting. That is when you can expect the largest economic bubble in history, one that CNBC's David Stockman calls a suckers' rally, to aggressively begin searching for a pin to go P-O-P!!!!
While pushing the utterly false and nonsensical narrative that there is no reason to panic, because the economy isn't doing that bad, the media conveniently never mentions the almost 15 million American teenagers whose families have been so ravaged by Obama's economy, that they've resorted to trading sexual acts for money to eat. For that reason, perhaps moving forward we can refer to the liberal media as "Economic Deniers," the way many of them like to use the term "Climate Deniers," for that anyone who doesn't agree with their "theory" on climate change.
DO NOT MISS: Dr. Jim Willie: The U.S. Will Lose Global Reserve Status, 80-90% Devaluation of U.S. Dollar Too
In the video below, David Stockman explains how the United States is in for a coming fiscal horror show, the likes of which this country hasn't seen in decades. He says the rapid rate at which the deficit is deteriorating, combined with the fact the Fed has nothing left to bail the economy out with, is going to make for an absolute financial bloodbath for the American people.
By virtually every economic metric that can be measured, our country is on the brink of financial ruin, but try telling that to a rabid Trump supporter when equity markets are reaching all time highs post-election. Rational thinking be damned, most Americans have chosen to tune out what they don't want to hear. They have no problem tuning in at night to hear about new records for the Dow or the S&P, but they completely ignore what is shaping up to be the worst bond crisis in at least 15 years. Do they not realize that bond crashes virtually always precede major crashes in the equity markets?
DO NOT MISS: Jim Rickards Discusses Looming Shut Down of the Entire US Economy
One of the many brilliant minds trying to warn Americans to begin preparing for when what was once considered "unthinkable" becomes "ordinary," recently said, "Soon the Fireworks Will Start, then Hell on Earth Will Follow." It just goes to show that you can lead a horse to water, but you can't make it drink.
SUBSCRIBE TO THE TOP STORIES OF THE WEEK IN THE NEWSLETTER HERE
FOR MORE NEWS BY VOICE OF REASON CLICK HERE!
The Trump rally raged on this week with all major U.S. indexes hitting record highs, but despite the historic run, David Stockman is doubling down on his call for investors to sell everything.
"This 5 percent eruption is meaningless. It's some robo machine trying to tag new highs," Stockman said Tuesday on CNBC's "Fast Money," in a dismissal of the S&P 500 rally.
"I see a recession coming down the pike in 2017. The stock market is going to go down and it's going to stay down long and hard because, for the first time in 25 years, there's nothing to bail it out."
This echoed the initial call Stockman made Nov. 3, when he urged investors to sell stocks and bonds before the presidential election.
DO NOT MISS: Peter Schiff: "Default or Not, U.S. Dollar Is Going to Collapse Either Way"
However, since the Nov. 8 election, the Dow Jones industrial average has gained 4 percent en route to surpassing 19,000. Additionally, the S&P 500 and Nasdaq also hit record highs in the same time period, gaining 3 percent and 4 percent, respectively.
Yet Stockman, who was director of the Office of Management and Budget under President Ronald Reagan, reaffirmed that markets are heading for disaster.
"My call stands. Sell the stocks, sell the bonds, get out of the casino," Stockman explained to CNBC in an off-camera interview. "Bonds have already cratered by nearly $2 trillion worldwide and have miles to go. This isn't a rotation into stocks, either. It's the greatest sucker's rally ever."
Stockman, author of "Trumped: A Nation on the Brink of Ruin… And How to Bring It Back," lamented that there will be no Trump stimulus or Reagan-style boom. He further added that he expects "an unprecedented fiscal bloodbath" resulting from the $20 trillion worth of debt that the U.S. currently has on the books.
"This isn't Ronald Reagan with a clean $1 trillion balance sheet and with a fluke GOP and a Southern Democratic coalition that only materialized because he got shot," Stockman said in reference to John Hinkley Jr. attempting to assassinate Reagan in Washington, D.C., in 1981. "Nor is it LBJ in 1965 with a thundering electoral mandate and a massive congressional majority for the Great Society."
DO NOT MISS: Peter Schiff: Dollar Collapse Will Be the Single Biggest Event In Human History
On the contrary, Stockman, who initially predicted that Trump would win the election, added that Washington will be in chaos by June. This is because he anticipates ongoing disruptions from the tea party, which Stockman doesn't foresee as allowing additional deficit increases.
Furthermore, Stockman doesn't believe that Trump can pass a bipartisan stimulus plan without capitulating on his promise to repeal and replace Obamacare. Additionally, Stockman cast serious doubt over Trump's ability to enact a meaningful tax cut or to develop a major infrastructure program. If so, Stockman believes that could very well trigger a civil war within the Republican Party.
"So when the recession hits this summer, the Fed will be out of dry powder and fiscal policy will be paralyzed," concluded Stockman. "This time the market will crash and stay crashed."
Given this prediction, Stockman re-emphasized that gold and cash will be king and urged investors to shift their portfolios accordingly. He also recommend shorting the S&P 500 through ETFs such as the SH or the SDS.
BE SURE TO CHECK THELASTGREATSTAND.COM FOR SURVIVAL GEAR!
FREE DETAILED GUIDE TO SURVIVING ECONOMIC COLLAPSE OR MARTIAL LAW HERE

IF YOU READ NOTHING ELSE, THE FOLLOWING POSTS ARE ESSENTIAL:
Peter Schiff: "Default or Not, U.S. Dollar Is Going to Collapse Either Way" (Video)
Jim Rickards Discusses Looming Shut Down of the Entire US Economy (Video)
Dr. Jim Willie: Worst Bond Crisis in 15 Years, World Quickly Losing Confidence in US
Bill Holter: Between Now and Election Will Be Extremely Dangerous (Video)
Dr. Jim Willie: We Are on the Brink of World War; Americans Totally Clueless - Pt. 1
Dr. Jim Willie: We Are on the Brink of World War; Americans Totally Clueless - Pt. 2
Bill Holter: Newly Solidified Chinese Superpower Will Replace Dead U.S. Dollar (Interview)
Peter Schiff: Don't Believe the Hype! The Real Economic Fallout From Brexit (Video)
How Will the U.S. Conduct Trade With Worthless U.S. Dollars and No Gold? (Video)
Why Did Illuminated George Soros Liquidate 37% of His Stock to Buy Gold? (Video)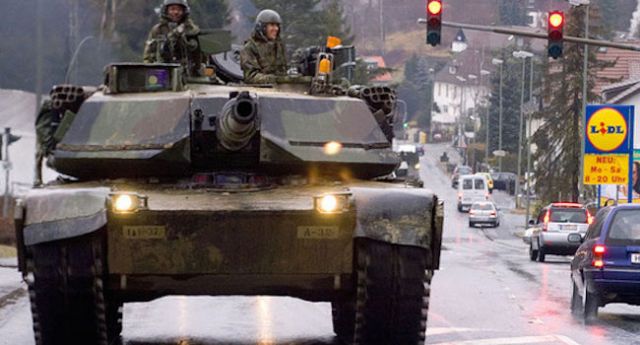 FOR MORE LINKS ON MARTIAL LAW:
Reports of Active U.S. Military Drilling for "Authoritarian Rule of Law" (Martial Law)
U.N. Soldier Says They Will Soon Occupy America: "Going Door-to-Door Taking Guns…"
1,500 Pages of New Documents That Reveal U.S. Government's Martial Law Agenda (Video)
Mainstream Media Blasts Alternative News Personality on FEMA Camps (Videos)
Ron Paul: Undeniable Proof Martial Law Is Coming Because of the Economy (Video)
Virginia Police and Homeland Security Doing Exercises for Marital Law Conditions (Video)
Latest News on Government's Preparing For Civil War or Martial Law (Videos)
Martial Law Convoys Sent to Baton Rouge, Dallas, and St. Paul Before Shootings (Videos)
Pentagon Approves U.N. Use Of Force Against American Civilians (Video)
What Is the U.S. Government Endlessly Preparing For (Videos)
Patriot Films Shocking New Video of a FEMA Camp Recently Discovered in Texas
Major Update to Military Movement and Actual Documentation of Their Plans (Video)
United Nations Troops on U.S. Soil Prepared to Assist With Martial Law? (Videos)
Obama Has Prepared FEMA for All Four Storms… Are You Prepared?
13 States Obama Is Using for His Nefarious Secret Agenda (Video)
Obama: Be Ready For EMP Attacks, Engineered Pandemics, Earthquakes, and Martial Law
How Likely is Martial Law in the US, and What Happens Under Martial Law
Law Enforcement Preparing For Rioting on National Scale (Videos)
All Armed Americans To Be Detained In FEMA Camps Starting In 2017? (Video)
Beware of Martial Law: Obama Will Confiscate Firearms Of All 50 States in 2016
Army Not Prepping for Battle; Training For Riot Control and Martial Law
Pentagon Says Preparing For Huge Civil Unrest in U.S. (Videos)
Political Dissidents Homes Being Marked By FEMA Prior to Martial Law?
Government "Threat List:" 8 Million People To Be Detained Immediately
SUBSCRIBE TO THE TOP STORIES OF THE WEEK IN THE NEWSLETTER HERE
FACEBOOK | GOOGLE+ | TWITTER | PINTEREST | STUMBLE UPON | TUMBLR
FREE GUIDE TO ECONOMIC COLLAPSE OR MARTIAL LAW…
AT THE OFFICIAL BLOG SITE BELOW!
FACEBOOK | GOOGLE+ | TWITTER | PINTEREST | STUMBLE UPON | TUMBLER
We encourage you to Share our Reports, Analyses, Breaking News and Videos. Simply Click your Favorite Social Media Button and Share.