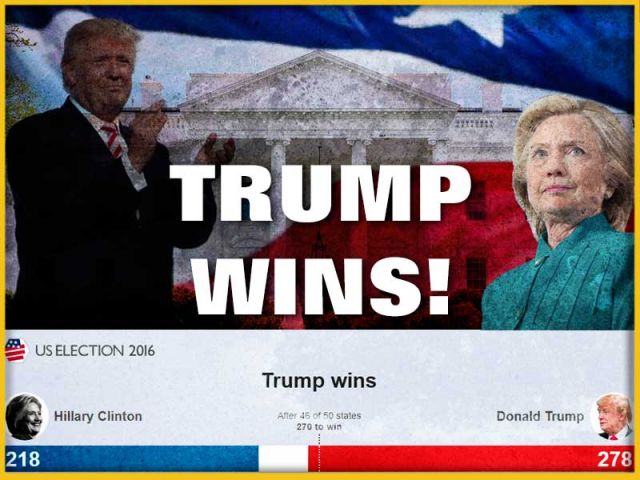 In defiance of the polls, in defiance of opposition Democrats, in defiance even of many within his own Republican party, Donald Trump has scored a jaw dropping political upset and defeated rival Hillary Clinton to become the next President Elect of the United States.
He will succeed Barack Obama on January 20, 2017, when he will be sworn into office. But now that it's done, and the brutal and divisive election is finally over, what can we expect from the upcoming Trump administration other than public protests?
Of course, the top policy everyone will be looking at Trump to address in immigration. The straight talking businessman launched his campaign with a speech that many denounced as racist, in which he characterized many Mexican immigrants as rapists and drug dealers and promised to build a literal wall across the southern border of the US – for which Mexico would be made to pay.
And almost from day one, this plan has been criticized, and not just over concerns of bigotry against immigrants. People worry over the logistics of the project, wondering whether such a wall (which Trump has openly compared to the Great Wall of China) could actually be built.
There is also question over the attitude and sense of the Congress, without whom Trump may be able to accomplish little: will they support the wall? Trump has also promised to round up and deport all immigrants currently present within the country illegally, though this staggering feat (there are over 11 million such people in the US, by most estimates) is widely viewed as impossible.
Trump has been vocal on the issue of national defense, as well. He promises to "rebuild" the US military, which he says has deteriorated substantially under the Obama administration. He has also taken a hawkish attitude toward military action, to a degree some have found alarming.
Under President Trump, we can expect no holds barred in the use of America's armed forces, especially against terrorist organizations such as ISIS and state sponsors of terrorism. During the campaign, in fact, one of Hillary Clinton's lines of attack against Trump was to express her concern that he might be quick to order the use of nuclear weapons – something the United States has not done since World War II.
READ FULL ARTICLE: President Trump: What Can America Expect, More Protests?