AP has gone APe reporting LIES. Unreal! What the Heck is going on?


ALL Press has Gone APe in reporting LIES and FAKE NEWS!
Only websites like BIN, RT, Breitbart, SalvationCanada.wordpress.com, InfoWars,
Drudge Report, rsb.tv, etc report REAL NEWS! Read Them. Support them!
The Associated Press released new orders for referencing the "alt-right" which forces journalists to use the term alongside its definition and in context of its association with racist beliefs. The new guidelines read: "'Alt-right' (quotation marks, hyphen and lower case) may be used in quotes or modified as in the 'self-described' or 'so-called alt-right' in stories discussing what the movement says about itself. Avoid using the term generically and without definition, however, because it is not well known and the term may exist primarily as a public-relations device to make its supporters' actual beliefs less clear and more acceptable to a broader audience."
AP reports that Breitbart, Drudge, and InfoWars (Alex Jones) are all "Alt-Right" along with KKK and Nazi's.
This is a complete LIE by the hillaryites, globalists, Soros, and filthy rich scumbags.
All Media ie CNN, Fox, NBC, MSNBC, CBS, ABC, CTV, CBC, etc, are owned/run by lying dishonest trash.
They spout propaganda worse than Paul Joseph Goebbels! Shame on all North American Media!
This is part of the "Soft Civil War" currently taking place in the United States of America.
CNN is spearheading the LIES and PROPAGANDA with many False reports and FAKE NEWS.
CNN is also using "subliminal" tactics. Subliminal messaging is illegal. It is also defamation of character.
Point and case is CNN showing this picture of Alex Jones, with the criminal Banner beneath.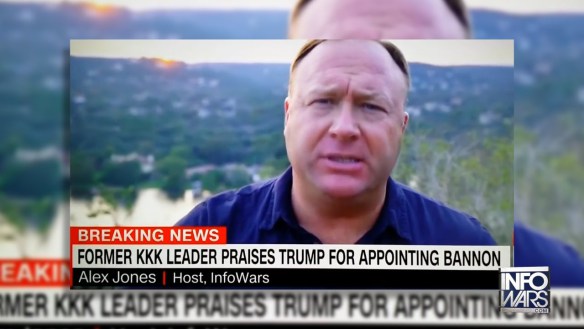 Alex Jones, InfoWars.com, was NOT a "former KKK leader". Doh! Never was. Never will be.
This NEW kind of Trash Talk from cnn is something you would expect from the Enquirer Tabloid.
With most main stream media controlled by Soros type criminals, life has taken an unexpected turn.
People must learn to "dismiss" the FAKE NEWS from TV, "discern" the truth, and now get
truthful News from websites as listed above. Life has gotten a lot more complicated.
"We Are At WAR!" is a famous phrase and one that aptly describes the situation we are in.
Not just the USA, but the entire FREE World! If we don't Fight for our Freedom and Rights,
then we will lose them.
"America will never be destroyed from the outside.
If we falter, and lose our freedoms, it will be because we destroyed ourselves."
~Abraham Lincoln
Support websites like BIN, RT, Breitbart, SalvationCanada.wordpress.com, InfoWars,
Drudge Report, rsb.tv and others. Do NOT be Fooled! Get the REAL NEWS!
We encourage you to Share our Reports, Analyses, Breaking News and Videos. Simply Click your Favorite Social Media Button and Share.