With all the reports coming out claiming that well funded far-left activist groups intend to incite the largest riots in U.S. history in the days leading up to and during Donald Trump's inauguration, there is good reason for well informed Americans to be feeling a bit on edge, or a bit anxious these days. We are living in uncertain times to say the least, and the country is heading into uncharted waters to be sure.
Until recently, there has been a lot of speculation about whether the investigations into Hillary Clinton would continue or not, but as you're about to learn, House Oversight and Government Reform Chairman Jason Chaffetz, R-Utah, just announced that Congress is throttling forward with their investigation of Hillary & Co.
You may recall, shortly after his surprise victory, Donald Trump walked back his comments with regard to making an effort to "lock up Hillary," but that is hardly the end of it. Anyone who watched the confirmation hearing of Senator Jeff Sessions for Attorney General today knows that: 1) Barring some bombshell revelation, Senator Jeff Sessions will be the next Attorney General, because Senate Democrats do not have the votes to block him; and 2) Sessions has every intention of following the law (aka passed legislation), whether he agrees with it personally or not.
With that said, here is a list of the crimes Hillary Clinton and her team could be charged with right now:
Money laundering
Child exploitation
Sex crimes with minors (children)
Perjury
Pay to play through Clinton Foundation
Obstruction of justice
There's absolutely no reason for Hillary Clinton to not be charged. One of the many mandates We the People elected Donald Trump on was the idea that he would hold Hillary Clinton accountable for her actions. Whether that happens or not, depends almost entirely on if President Obama decides to pardon Hillary Clinton. One thing is for sure, with only 10 days and counting, odds are that Hillary's fingernails probably desperately need a manicure…
In the following video I discuss the recent announcement by Chaffetz, and then review some of the reasons why Obama might be inclined to pardon Hillary, and some of the reasons why he might not be. I also review whether Donald Trump has any means of legal recourse if Obama does decide to pardon Hillary.
SUBSCRIBE TO THE TOP STORIES OF THE WEEK IN THE NEWSLETTER HERE
FOR MORE NEWS BY VOICE OF REASON CLICK HERE!
Republican investigators are vowing to pursue the criminal probe into Hillary Clinton's use of a private email server and mishandling of classified information, with Jason Chaffetz warning that her election loss won't grant her a get out of jail free card.
"This was never a political targeting in the beginning and just because there was a political election doesn't mean it goes away," House Oversight and Government Reform Chairman Jason Chaffetz, R-Utah, told reporters Monday. "There were a lot of other characters that were involved in this that we have to look at."
Their review will encompass an array of figures, ranging from Clinton's ousted team, including Huma Abedin, to incumbent leaders of the FBI.
"This was potentially one of the largest breaches of security in the history of the State Department," he said. "It cannot and should never be repeated again. How is it that so much information was able to migrate out into the world? These are still open questions that we need to finish up so that they don't happen again."
Appetite for justice
Washington Examiner reports that Chaffetz wants to review the security clearances of Clinton aides who helped manage the "extremely careless" email process described by FBI Director James Comey. Chaffetz said he is inclined to hold Bryan Pagliano, a key Clinton IT aide, in contempt of Congress for flouting subpoenas last year. "You can't just get a subpoena from Congress to testify and not show up," he said.
The Utah Republican wants to target more senior officials, such as State Department Under Secretary for Management Patrick Kennedy, in light of FBI suggestions that he tried to set up a "quid pro quo" with the FBIto suppress revelations that Clinton's email server held classified information.
FBI leadership could also be a live target of the review, as Republicans are troubled that Va. Gov Terry McAuliffe, a longtime ally of the Clintons, made campaign donations to the wife of Andrew McCabe, the agency's second-in-command. "I'm very concerned about the straight-up conflict of interest that Mr. McCabe had," Chaffetz said. "That's something we'll continue to spend resources on."
"Lock her up"
Trump regularly led "lock her up" chants on the campaign trail, but Chaffetz hinted that the collaboration might not be as automatic as the party registration of Trump and the lawmakers might suggest. "It depends how cooperative the administration is going to be. We're going to work with [White House General Counsel Don] McGahn and [incoming] Attorney General Sessions and others to see what sort of documents and what sort of access we're going to be allowed."
Even if the White House does sign off, Chaffetz suggested that lower level State Department officials might hamper the probe. "We're still dealing with the massive bureaucracy; changing the secretary of state doesn't necessarily change the whole bureaucracy," Chaffetz said. "I don't want this to linger, but the reason we're still talking about it now is because stuff that we've been asking for since 2010 still hasn't arrived."
SUBSCRIBE TO THE TOP STORIES OF THE WEEK IN THE NEWSLETTER HERE
FACEBOOK | GOOGLE+ | TWITTER | PINTEREST | STUMBLE UPON | TUMBLR
CRITICAL POSTS ABOUT HILLARY'S POOR HEALTH:
Was Hillary Clinton Wearing a Wire and Earpiece for Hofstra Debate (Video)
Hillary's Obituary Prepares Masses for Crushing Clinton Defeat (Video)
Dr. Milton Wolf Proves Hillary's "Pneumonia" Story Is Impossible… (Video)
Shocking Email: Hillary Asks NFL's Roger Goodell for Help Treating 'Cracked Head' (Video)
Medical Community Worried About Hillary's Obvious Declining Health (Video)
Hillary Clinton Freezes in Fear – Secret Agents Says To "Keep Talking" (Video)​
See Which Doctors Say Hillary Clinton is Hiding Major Health Issue (Videos)
Everything You Need to Know About Hillary's Health All in One Post (Videos)
Hillary's Poor Health and Odd Behavior: Massive Cover-Up Continues (Video)
MORE EGREGIOUS HILLARY POSTS:
CNN: "Drunk Hillary" Beat Sh*t Out of Bill Clinton on Election Night
Hillary Coup Attempting to Steal Presidency From Trump in 6 Days (Video)
Sorry Protestors: Looks Like Hillary Got Pummeled in the Popular Vote Too (Video)
Private Militia Groups Actively Preparing for Fraudulent Hillary Win (Videos)
Reason Wi-Fi on Hillary's Campaign Jet Was Turned Off Should Chill You (Video)
Stefan Molyneux Reviews All 3 Scandals: Hillary, Weiner and Loretta Lynch (Video)
Shocking and Disturbing: Top 100 Hillary Bombshell Wikileaks Leaked So Far
Tomi Larhen Just Accused Hillary of Threatening to Murder Bernie (Video)
Hillary Walks Out on Press Conference When Asked about Undercover Fraud Videos
Trump's New Hillary Ads Will Have Her Crying Herself to Sleep Tonight! (Video)
Hillary Clinton: All Her Disastrous Leaked Audio Recordings (Actual Audio)
Wikileaks: Clinton Lawyers Advise Hillary How to Break Law and Not Get Caught
As Prophesied: Hillary Vows to Shut Down Breitbart/Infowars if Elected! (Video)
Hillary's New Investigation Is No Joke; Possibilities Aren't Either (Videos)
Shadow Government: WikiLeaks Exposes George Soros Controlling Clinton
FBI Director Comey Working Behind the Scenes on 'Suprise' Hillary Arrest (Video)
Julian Assange Drops Bombshell Involving Murder on Hillary Clinton (Video)
DNC Insider: Clinton Being Pounded in Polls – Don't Believe Mainstream Media! (Video)
Clinton Adds +5 to Body Count in 6 Weeks Totaling 67 Dead Associates (Video)
Julian Assange (7/27/16): "Next Leak Will Lead to Arrest of Hillary Clinton" (Video)
NSA Whistleblower Shocks Radio Host: We Have All Hillary's Deleted Emails (Video)
Former Clinton Hitman Confesses to Murdering People for Money (Video)
Trump Releases Second Hillary "Legendary Lie" Video; Leaves Her In Shock (Video)
C.I.A. Links Top Clinton Donor, George Soros, to Terrorist Bombing (Videos)
Clinton Author Drops Huge Bombshell About FBI if Hillary Not Indicted (Video)
Secret Audio Of Hillary Clinton's Real Plans For Guns Leaks Out (Videos)
Most Unbelievably Scandalous Video Hillary Wishes Never Saw Daylight (Video)
Another Clinton Associate Found Dead, Bill and Hillary's Body Count Increases!
RELATED HILLARY POSTS:
Leak: Hillary Not Indicted Because Everyone in D.C. Tied to Clinton Foundation (Videos)
New World Order's Summer of Chaos Advances Thanks to Hillary Outcome (Videos)
Hillary's Chief of Staff Fails to Recall Events 189 Times Throughout Deposition
Clinton Cooked: Report on Email Scandal Worse Than Initially Expected (Video)
Judge Says Enough Evidence to Indict and Convict Hillary Clinton (Video)
Obama Plotting For King of the World; Means Indictment Likely For Hillary
Hillary's Criminal Investigation a Political Nuke – Party Diving For Bunkers (Video)
Everyone in Hillary's Inner-Circle Lawyers-Up; FBI Quickly Closing In on Hillary
Hillary Answers Question, Shockingly Hears Reporters Laughing In Disbelief
Former House Majority Leader: The FBI is Finally Ready to Indict Hillary NOW
U.S. State Dept. Caught Attempting to Rig Iowa and New Hampshire Elections
Clinton Email Scandal Produces Largest Smoking Gun To Date: 44 Magnum
Video: Benghazi Victim's Father Publicly Challenges Hillary To Lie Take A Detector Test
Hillary Email Blows Cover Off Massive Obama Plot to Promote Terrorism
Smoking Gun: Hillary E-mail Instructs Aide to Delete Classified Markings
Obama's Third Term: What You Need to Know About Hillary Clinton's Emails
Obama Defies Judge's Order, Protects Hillary, and Should Mean Prison
Busted! CIA Reveals Hillary and Obama Armed ISIS (Video)
Bombshell Email: Hillary Clinton Gave Benghazi Stand Down Order
Trey Gowdy Speaks Out About Withheld Clinton Benghazi Emails (Video)
Exposed: Clinton Withheld 180 Emails About Benghazi
New Evidence: Hillary Willingly Violated National Security (Video)
400 STINGER MISSILES STOLEN IN BENGHAZI: Why Were They In the Embassy??
SUBSCRIBE TO THE TOP STORIES OF THE WEEK IN THE NEWSLETTER HERE
FACEBOOK | GOOGLE+ | TWITTER | PINTEREST | STUMBLE UPON | TUMBLR
"I'M WITH THE DEPLORABLES" T-SHIRTS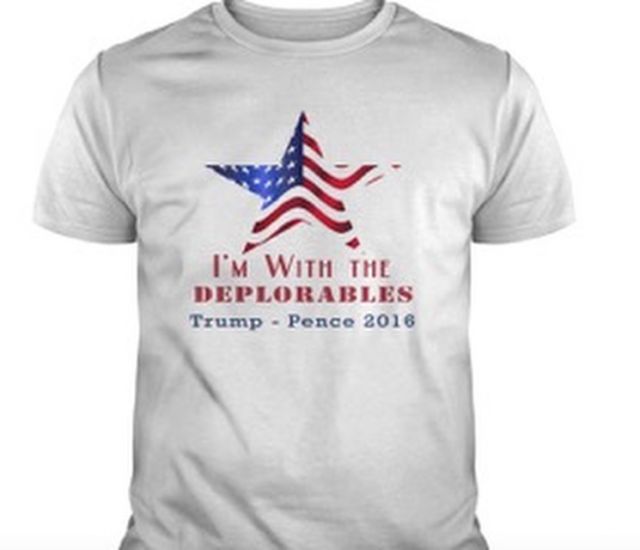 FACEBOOK | GOOGLE+ | TWITTER | PINTEREST | STUMBLE UPON | TUMBLER
We encourage you to Share our Reports, Analyses, Breaking News and Videos. Simply Click your Favorite Social Media Button and Share.