Philadelphia District Attorney Seth Williams, the top prosecutor with a notorious reputation for turning a blind-eye to following ethics rules, clearly sees the proverbial handwriting on the wall.
Williams recently announced that he would not seek reelection to a third term. That shocking announcement evidenced recognition by Williams that his quest for reelection would be an uphill struggle if not an impossible mission due to fallout from his many ethical failings and questionable practices.
That DA career-ending announcement by Williams came weeks after Philadelphia's Ethics Board slapped this once promising and popular politician with a $62,000 fine for his failure to file mandatory financial disclosure forms for five years. That fine – the largest ever levied by Philadelphia's Ethics Board – faulted Williams for not reporting over $160,000 in gifts that included fancy vacations and expensive jewelry.
Williams claimed he merely forgot to file the mandatory disclosure forms from 2010 to 2015.
But that claim smacks of an implausible assertion because Williams once served as Philadelphia's Inspector General, the official tasked with ethics rule enforcement. During his announcement about withdrawing from reelection, Williams apologized for the embarrassment and shame he brought on the District Attorneys Office.
The reelection of Williams was already in doubt due to erosions of support among his core constituency in the black community and his calculated cultivation of support from Philadelphia's police union. That labor organization, the Fraternal Order of Police, has a history of reflexively backing police brutality, misconduct that primarily impacts blacks in the so-called City of Brotherly Love.
In recent weeks Philadelphia's police union launched attacks on Williams arising in part from his decisions not to prosecute civilians in questionable confrontations with police officers. Those FOP attacks included an anti-Williams billboard on the major interstate highway through Philadelphia.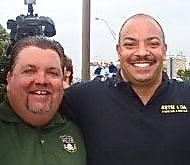 DA Williams with Philly FOP prez in better times. LBW Photo
Also, Philadelphia's NAACP branch recently blasted Williams for failing to prosecute three white men involved in a fatal building collapse while gaining the convictions of two poor black men connected with that incident. A civil trial jury in that building collapse held the men Williams refused to prosecute as most responsible for that fatal incident.
A news collective, founded as a blog in 2004, covering war, politics, environment, economy, culture and all the madness
Source:
http://thiscantbehappening.net/node/3450
We encourage you to Share our Reports, Analyses, Breaking News and Videos. Simply Click your Favorite Social Media Button and Share.