Even before Trump defeated Hillary, many on the left and in the mainstream media were already predicting how a Trump presidency would spell disaster for the American people and the world. Now that he's President, this has continued unabated. And while it may be tempting to scoff at them (remember the Bush years?), we have to ask ourselves – could they actually be right this time?
In the following video, Right Wing News looks at why the Trump presidency may not bring about the ideal America that many of us pray for – although not for the reasons the left imagines. The video looks at the secret narrative beyond what the mainstream media is feeding us, and how the combination of left-wing hysteria, a looming debt explosion, and global instability may very well realize our worst fears. We can all rejoice that Trump is in office, but let's not put on blinders, or we would be no better than those on the left.
SUBSCRIBE TO THE TOP STORIES OF THE WEEK IN THE NEWSLETTER HERE
Is the United States about to plunge into an apocalyptic nightmare from which it may never recover? During the Obama era conservatives often warned of such scenarios, but now things have completely shifted. At the moment, conservatives are generally more optimistic than they have been in many years, but quite a few liberals are warning that the Trump years could have absolutely disastrous consequences for this country. They are concerned that Trump's policies could burst the giant debt bubble that we have been living in and trigger economic collapse, they are concerned that widespread civil unrest could soon erupt in our cities, they are concerned that our rapidly deteriorating environment and major natural disasters could soon kill millions, and they are also concerned that faltering relationships with other nations could lead us into World War III.
Of course leftists are generally wrong about just about everything, but in this case they might be exactly correct.
The truth is that our world is becoming increasingly unstable with each passing week, and this time around it is conservatives that are guilty of reckless optimism.
Just because Donald Trump has been elected does not mean that everything around us is going to be transformed into some sort of utopia. Anyone that is guilty of this kind of thinking is simply delusional.
So as much as it pains me to say it, these days it is often liberals that have a more accurate assessment of what the times immediately ahead of us are going to be like. And while many conservatives have totally given up on preparing for the difficult times that are coming, many liberals have suddenly become extraordinarily interested in emergency food, water filters and guns. They are extremely concerned about what America is going to look like in a few years, and the mainstream media is starting to do stories about their rising anxiety. The following is an excerpt from a Christian Science Monitor article entitled "In age of Trump, apocalyptic rhetoric becomes mainstream"…
The longer President Trump is in office, the more Cat Deakins worries about the future – for herself and her children.
With every executive order and cabinet appointment, she envisions another scenario: an America that rejects immigrants, that succumbs to climate change, that erupts in war.
"It's scary to me that [people within the administration] are promoting this idea of, 'We are at war with Islam.' That's the kind of thinking that leads to World War III," says Ms. Deakins, a cinematographer in Los Angeles. "I don't think we can be alarmed enough."
To many conservatives that may sound like nonsense, but the truth is that we are on a road that could potentially lead us to World War III. Anti-Russian hysteria has reached a fever pitch in Washington, and our relationship with China is the worst that it has been in decades. Of course the Middle East continues to be a tinderbox, and one false move could cause a major war to erupt in the region.
Meanwhile, the ground under our feet continues to shake with increasing regularity. In fact, an enormous magnitude 6.9 earthquake struck along the "Ring of Fire" just this weekend…
A HUGE earthquake measuring 6.9 magnitude struck off the coast of New Britain island in Papua New Guinea this morning, the U.S. Geological Survey (USGS) said.
The quake was so powerful that it was felt as far away as the capital Port Moresby, 750 km (460 miles) away on the country's south coast.
Papua New Guinea is on the Pacific "Ring of Fire" which has frequent earthquakes and volcanic eruptions.
And our environment continues to deteriorate all around us as well. According to one recent study, half of the species on our entire planet could be facing extinction by the end of this century unless something is done…
One in five species on Earth now faces extinction, and that will rise to 50% by the end of the century unless urgent action is taken. That is the stark view of the world's leading biologists, ecologists and economists who will gather on Monday to determine the social and economic changes needed to save the planet's biosphere.
"The living fabric of the world is slipping through our fingers without our showing much sign of caring," say the organisers of the Biological Extinction conference held at the Vatican this week.
But of more immediate concern is our very serious economic problems. For much more on this, please see the article that I published on Sunday entitled "Retail Apocalypse Gains Momentum As David Stockman Warns 'Everything Will Grind To A Halt' After March 15th".
We have already seen very angry protests and riots from coast to coast during the first month of Trump's presidency, and it wouldn't take much to push the millions upon millions of Americans that completely hate Trump entirely over the edge. If we do see a severe economic downturn or a major natural disaster (remember Katrina?) or the U.S. enters a new war, any of those things could potentially be enough to spark widespread civil unrest in cities all over America.
A lot of people can see what is coming, and many wealthy elitsts are securing adequate accommodations to ride out the "Trumpocalypse" while they still can. For example, a former nuclear missile silo in Kansas has been transformed into a series of luxury survival condos…
The door to the Survival Condo closes slowly, sending a resounding thud through the concrete parking garage.
Those inside have surrounded themselves with walls up to 9 feet thick, ready to withstand a nuclear explosion, the eruption of Yellowstone's supervolcano or an outbreak of avian flu.
Larry Hall, project manager and owner of the Luxury Survival Condo Project, says he feels safer with the doors closed.
He says he's sold all 12 luxury condos in the former Atlas missile silo — which once housed a nuclear warhead — not far from Concordia, about two hours north of Wichita. He's working on a second silo.
The condos are all sold out at this point, but the vast majority of us could have never afforded one anyway. According to the article quoted above, an 1,820 square foot unit costs three million dollars.
Ouch.
IF ONLY WE COULD ALL PREPARE THE WAY THE WEALTHY DO…
What the Super Wealthy Know, But Ordinary Americans Do Not… (Video)
13 Must Have Items For Families To Survive The Apocalypse In Style (Videos)
What Are Global Leaders All Warning Their Countries to Prepare For? (Video)
Prepping: Know Where FEMA Camps Are Before Martial Law Gets Declared (Video)
Why the Super Rich Are Leaving Major Cities, Even Renouncing Citizenship (Videos)
This is Why the Elite Are The Most Paranoid Preppers Of All
In the end, the truth is that America was headed for disaster whether Trump or Clinton won the election. And actually, many of the apocalyptic scenarios that I lay out in my novel are much more likely to happen with a Republican in the White House. For instance, radical leftists are far more likely to go wild in the streets if someone that they hate with all of their might is leading the nation.
And instead of trying to bring peace, the top Democrats in Washington are now calling for "total war" against Donald Trump. The following comes from the Daily Caller…
Democrat Party leaders are planning to agree on a strategy of all-out war against President Donald Trump at meetings this weekend, rather than work to achieve their policy goals through compromise.
Following the election that devastated the party's power at every level of government, some in the party were considering a strategy of working with the Trump administration to get things done. Indeed, Trump has signaled he would be willing to cross the aisle to achieve some less-than-conservative policy changes he has taken up. But senior party officials told The New York Times that option is likely off the table, and those inside the party who favor an aggressively confrontational strategy will win out.
The left is not just going to lay down and die just because Donald Trump won the election.
They are absolutely determined to fight Trump every step of the way, even if that means causing more division in a nation that is more deeply divided than it has been in decades.
I know that there is a lot of optimism out there among conservatives right now, but the truth is that the elements for a "perfect storm" are coming together very rapidly, and it is very easy to see how all of this could end very, very badly.
So when liberals say that the coming years could be "apocalyptic", they may not actually understand what they are talking about, but they might end up being precisely correct.
BE SURE TO CHECK THELASTGREATSTAND.COM FOR SURVIVAL GEAR!
FREE DETAILED GUIDE TO SURVIVING ECONOMIC COLLAPSE OR MARTIAL LAW HERE

IF YOU READ NOTHING ELSE, THE FOLLOWING POSTS ARE ESSENTIAL:
Bill Holter: This Is the Biggest Bubble in the History of History
Bill Holter: Paper Currencies Approaching Their Real Value: Zero (Video)
Bill Holter: Global Economic System Is Going to Resemble Caveman Times Soon
Peter Schiff: "Default or Not, U.S. Dollar Is Going to Collapse Either Way" (Video)
Jim Rickards Discusses Looming Shut Down of the Entire US Economy (Video)
Dr. Jim Willie: Worst Bond Crisis in 15 Years, World Quickly Losing Confidence in US
Bill Holter: Between Now and Election Will Be Extremely Dangerous (Video)
Dr. Jim Willie: We Are on the Brink of World War; Americans Totally Clueless - Pt. 1
Dr. Jim Willie: We Are on the Brink of World War; Americans Totally Clueless - Pt. 2
Bill Holter: Newly Solidified Chinese Superpower Will Replace Dead U.S. Dollar (Interview)
Peter Schiff: Don't Believe the Hype! The Real Economic Fallout From Brexit (Video)
How Will the U.S. Conduct Trade With Worthless U.S. Dollars and No Gold? (Video)
Why Did Illuminated George Soros Liquidate 37% of His Stock to Buy Gold? (Video)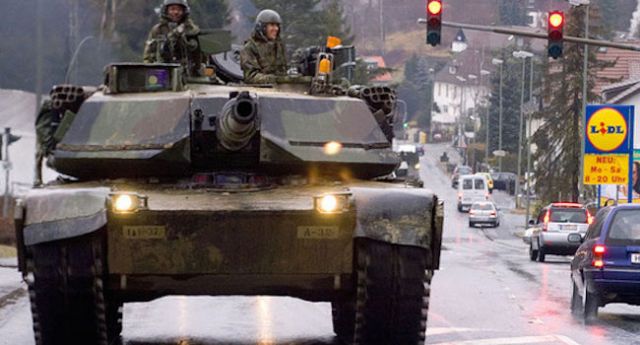 FOR MORE LINKS ON MARTIAL LAW:
Reports of Active U.S. Military Drilling for "Authoritarian Rule of Law" (Martial Law)
U.N. Soldier Says They Will Soon Occupy America: "Going Door-to-Door Taking Guns…"
1,500 Pages of New Documents That Reveal U.S. Government's Martial Law Agenda (Video)
Mainstream Media Blasts Alternative News Personality on FEMA Camps (Videos)
Ron Paul: Undeniable Proof Martial Law Is Coming Because of the Economy (Video)
Virginia Police and Homeland Security Doing Exercises for Marital Law Conditions (Video)
Latest News on Government's Preparing For Civil War or Martial Law (Videos)
Martial Law Convoys Sent to Baton Rouge, Dallas, and St. Paul Before Shootings (Videos)
Pentagon Approves U.N. Use Of Force Against American Civilians (Video)
What Is the U.S. Government Endlessly Preparing For (Videos)
Patriot Films Shocking New Video of a FEMA Camp Recently Discovered in Texas
Major Update to Military Movement and Actual Documentation of Their Plans (Video)
United Nations Troops on U.S. Soil Prepared to Assist With Martial Law? (Videos)
Obama Has Prepared FEMA for All Four Storms… Are You Prepared?
13 States Obama Is Using for His Nefarious Secret Agenda (Video)
Obama: Be Ready For EMP Attacks, Engineered Pandemics, Earthquakes, and Martial Law
How Likely is Martial Law in the US, and What Happens Under Martial Law
Law Enforcement Preparing For Rioting on National Scale (Videos)
All Armed Americans To Be Detained In FEMA Camps Starting In 2017? (Video)
Beware of Martial Law: Obama Will Confiscate Firearms Of All 50 States in 2016
Army Not Prepping for Battle; Training For Riot Control and Martial Law
Pentagon Says Preparing For Huge Civil Unrest in U.S. (Videos)
Political Dissidents Homes Being Marked By FEMA Prior to Martial Law?
Government "Threat List:" 8 Million People To Be Detained Immediately
SUBSCRIBE TO THE TOP STORIES OF THE WEEK IN THE NEWSLETTER HERE
FACEBOOK | GOOGLE+ | TWITTER | PINTEREST | STUMBLE UPON | TUMBLR
FREE GUIDE TO ECONOMIC COLLAPSE OR MARTIAL LAW…
AT THE OFFICIAL BLOG SITE BELOW!
FACEBOOK | GOOGLE+ | TWITTER | PINTEREST | STUMBLE UPON | TUMBLER
We encourage you to Share our Reports, Analyses, Breaking News and Videos. Simply Click your Favorite Social Media Button and Share.