I currently receive a Social Security benefit check of $985 a month, which is a spousal benefit I qualified for, one of the last to be able to make use of the so-called file-and-suspend option for married people reaching age 66 that the Obama Administration and Congress agreed to do away with two years ago, in one of many small cuts being applied to the Social Security program.
This year that benefit, like the benefit checks of all 60 million people (one in five of all Americans) on Social Security, rose by a scant 0.3 percent, taking my check from $983 a month last year to its present level — a rise of $2.00 a month (I was actually screwed out of a dollar because of crooked rounding!).
Now we learn that the Federal Reserve is raising the benchmark interest rate a notch because inflation is actually running at close to 2 percent — the "target" of the Federal Reserve Bank's policy makers for achieving what they call a "health economy."
Now don't tell me that inflation was running at 0.3 percent last year and that it's now 2.0% three months later. We didn't just have a huge 1.7% jump in prices of everything over the past three months.
The truth: This is a screw job on the elderly and the disabled, pure and simple.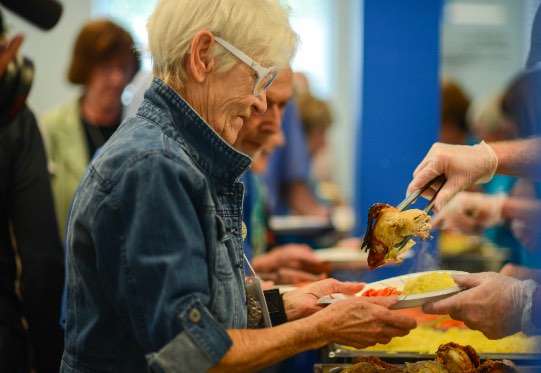 The claim that our costs of living didn't really change over the course of 2016 was a fraud. Everyone knows it. Food prices rose dramatically last year. So did fuel costs, for both heating and driving. Transportation costs rose, and so did car prices. Rents went up, and so did interest rates on borrowing for a home or a home equity loan. And health care costs — a big one for the Social Security set — rose 6.5%, which is what they're expected to rise by this year too. And do you know what percent of their income the elderly spend on healthcare? It's 20% across the board. Since it's safe to say that nothing the elderly (or anyone else) has had to buy in 2016 got any cheaper, clearly our cost of living rose a damn sight more than the measly joke of an increase of 0.3 percent that we saw (or didn't notice) in our benefit checks!
Clearly Congress should be revisiting this year's cost-of-living adjustment and making it match what the Fed says inflation has really been. It's wrong for the government to be keeping a double set of books on something like this, yet that is exactly what they're doing!
But I'm not holding my breath. This is the Congress that at this moment is attempting to pass a bill killing the so-called Affordable Care Act and replacing it with a Republican measure that besides throwing 24 million people off their ACA-subsidized health insurance plans, will increase the cost of supplemental health insurance (the insurance that covers doctors and drugs, as Medicare only covers hospital care) by as much as — hang on to your seats — 750 percent!
It's almost like the Republican party took to heart the idea of a wretched former Democratic Governor of Colorado, Richard Lamm, who famously said back in 1984, at the tender age of 48, in a discussion on the rising cost of health care with respect to the elderly who have the gall to make use of costly medical care to try and live longer: "You've got a duty to die and get out of the way. 'Let the other society, our kids, build a reasonable life."
A news collective, founded as a blog in 2004, covering war, politics, environment, economy, culture and all the madness
Source:
http://thiscantbehappening.net/node/3494
We encourage you to Share our Reports, Analyses, Breaking News and Videos. Simply Click your Favorite Social Media Button and Share.