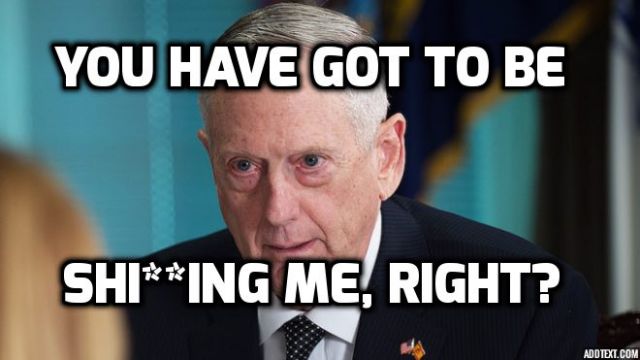 The fact that all the major world powers are nuclear-armed has ushered in the age of proxy wars. Case in point: Syria. And while even a fraction of any nation's nuclear arsenal could leave the large swathes of the planet uninhabitable and set civilization back by centuries, President Trump still wants to make sure that the United States' nuclear capability remains the best in the world. Secretary of Defense 'Mad Dog' Mattis has initiated a review of our country's nuclear weapons capability, and it seems he isn't too pleased with what it has found.
In the following video, Right Wing News takes a look at some of the facts about the state of our nuclear weapon arsenal that the review has dredged up. From command systems running on 8-inch floppy disks and ICBM silos that have fallen into disuse and disrepair, it looks like Mattis is going to go about fixing these issues immediately. But if a scenario ever arises where our nuclear arsenal needs to be launched, does it really matter anyway?
DO NOT MISS: Putin: 'Russia Could Wipe Out the U.S. in Less Than Half An Hour' (Video)
SUBSCRIBE TO THE TOP STORIES OF THE WEEK IN THE NEWSLETTER HERE
RIGHT WING NEWS & YOUR OTHER FAVORITE YOUTUBE CHANNELS NEED
YOUR HELP TO SURVIVE YOUTUBE'S NEW BOYCOTT!
MAJOR UPDATE REGARDING YOUTUBE'S ASSAULT ON FREE SPEECH!
DONATE: https://thelastgreatstand.com/stop-the-censorship/
US Secretary of Defense James Mattis has ordered the military to immediately review the US's overall nuclear weapons policy document after learning that weapons systems in the nuclear arsenal are over six decades old and some still run on floppy disk.
Before President Trump took office, he tweeted that the US "must greatly strengthen and expand its nuclear capability until such times as the world comes to its senses regarding nukes."
After taking office Defense Secretary James Mattis was disgusted to learn that decades of deferring modernization meant that some long-range bombers are more than 60 years old, certain control and command systems still run on eight-inch floppy disks and some intercontinental ballistic missile silos have fallen into disuse and disrepair.
"Today, Secretary Mattis directed the commencement of the review, [Nuclear Posture Review], which will be led by the deputy secretary of defense and the vice chairman of the joint chiefs of staff, and include interagency partners," Pentagon spokesperson Dana White said in a statement Monday.
"The process will culminate in a final report to the president by the end of the year."
The Pentagon is preparing to spend billions of dollars over the next 15 years to modernize and purchase the new B-21 bomber, an updated fleet of nuclear submarines, and new intercontinental ballistic missiles, as well as new command and control capabilities, according to Defense News.
According to a report by the U.S. Government Accountability Office (GAO), the Pentagon is under orders to urgently modernize its floppy systems – which currently coordinate intercontinental ballistic missiles (ICBMs), nuclear bombers and tanker support aircraft – by the end of 2017.
FACEBOOK | GOOGLE+ | TWITTER | PINTEREST | STUMBLE UPON | TUMBLER
FOR MORE ON ISSUES OR EVENTS THAT DEAL WITH INTERNATIONAL AFFAIRS:
Even With President Trump, It's Never Been More Important to Prepare!!! (Video)
North Korea Naval Fleet Retreats After Chinese Reject Their Delivery
China Threatens To Bomb North Korea, If U.S. Agrees to Lead (Video)
White House: 'The Clock Has Run Out' On North Korea (Video)
Chemical Weapons Explosion in Syria: False Flag Attack by the Usual Perps (Video)
The Real Back Story Behind U.S. Missile Attack on Syria (Video)
Trump Prepares 'Military Response' to Remove Assad From Power (Video)
FACEBOOK | GOOGLE+ | TWITTER | PINTEREST | STUMBLE UPON | TUMBLER
"I'M WITH THE DEPLORABLES" T-SHIRTS
FACEBOOK | GOOGLE+ | TWITTER | PINTEREST | STUMBLE UPON | TUMBLER
We encourage you to Share our Reports, Analyses, Breaking News and Videos. Simply Click your Favorite Social Media Button and Share.