The 'retail apocalypse' that has hit the American market this year shows no signs of stopping. More than 300 retailers have already filed for bankruptcy, and Credit Suisse estimates a whopping 8,640 store closures by the end of this year! To give further perspective on how bad it has gotten, credit rating agency Moody's has rated over 20 other retail companies as 'subject to very high credit risk'. These are all American household brands: J. Crew, K-Mart, Neiman Marcus, and Sears, just to name a few.
In the following video, Right Wing News examines the impact that the ongoing retail apocalypse will have on the already squeezed American middle class. On the macro level, using retail as a gauge for how the economy is doing in general, things are looking bleak. And on the micro level, these closures mean that underserved communities will have to drive further for everything, creating an invisible 'tax' on every purchase in terms of travel time and expenses. Can the American middle class continue to prosper?
DO NOT MISS: WHAT WE'VE DONE TO COMBAT YOUTUBE CENSORSHIP: This is Great! You'll Love This!
SUBSCRIBE TO THE TOP STORIES OF THE WEEK IN THE NEWSLETTER HERE
GET YOUR NEWSLETTER FROM
AMERICAN INTELLIGENCE MEDIA AT:
Almost 9000 Retail Stores Will Close This Year: Here's the List of Businesses in Trouble
Back in January, after the worst Christmas sales in a decade, I predicted that 2017 would be the year of the Retailpocalypse and that we'd see hundreds of retail stores closing.
Sadly, I was wrong.
We're going to see thousands of stores closing.
DO NOT MISS: Bill Holter: This is the Biggest Bubble in the History of History
According to a CNN Money report, more than 300 retailers have filed for bankruptcy already and we're only halfway through the year.
Another report by Credit Suisse has an even gloomier prediction:
…around 8,640 stores in the U.S. will close by the end of 2017 — easily surpassing the number of stores closed in a year over the past two decades. (source)
When retail stores close, it affects everyone.
Even if you're not much of a consumer, when retail stores close, it can still affect you.
Higher rates of unemployment mean more competition for available jobs.
When larger stores in a mall close, it often takes down the other stores with it.
Thousands of newly unemployed people are adding even more weight to our already strained social safety net.
Scarcity drives up prices.
Retail stores can be a glimpse at how our economy, in general, is faring.
DO NOT MISS: The Largest Debt Bomb In Human History is About to go BOOM!
Underserved communities have a lot of problems that are all rooted in the loss of their retail stores.
When consumers have to drive further for everything, that is like a tax on everything they purchase. Travel time, expenses, and wear and tear mean that they're spending just a little bit more on everything they buy.
Often, people begin moving out of smaller towns that are bereft of retailers because it's so inconvenient to purchase the things they want or need. Others leave because they lost their job and there were no other jobs available. Property values decline.
Mom and Pop stores that existed before the chain retailers arrived were often driven out of business. Fewer options mean higher prices at any stores still remaining.
DO NOT MISS: Ticking Time Bomb Will Wipe Out Virtually Every Pension Fund In America
As Michael Snyder of The Economic Collapse Blog wrote:
At this moment, the number of working age Americans that do not have a job is hovering near a record high. So being able to at least get a job in the retail industry has been a real lifeline for many Americans, and now that lifeline may be in grave danger.
For those running our big corporations, losing these kinds of jobs is not a big deal. In fact, many corporate executives would be quite happy to replace all of their U.S. employees with technology or with foreign workers.
But if the middle class is going to survive, we need an economy that produces good paying jobs. Unfortunately, even poor paying retail jobs are starting to disappear now, and the future of the middle class is looking bleaker than it ever has before. (source)
These stores could be filing for bankruptcy or closing their doors this year.
Some experts predict that one in four malls will be closed within the next five years.
The retail apocalypse is real.
So real, in fact, that 20 to 25% of all U.S. malls will close by 2022, according to new research from Credit Suisse.
That translates to 220 to 275 of the nation's 1,100 shopping malls, the research note said, according to Fortune.
Fueled by the rise of e-commerce, mass store closings and bankruptcies, brick and mortar retail stores have been closing around the U.S. at an increasing rate. And the fight against e-commerce giants like Amazon will only get worse. (source)
Ouch.
DO NOT MISS: Economic Recovery? No, Get Ready For the Retail Apocalypse (Video)
According to a Moody's Investor Service report, the outlook is extremely grim for the following retailers, who have been downgraded to the lowest ranking on their credit spectrum. All of these brands/retailers are now classed by Moody's as "subject to very high credit risk."
Boardriders SA
Bon Ton
Cole Haan
Charlotte Russe
Charming Charlie
J. Crew
Claire's
David's Bridal
Eddie Bauer
Fairway Market
Gymboree
K-Mart
MAG Retail
Neiman Marcus
Ninety-Nine Cents Only
Nine West
Savers
Sears
Tom's (weeping – I love those shoes)
Totes Isotoner
Tops Friendly Market
True Religion
Vince
This is on top of stores that were in trouble or whose projections were down back in January:
Aeropostale
American Eagle
Chicos
CVS
Finish Line
Kohls
Macy's
Men's Wearhouse
The Children's Place
Here are some steps you can take to protect yourself in a crumbling economy.
DO NOT MISS: Bill Holter: Paper Currencies Approaching Their Real Value: Zero (Video)
I really don't believe that all of this can be blamed on Amazon. We've become a country of consumers instead of a country of producers. We work to pay for things that profit huge corporations who have their goods produced for pennies in other countries instead of working to produce these things ourselves.
The problem with our economy is that we've become a country of consumers instead of a country of producers.Click To Tweet
That, in my opinion, is the problem in a nutshell.
DO NOT MISS: Expect Standard Of Living in U.S. to Drop by 30-50%
There are a few things you can do to provide some stability.
Get out of debt. Here's a way to pay it off as quickly as possible.
If you find yourself without a job, here are the first steps you should take to survive the aftermath.
Build an emergency fund.
Keep abreast of the news that could directly affect you. Sign up here for free daily tips and updates.
The most important prep you can make when the future is questionable is to learn to become a producer. Learn to meet your own needs by growing food, providing a necessary service, or creating something that people will always need.
Daisy is a coffee-swigging, gun-toting, homeschooling blogger who writes about current events, preparedness, frugality, and the pursuit of liberty on her websites, The Organic Prepper and DaisyLuther.com She is the author of 4 books and the co-founder of Preppers University, where she teaches intensive preparedness courses in a live online classroom setting. You can follow her on Facebook, Pinterest, and Twitter.
BE SURE TO CHECK THELASTGREATSTAND.COM FOR SURVIVAL GEAR!
FREE DETAILED GUIDE TO SURVIVING ECONOMIC COLLAPSE OR MARTIAL LAW HERE

IF YOU READ NOTHING ELSE, THE FOLLOWING POSTS ARE ESSENTIAL:
Bill Holter: Paper Currencies Approaching Their Real Value: Zero (Video)
Bill Holter: Global Economic System Is Going to Resemble Caveman Times Soon
Peter Schiff: "Default or Not, U.S. Dollar Is Going to Collapse Either Way" (Video)
Jim Rickards Discusses Looming Shut Down of the Entire US Economy (Video)
Dr. Jim Willie: Worst Bond Crisis in 15 Years, World Quickly Losing Confidence in US
Bill Holter: Between Now and Election Will Be Extremely Dangerous (Video)
Dr. Jim Willie: We Are on the Brink of World War; Americans Totally Clueless - Pt. 1
Dr. Jim Willie: We Are on the Brink of World War; Americans Totally Clueless - Pt. 2
Bill Holter: Newly Solidified Chinese Superpower Will Replace Dead U.S. Dollar (Interview)
Peter Schiff: Don't Believe the Hype! The Real Economic Fallout From Brexit (Video)
How Will the U.S. Conduct Trade With Worthless U.S. Dollars and No Gold? (Video)
Why Did Illuminated George Soros Liquidate 37% of His Stock to Buy Gold? (Video)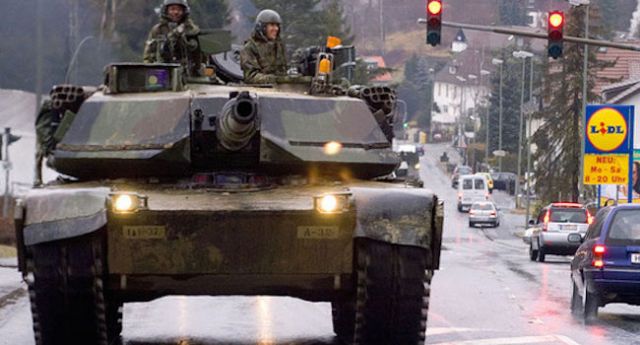 FOR MORE LINKS ON MARTIAL LAW:
Reports of Active U.S. Military Drilling for "Authoritarian Rule of Law" (Martial Law)
U.N. Soldier Says They Will Soon Occupy America: "Going Door-to-Door Taking Guns…"
1,500 Pages of New Documents That Reveal U.S. Government's Martial Law Agenda (Video)
Mainstream Media Blasts Alternative News Personality on FEMA Camps (Videos)
Ron Paul: Undeniable Proof Martial Law Is Coming Because of the Economy (Video)
Virginia Police and Homeland Security Doing Exercises for Marital Law Conditions (Video)
Latest News on Government's Preparing For Civil War or Martial Law (Videos)
Martial Law Convoys Sent to Baton Rouge, Dallas, and St. Paul Before Shootings (Videos)
Pentagon Approves U.N. Use Of Force Against American Civilians (Video)
What Is the U.S. Government Endlessly Preparing For (Videos)
Patriot Films Shocking New Video of a FEMA Camp Recently Discovered in Texas
Major Update to Military Movement and Actual Documentation of Their Plans (Video)
United Nations Troops on U.S. Soil Prepared to Assist With Martial Law? (Videos)
Obama Has Prepared FEMA for All Four Storms… Are You Prepared?
13 States Obama Is Using for His Nefarious Secret Agenda (Video)
Obama: Be Ready For EMP Attacks, Engineered Pandemics, Earthquakes, and Martial Law
How Likely is Martial Law in the US, and What Happens Under Martial Law
Law Enforcement Preparing For Rioting on National Scale (Videos)
All Armed Americans To Be Detained In FEMA Camps Starting In 2017? (Video)
Beware of Martial Law: Obama Will Confiscate Firearms Of All 50 States in 2016
Army Not Prepping for Battle; Training For Riot Control and Martial Law
Pentagon Says Preparing For Huge Civil Unrest in U.S. (Videos)
Political Dissidents Homes Being Marked By FEMA Prior to Martial Law?
Government "Threat List:" 8 Million People To Be Detained Immediately
FACEBOOK | GOOGLE+ | TWITTER | PINTEREST | STUMBLE UPON | TUMBLER
DEPLORABLE T-SHIRTS FOR MEN AND WOMEN
FACEBOOK | GOOGLE+ | TWITTER | PINTEREST | STUMBLE UPON | TUMBLER
We encourage you to Share our Reports, Analyses, Breaking News and Videos. Simply Click your Favorite Social Media Button and Share.