Stephen Frand Cohen (born November 25, 1938) is an American scholar and professor emeritus of Russian studies at Princeton University and New York University. He is considered by many to be an expert on all things Russia, Putin, or Russian/American relations. He's also a contributing editor at 'Nation,' where his latest article is titled: Is Vladimir Putin the Number 1 Threat to America or Its Security Partner in Waiting?
The article begins:
Russia's leader may be the most vilified foreign leader in recent US history, but until now Americans have never had an opportunity to see, hear and evaluate him for themselves.
In the following video, Today's Yellow Snow (formerly Right Wing News), reviews how until recently, unless Americans have taken the time to research and read books on Vladimir Putin (the kind that are footnoted), then virtually all any American knows about Putin (or thinks they know), is information that came from Western mainstream media "news" outlets, or Western academia, both of which have become quite lacking in credibility during recent months.
Why did the aforementioned Stephen Cohen make the comment during a radio interview not long ago that if there was a "Statesman of the Planet" award, it should go to Vladimir Putin? Now, State of the Nation is also suggesting that Putin will eventually be known as Vladimir the Great?!?! What is all this about? Furthermore, Today's Yellow Snow examines why that information coming out now is so different than the lies that have been fed to the American people by the mainstream media…
DO NOT MISS: This Time, They've Gone Too Far! (Video)
SUBSCRIBE TO THE TOP STORIES OF THE WEEK IN THE NEWSLETTER HERE
GET YOUR NEWSLETTER FROM
AMERICAN INTELLIGENCE MEDIA AT:
Putin will eventually be known as Vladimir the Great
SOTN Editor's Note:
The SOTN staff has carefully reviewed "The Putin Interviews" conducted by Oliver Stone with Vladimir Putin at the Kremlin in Moscow.
What became immediately evident from these many candid dialogues is that Putin really is his own man. His authenticity burns so brightly that no one can dispute even a single word of his own experience as Russia's head of state over the past 17 years. Clearly, he says what he means and means what he says. And he is addicted to telling the truth.
DO NOT MISS: "Are You Ready To Die?" Russia Preparing for U.S. Nuclear First Strike!
Even more significantly, Putin is a man, and a leader, who really walks his talk. Anyone who can take Russia from the point of total collapse, where it was prior to the year 2000, and turn it around into a feared and respected superpower is one very serious change agent.
Of course, Putin would have to be much, much more than just an expert troubleshooter and successful change agent to have brought Russia to its current level of order and prosperity. The interviews show a president and prime minister who was so effective in his jobs that the Russian people absolutely love the guy. His approval rating is not only through the roof, he has sustained those high levels for years on end.
DO NOT MISS: Putin: 'Russia Could Wipe Out the U.S. in Less Than Half An Hour'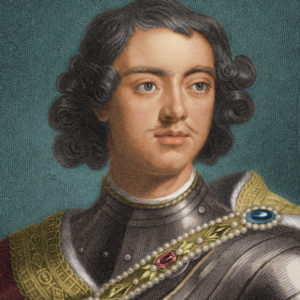 Painting of the young Peter Alexeyevich
By "love the guy", what SOTN really means to say is that the Russian citizenry has a genuine respect, bordering on reverence, for both Putin the person and Putin the president. His extraordinary competence, perseverance, and benevolence are overwhelmingly compelling. To many, he is nothing less than a reincarnation of Peter the Great who also turned Russia into an international powerhouse. Putin even shares a distinct likeness to Peter I who ruled the Tsardom of Russia and later the Russian Empire from "May 7, 1682 until his death in Saint Petersburg on February 8, 1725."[1]
DO NOT MISS: Putin to Megyn Kelly: 'Are You Completely Out of Your Mind?'
As for the new title — Vladimir the Great — there is no question that when the history books are accurately written, Putin will be known as the greatest Russian leader since the Motherland was first settled by the Kievan Rus'.
For those who are unfamiliar with the true back story of Putin's ascendancy within the Russian power structure just prior to his first presidency, the following groundbreaking exposé delineates some of the most important details.
Secret History Revealed — Putin Played Critical Role After The Pre-Planned Collapse Of The USSR
N.B. What follows below the broken line are just a few of the most meaningful takeaways from watching the 4 highly revealing Putin interviews with Stone. These takeaways are not listed in any particular order except to have maximum impact on the many defective and duplicitous leaders who now populate the highest echelons of the Zio-Anglo-American Axis.[2] Hopefully, the truth about Putin and his exceptional leadership will sober up a few of them. Surely they can all use an excellent role model to look up to and aspire to become like.
~~~~~~~~~~~~~~~~~~~~~~~~~~~~~~~~~~~~~~~~~~~~~~~~~~~~~~~~~~~~~~
• Russian President Vladimir Putin accomplished the greatest turnaround of a modern nation ever witnessed.
---
• President Vladimir Putin is — by far — the most honest and trustworthy leader ever to head a major nation or world superpower.
---
• Vladimir Putin scares the living daylights out of his Western counterparts, and for very good reason!
---
• Putin operates in a completely different universe than all the other heads of state, especially his spiritual orientation and philosophy of life.
---
• Putin's many stellar achievements — governmental and political, economic and financial, social and religious — clearly distinguish him as the greatest leader of the modern era.
---
• Putin the statesman has done more toward the advancement of world peace than any other world leader of the last 100 years.
---
"The Putin Interviews" gave the American people an extraordinary opportunity to get to know the real Vladimir Putin. Not the one invented by the Zio-Anglo-American Axis and Western mainstream media (MSM).
DO NOT MISS: Why Nuclear Armageddon May Now be On the Horizon With Russia…
The reader is highly encouraged to watch for him or herself the real Vlad Putin at the video links below. He will be viewed in an entirely different light than the intentionally misleading one cast by the ever-deceptive MSM. Now, watch truth in action for yourself.
VIDEO: The Putin Interviews – Part 1 (English Subtitles)
VIDEO: The Putin Interviews – Part 2 (English Subtitles)
VIDEO: The Putin Interviews – Part 3 (English Subtitles)
VIDEO: The Putin Interviews – Part 4 (English Subtitles)
KEY POINT: It has now become obvious to the world community of nations that the predictions of Edgar Cayce are coming true. Other modern-day prophets have likewise mentioned Russia as the "hope of the world" but Cayce said it best as follows:
"Through Russia, Cayce said "comes the hope of the world. Not in respect to what is sometimes termed Communism or Bolshevism — no! But freedom — freedom! That each man will live for his fellow man. The principle has been born there. It will take years for it to be crystallized; yet out of Russia comes again the hope of the world."
Happy Father's Day, President Putin!
Thank you for giving birth to the new Russian Federation of the Third Millennium. As well as your steady fulfillment of what is perhaps the greatest prophecy of the 20th century.
State of the Nation
June 18, 2017
Source
[1] Peter the Great
[2] Vladimir Putin's Russia: Perfect Foil To The Anglo-American Axis And Their New World 'Order'
[3] PROPHETIC: Edgar Cayce – 'Russia – The Hope Of The World'
___
http://stateofthenation2012.com/?p=75659
FACEBOOK | GOOGLE+ | TWITTER | PINTEREST | STUMBLE UPON | TUMBLER
FOR MORE ON THE ONGOING CONFLICT WITH RUSSIA:
5 Major Revelations Lapdog Media Is Covering up With Fake Russian Hysteria (Video)
Scholar Unravels 'Big Lie' Surrounding Tump/Russia Collusion Nonsense (Video)
Look Who Just Got Caught With Russian Investments… (Video)
Oops: Guests Remind NBC, CNN: Obama Gave Classified Intel to Russia (Video)
Who the U.S. and NATO Will Probably Be Fighting if There's a World War III (Video)
FEMA Nuke Detonation Drill In NYC; Operation Gotham Shield 2017 (Video)
Former Pentagon Staffer: 'Syria Gas Attack Was Staged!' (Video)
Why Nuclear Armageddon May Now be On the Horizon With Russia… (Video)
Putin Responds: Syria Strikes "Cripple US-Russia Relations"; Deploys Missile Warship to Syria
Chemical Weapons Explosion in Syria: False Flag Attack by the Usual Perps (Video)
The Real Back Story Behind U.S. Missile Attack on Syria (Video)
Trump Prepares 'Military Response' to Remove Assad From Power (Video)
Trump Asks Why Intelligence Committee Isn't Probing The Clintons (Video)
Russia Launches Investigation of "CNN and Other American Media" (Video)
Putin Bans U.S. Adoption of Russian Orphans Due to U.S. Pedophile Epidemic (Video)
Putin: 'Russia Could Wipe Out the U.S. in Less Than Half an Hour' (Video)
FACEBOOK | GOOGLE+ | TWITTER | PINTEREST | STUMBLE UPON | TUMBLER
DEPLORABLE T-SHIRTS FOR MEN AND WOMEN
FACEBOOK | GOOGLE+ | TWITTER | PINTEREST | STUMBLE UPON | TUMBLER
We encourage you to Share our Reports, Analyses, Breaking News and Videos. Simply Click your Favorite Social Media Button and Share.