In the immediate aftermath of Donald Trump's historic win over Hillary Clinton, there were some in the alternative media who hypothesized that in the end, it was the global elites who actually chose Trump as their candidate, because they thought he would be the one to best preserve their interests if he presided over the official bankruptcy of the United States of America. Given some of his previous experience, it made him the far more suited of the two candidates for such a thing.
Regardless of whether that was what pushed Trump over the edge to get the win or not, we'll likely never know, but as for the question posed by Michael Snyder below about whether this generation will be the one that financially destroys America or not, the answer is no. That ship set sail a long time ago by generations long before the current one. In fact, that mighty ship that set sail long ago, but today it is little more than a derelict vessel at this point, just waiting for the the final nail in the coffin that sinks the whole ship.
DO NOT MISS: Lost Ways: Survival Guide With 100+ Year Old Techniques
In the following video, Right Wing News reviews much of the abysmal economic data that anyone paying attention should already know, but as for the rest of the American public, unless they spend their free time seeking out specific pieces of economic information, then it's unlikely much of the public has even the slightest idea how dark the road ahead is for this country. Furthermore, since it's unlikely that many Americans have even the foggiest idea how dark the road ahead is, it's equally unlikely they've been preparing for it. That means the situation on the ground could easily devolve into a dangerous and violent one pretty quickly if things begin to go south…
SUBSCRIBE TO THE TOP STORIES OF THE WEEK IN THE NEWSLETTER HERE
GET YOUR NEWSLETTER FROM
AMERICAN INTELLIGENCE MEDIA AT:
Did you know that the federal government is going to spend more than 4 trillion dollars this year? To put that into perspective, U.S. GDP for the entire year of 2017 is going to be somewhere between 18 and 19 trillion dollars. So when you are talking about 4 trillion dollars you are talking about a huge chunk of our economy. But of course the federal government doesn't bring in 4 trillion dollars a year.
DO NOT MISS: Dr. Jim Willie: Global Rejection of U.S. Dollar and the Expected Effects
At the beginning of Barack Obama's first term, we were 10.6 trillion dollars in debt, and now we are nearly 20 trillion dollars in debt. That means that we have been adding more than a trillion dollars a year to the national debt. When you break that down, that means that we have essentially been stealing more than a hundred million dollars from future generations of Americans every single hour of every single day to pay for our debt-fueled lifestyle. Even Federal Reserve Chair Janet Yellen is warning that this is not sustainable, and yet we just keep on doing it.
DO NOT MISS: Bill Holter: This is the Biggest Bubble in the History of History
Nobody can pretend that what we have today is the kind of limited federal government that our founders intended. When federal spending accounts for more than 20 percent of GDP, it is hard to argue that we haven't moved very far down the road toward socialism. As I mentioned above, total federal spending will surpass 4 trillion dollars for the first time ever in 2017…
Both the Congressional Budget Office and the White House Office of Management and Budget project that federal spending will top $4 trillion for the first time in fiscal 2017, which began on Oct. 1, 2016 and will end on Sept. 30.

In its "Update to the Budget and Economic Outlook: 2017 to 2027" published last week, CBO projected that total federal spending in fiscal 2017 will hit $4,008,000,000,000.
I was recently asked how we are going to pay for a 4 trillion dollar government if we abolish the income tax like I am proposing.
DO NOT MISS: The Largest Debt Bomb In Human History is About to go BOOM!
Well, the truth is that we would have to dramatically reduce the size and scope of the federal government. Our founders always intended for the individual state governments to be much stronger than they are right now, and it is time for us to restore that constitutional balance.
Something desperately needs to be done, because we have a federal government that is completely and totally out of control. Even the Congressional Budget Office agrees that we are headed toward absolute disaster if our leaders in Washington don't start displaying some fiscal responsibility…
A large and continuously growing federal debt would increase the chance of a fiscal crisis in the United States. Specifically, investors might become less willing to finance federal borrowing unless they were compensated with high returns. If so, interest rates on federal debt would rise abruptly, dramatically increasing the cost of government borrowing. That increase would reduce the market value of outstanding government securities, and investors could lose money.
DO NOT MISS: Almost 9000 Retail Stores Will Close in 2017!!!
The resulting losses for mutual funds, pension funds, insurance companies, banks, and other holders of government debt might be large enough to cause some financial institutions to fail, creating a fiscal crisis. An additional result would be a higher cost for private-sector borrowing because uncertainty about the government's responses could reduce confidence in the viability of private-sector enterprises.
It is impossible for anyone to accurately predict whether or when such a fiscal crisis might occur in the United States. In particular, the debt-to-GDP ratio has no identifiable tipping point to indicate that a crisis is likely or imminent. All else being equal, however, the larger a government's debt, the greater the risk of a fiscal crisis.
The likelihood of such a crisis also depends on conditions in the economy. If investors expect continued growth, they are generally less concerned about the government's debt burden. Conversely, substantial debt can reinforce more generalized concern about an economy. Thus, fiscal crises around the world often have begun during recessions and, in turn, have exacerbated them.
DO NOT MISS: Economic Recovery? No, Get Ready For the Retail Apocalypse (Video)
I get so frustrated with Republicans in Congress, because they are supposed to be watching out for us.
During the 2010 elections, one of the biggest mid-term landslides of all time gave Republicans control of the House of Representatives and they have had it ever since. One of the pillars of the "Tea Party revolution" was fiscal responsibility, but the national debt has just continued to explode.
When the Republicans took control of the House in early 2011, we were about 14 trillion dollars in debt, and now we are nearly 20 trillion dollars in debt.
We have been betrayed, and those that have done this to us need to be held accountable.
DO NOT MISS: Ticking Time Bomb Will Wipe Out Virtually Every Pension Fund In America
Of course the big reason why our politicians never want to control spending is because they know what it will do to our economy.
During the Obama years, we spent more than 9 trillion dollars that we didn't have. If we could somehow go back and take 9 trillion dollars out of the economy over those 8 years, we would be in the worst depression in U.S. history right now.
Nobody in Washington wants to be responsible for plunging us into an economic depression, and so they just keep stealing from the future in order to prop things up in the short-term.
And a similar thing could be said about central bank intervention. If the Federal Reserve and other global central banks had not pumped trillions upon trillions of dollars into the financial system over the past 8 years, we would be in the midst of a horrific economic nightmare right now.
But now all of that "hot money" has created epic financial bubbles all over the planet, and when they finally burst the ensuing crisis will be far, far worse than if they had never intervened in the first place.
Global central banks now have more than 20 trillion dollars in assets on their balance sheets and the world is more than 217 trillion dollars in debt. The desperate measures that national governments and central banks have been taking have delayed the coming crisis, but they have also guaranteed that it will be far worse than it could have otherwise been.
DO NOT MISS: Expect Standard Of Living in U.S. to Drop by 30-50%
The stage is set for the worst financial crisis in world history, and the only way that it can continue to be delayed is for our leaders to continue to inflate the bubbles larger and larger and larger.
But of course no bubble can last forever, and the bigger they become the harder they burst.
BE SURE TO CHECK THELASTGREATSTAND.COM FOR SURVIVAL GEAR!
FREE DETAILED GUIDE TO SURVIVING ECONOMIC COLLAPSE OR MARTIAL LAW HERE

IF YOU READ NOTHING ELSE, THE FOLLOWING POSTS ARE ESSENTIAL:
Bill Holter: Paper Currencies Approaching Their Real Value: Zero (Video)
Bill Holter: Global Economic System Is Going to Resemble Caveman Times Soon
Peter Schiff: "Default or Not, U.S. Dollar Is Going to Collapse Either Way" (Video)
Jim Rickards Discusses Looming Shut Down of the Entire US Economy (Video)
Dr. Jim Willie: Worst Bond Crisis in 15 Years, World Quickly Losing Confidence in US
Bill Holter: Between Now and Election Will Be Extremely Dangerous (Video)
Dr. Jim Willie: We Are on the Brink of World War; Americans Totally Clueless - Pt. 1
Dr. Jim Willie: We Are on the Brink of World War; Americans Totally Clueless - Pt. 2
Bill Holter: Newly Solidified Chinese Superpower Will Replace Dead U.S. Dollar (Interview)
Peter Schiff: Don't Believe the Hype! The Real Economic Fallout From Brexit (Video)
How Will the U.S. Conduct Trade With Worthless U.S. Dollars and No Gold? (Video)
Why Did Illuminated George Soros Liquidate 37% of His Stock to Buy Gold? (Video)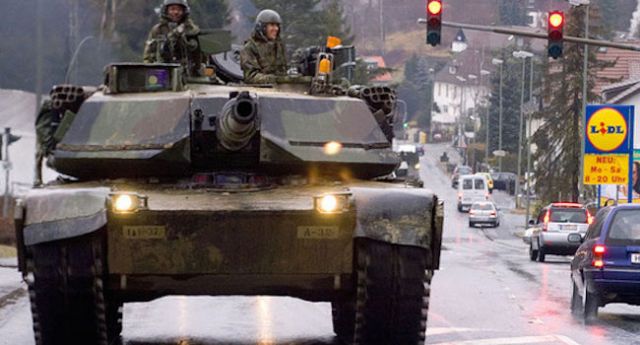 FOR MORE LINKS ON MARTIAL LAW:
Reports of Active U.S. Military Drilling for "Authoritarian Rule of Law" (Martial Law)
U.N. Soldier Says They Will Soon Occupy America: "Going Door-to-Door Taking Guns…"
1,500 Pages of New Documents That Reveal U.S. Government's Martial Law Agenda (Video)
Mainstream Media Blasts Alternative News Personality on FEMA Camps (Videos)
Ron Paul: Undeniable Proof Martial Law Is Coming Because of the Economy (Video)
Virginia Police and Homeland Security Doing Exercises for Marital Law Conditions (Video)
Latest News on Government's Preparing For Civil War or Martial Law (Videos)
Martial Law Convoys Sent to Baton Rouge, Dallas, and St. Paul Before Shootings (Videos)
Pentagon Approves U.N. Use Of Force Against American Civilians (Video)
What Is the U.S. Government Endlessly Preparing For (Videos)
Patriot Films Shocking New Video of a FEMA Camp Recently Discovered in Texas
Major Update to Military Movement and Actual Documentation of Their Plans (Video)
United Nations Troops on U.S. Soil Prepared to Assist With Martial Law? (Videos)
Obama Has Prepared FEMA for All Four Storms… Are You Prepared?
13 States Obama Is Using for His Nefarious Secret Agenda (Video)
Obama: Be Ready For EMP Attacks, Engineered Pandemics, Earthquakes, and Martial Law
How Likely is Martial Law in the US, and What Happens Under Martial Law
Law Enforcement Preparing For Rioting on National Scale (Videos)
All Armed Americans To Be Detained In FEMA Camps Starting In 2017? (Video)
Beware of Martial Law: Obama Will Confiscate Firearms Of All 50 States in 2016
Army Not Prepping for Battle; Training For Riot Control and Martial Law
Pentagon Says Preparing For Huge Civil Unrest in U.S. (Videos)
Political Dissidents Homes Being Marked By FEMA Prior to Martial Law?
Government "Threat List:" 8 Million People To Be Detained Immediately
FACEBOOK | GOOGLE+ | TWITTER | PINTEREST | STUMBLE UPON | TUMBLER
DEPLORABLE T-SHIRTS FOR MEN AND WOMEN
FACEBOOK | GOOGLE+ | TWITTER | PINTEREST | STUMBLE UPON | TUMBLER
We encourage you to Share our Reports, Analyses, Breaking News and Videos. Simply Click your Favorite Social Media Button and Share.