Headline: Bitcoin & Blockchain Searches Exceed Trump! Blockchain Stocks Are Next!
How Much Faith Do You Have in the Vote Counting Process?
http://whowhatwhy.org/2016/09/23/much-faith-vote-counting-process/
By: Jeff Schechtman
Date: 2016-09-23
In an age of digital and online voting, there is no way to know if the announced results of any given election faithfully express the intent of the voters. This is not only because digitized voting machines can be hacked or manipulated. The fact is, modernday ballots are not available as public documents — even after elections.
Dr. Jonathan Simon, executive director of Election Defense Alliance, tells WhoWhatWhy's Jeff Schechtman that this is a risk we should not be taking when so much is at stake. Simon makes a data-driven argument that our computerized voting system is frighteningly vulnerable to corruption and partisan sabotage — at a time when corruption and partisanship are rampant. He argues that we have sacrificed transparency for convenience and speed, and that nothing short of votes counted observably and by hand can undo the damage to democracy.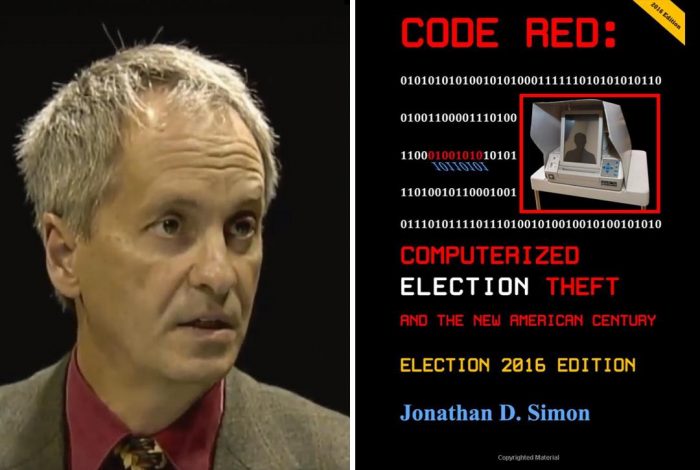 Dr. Jonathan Simon, author of CODE RED: Computerized Election Theft and the New American Century Photo credit: PopulistDialogues / YouTube (Creative Commons Attribution license – reuse allowed) and CodeRedPublishing
Source:
http://vaticproject.blogspot.com/2016/11/how-much-faith-do-you-have-in-vote.html