On Nov. 5, Todd Strandberg was at his desk, fielding E-mails from around the world. As the editor and founder of RaptureReady.com, his job is to track current events and link them to biblical prophecy in hopes of maintaining his status as "the eBay of prophecy," the best source online for predictions and calculations concerning the end of the world. Already Barack Obama had drawn the attention of apocalypse watchers after an anonymous e-mail circulated among conservative Christians in October implying that he was the Antichrist. Former "Saturday Night Live" ingénue Victoria Jackson fueled the fire when, according to news reports, she wrote on her Web site that Obama "bears traits that resemble the anti-Christ." Now Strandberg was receiving up-to-the-minute news from his constituents in Illinois. One of the winning lottery numbers in the president-elect's home state was 666— which, as everyone knows, is the sign of the Beast (also known as the Antichrist). "It is very eerie, and I take it for a sign as to who he really is," wrote one of Strandberg's correspondents…..
A terrible, punishing period set in with Obama at the top of his fame, rule and power. The word Tribulation describes this perfectly? because it was lengthy, unending and stressful. It entailed being ostracized by my own kin, by people everywhere and by the world in general – so that the entire world became like a science fiction world. Just like George Orwell's 1984; or Fahrenheit 451, where reading books had become forbidden. The police would enter houses to arrest people for owning books…. and would burn the books. It was horrible. People would be hounding me by saying "We know you hate Obama, we know you're conspiring, admit it, we're going to send the cops after you."
I had several people threaten me saying THEY ALREADY HAD reported me to the FBI or CIA I don't even know which it was anymore (jimalbi at U Tube). It was like being in Russia. Ordinary people turned into demons. I don't know right now if the FBI or CIA don't have a file on me from being reported by these crazy cult-like fanatics who wreaked havoc during the Obama-Rule. Of course, while this was going on, we had their Hitlers and J. Goebbels or Hermann Georings in Rachel Maddow and Klaus Barbie Obermann who relentlessly harangued them on, in their hate-diatribes day after day. It was surrealistic like the Hitler radio harangues which terrorized and fanatized the masses day after damn day. It was a dehumanized world of terror. U Tube was covered with this verbal diarhoea and a glance at the top videos showed Obermann (UeberMann) and Maddow's hate-videos covering the top slots. It was a nightmare as if the world had gone mad. It was like the peak of the Anti-Communist days of Joe McCarthy when the police, secret services and administration all colluded to achieve the goal. But it's that hatred which brought it all down like a House of Cards; because when you live by hatred, that's precisely what tears you down. That's how Obama lost the mid-term elections totally, without any exception.
These demonic people were ordinarily aggressive, arrogant, and disdainful…. without the least respect for others (except for those thinking like them, and then again…. they still hate their guts as well also). But when I said Obama faces Supreme Court death sentence for his fraud of nuclear codes access with his birth forgery, they just went ballistic. I was saying it should go the legal court-way. Oh but no! And suddenly they thought that gave them the right of life and death practically over me. Thomas Jefferson said one was a traitor unless one criticized the POTUS so I'm in my right, if Obama's proven a traitor to the USA; not them. Preventing me from investigating doesn't mean they're right because they're faking my quest for truth. if you break a clock that doesn't mean time's stopped. Truth goes on even if you fake the facts and evidence, All You Obot-demons! Obama-followers are a cult centered upon Death and Atom Bombs. Sad, but a fact.
My life was hell during that Tribulation…. because it entailed being insulted repeatedly online, all the time, by these demonic people, who used all the tricks in the book to smear, slander and insult. What was good for us nevertheless was that they never went humourous and joked with us about it,…. because we fighters could feel their motivation. We knew that deep inside, they really believed in this and that exactly that violence in itself was, in fact, desperation in disguise. If they had, at any time, been sure of themselves, they'd have stepped back occasionally and laughed at themselves. Real control is when you can let up and look at yourself. Not the Obot demons. They were always "cutting-edge intense".
APOCALYPSE
I created 11 U Tube pages and documented each about my past 5 university years at Paris-Dauphine University on Tibetan Tantric Buddhism – culture and language (the highest form of culture, because it has Tantra, Mantra, Yoga etc…which none other have), and then my 28 years of research on Kalachakra and it's Apocalypse (Which I'm the world authority on and am totally opposed to the Dalai Lama's Dharamsala clique of ugly ignorants which claims the Apocalypse is due in 400 years, when it's clearly now).
I made hundreds of videos speaking about the lottery because I realized that the Bible's words were true that "The Antichrist will be defeated by divine means alone not worldly ones." The birth certificate will never defeat the Antichrist-Obama in 100 years, because he'd get of as an ex-president, but with 666 he'll be dragged into te mud without respite by the believers of the world who'll be the WATCHMEN at his many year-long trial. Obama's facing the Supreme Court's death sentence ruling for frauding his birth ID when he obtained the president's nuclear code clearance. That's Army High Treason and the rap's death in both SCOTUS and Army Court-Martial. No spies are let off lightly when they've stolen the nuclear secrets and – for Obama,- the bombs themselves. That makes Obama the greatest criminal in the history of the world since 5000 years. Adolf HITLER, Genghis Khan and Joseph STALINE never had Obama's power of death. He's a greater criminal then those three, COMBINED.
Opting for propagating exclusively the 666-Lottery-message, I quickly realized that my Buddhist creed would merge with the Christian Apocalypse and the others of the world and it would be a planetary-global thing. The Apocalypse says all faiths will be destroyed in the Revelation anyways – and my Kalachakra faith says the exact same thing, as well. So it's easy to see things that way, if "EVERYTHING IS TO BE DESTROYED". It's likesetting up a new life on a Lost Island! Rebuilding the world after the Apocalypse!!!!
Then my luck was to find someone who could also help me propagate my ideas, (I had by now totally adopted the Lottery and Antchrist message concerning Obama). That was Chris Kitze who answered me when I first added an article to his B4IN newspaper:
I posted many articles to B4IN under my name Geir Smith and now as King of Shambhala (this article too now!)
A strange string of events happened then: I tried to force Wikipedia's articles of "666″, "Antichrist", "Obama" to speak about the Lottery draw of 666. But I was wantonly aggressed by the editors there who tracked my efforts and then banned me outright. I had already been banned one year earlier for trying to reveal that the Dalai Lama's brother, Gyalo Thondup, was a most wanted murderer. At Wikipedia, the facts had been ferociously denied by those same editors under Dalai lama pressure and amidst the Dalai's panic at this being revealed. The Nobels would not like this to get out. Norway would be so ashamed if this was known they had given the Nobel to a family of gangsters.
The editors at Wikipedia didn't leave it at banning me, they trailed me so as to heckle each B4IN article I wrote for months on end. It was the two same people for months, just as if they were paid to do nothing else. At that time, it was in mid 2010. This was a true tribulation because now a full three years had passed, since I'd started out on this harassing trail. at that time I was writing to many Illinois newspapers, so as to ask for people to send me screenshots of the newspapers of that day when the Lottery had been drawn and Obama's victory was the headline news. Indeed, this was because I'd been pawned by Lapkine, a French law student, who had taunted me to find that during a debate with him and friends, when he said "I don't think the Lottery showed on the same newspaper as Obama's victory. Show me pictures."
I've contacted him now, one year later, and he's refusing to accept that I've pawned him. He's acting like amnesia's set in. He refuses to say "You won." I think Obama's going to also lose without grace and will fold like a thief, wearing a blanket over his head when he's lead away by cops' Swat Team. I predict Obama leaving the White House with a plastic bag on his head…
At this time I should just mention briefly that many videos came out during this period. (which I commented when possible, but the owners often freaked out and went yellow, – "many fall by the road way in the Tribulations" says the Bible) They depicted the events following the time the Illinois Lottery drew 666:
1. Obama – Lottery 666 – You have GOT TO SEE – ANTICHRIST BIRTH CERTIFICATE CITIZENSHIP ELIGIBILITY
2. Obama State Lottery Is 666 Day After Win/ANTICHRIST BIRTH CERTIFICATE CITIZENSHIP ELIGIBILITY
3. OBAMA 666 LOTTERY! ANTICHRIST BIRTH CERTIFICATE CITIZENSHIP ELIGIBILITY
4. Justin Bieber saying Obama's the Antichrist – Baby ft. Ludacris.b
(I started making my own – the last one above among many others)
Law student Lapkine.
But , the Wikipedia editor-hecklers, upon seeing me ask people to send me the newspaper pictures, taunted me saying I was actually joking and that if I truely wanted to find the screenshots, that was really just a child's game to get them at ebay, and he sent the URL saying: "Here is one!"
My jaw dropped at that: this arch-enemy had given me the goods and I had him at my mercy. This was a German soldier coming out of a trench and saying "Shoot me!"
I guess he didn't fully realize it at that moment – I'm sure,- that he'd just sold Obama to me and for a dime. I'd bought Obama lock, stock and barrel – and for a song.
I instantly contacted Chris who had been monitoring me efforts and had himself browsed ebay, like me, several times to try to find the newspaper with the lottery draw. I asked him to snap up the edition and he did. It took a nerve-racking full week or ten days of economy-mail, to reach San Fransisco from Illinois – but this historical mail finally did get there and Chris sent me the scans of it, saying he had "Felt a tingle up his spine when I opened it".
Those photos are history now as I've put them into dozens of dozens of articles at B4IN and they are all over Google Images now. Here they are:
(Click to enlarge Biblical number 666 !!!!)
Below is Page 1′s Obama headline news victory. This photo's not photoshopped and can be seen on file at the Chicago Tribune and the original's at B4IN's office in a protected safe and no one has access to it. This is a historical document the like of the Constitution of the Uinted States because this spells the Apocalypse.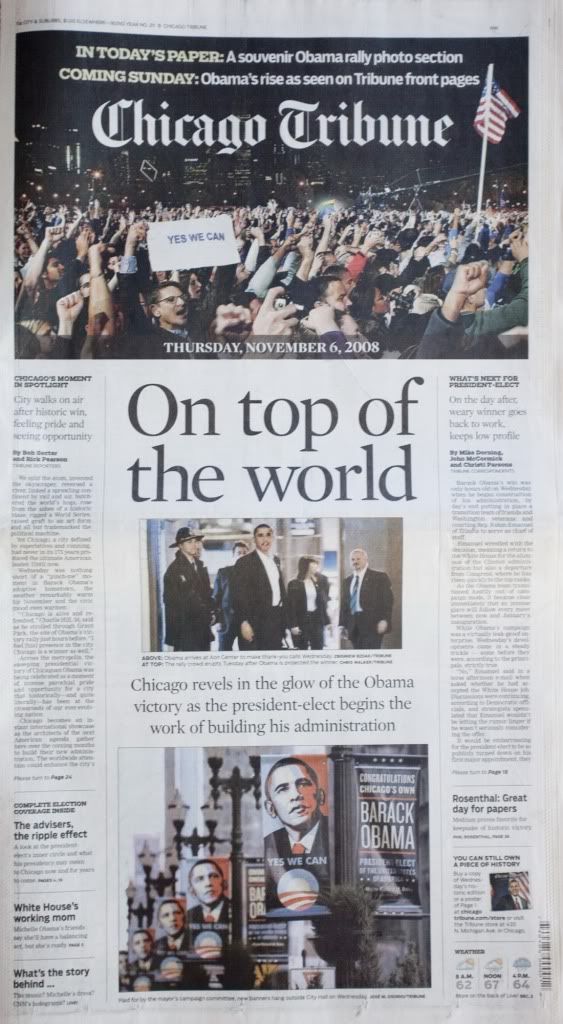 We are now in the Apocalypse and Obama is facing total gridlock on Health Care, he's facing heckling by the birth issue fighters, his press Secretary is facing constant heckling from birth issue people, and the US states have all closed access to Obama run for election unless he produces his certificate. Police will arrest him if he attempts it.
The Bible says "All things hidden will be revealed in the Apocalypse" and now we'll know exactly what Barback Obama's name is and who he is and where he's from. The Antichrist's hidden aspects of the Great Deceiver will be revealed as well the Abomination. Already, we know he's a life member of a gay club: "Man's Country club"; Located at 5015 N. Clark St Chicago, IL 60640 (phone: 773-878-2069)
http://beforeitsnews.com/story/51/828/Washington_Insider:_Obama_Member_of_Chicago_Gay_Mans_Club.html
Latest breaking news! Hawai Governor comes up blank in finding for birth certificate and he's searching.
Alex Jones: Jerome Corsi: "Hawaii Governor Can't Find Obama's Long Form Birth Certificate." 1/2
Jerome Corsi: "Hawaii Governor Can't Find Obama's Long Form Birth Certificate." 2/2
The Apocalypse is heralded by 4 Horsemen of the Apocalypse: War, Pestilency, Famine and Death. First was War, when Gov. Abercrombie admitted he didn't have the birth certificate and thus unleashing the full force against Obama of the whole tricked world population. Then is Pestilency, with myriads of small writers littering the world with articles suggesting the end is here. I'll add them as I get them in the Comments below. as well as in links here 1. (article about FOX on birth issue…Uebber Birther Champion Lou Dobbs back on air daily at FOX!) 2. 3. 4. 5. 6. 7. 8.(the comments.) 9. (ABC News! It's entering the bigger media networks)10.
11.12. 13. 14. 15. 16. 17.(msnbc) 18. 19. 20. 21. 22. 23. 24.(comments)25. 26.
Update Friday 20. Jan.:
the articles are now expanding the Apocalypse Pestilency.
27. (Washington Post pressure's rising from comments stressing the birth issue looming larger)
28. Boom! Fox itself reports it! It's now mainstream big media. Obama can't run now.
Lots of new articles but much more aggressive than before: 29.
Friday, we're on the verge of this spilling over into large mainstream articles and reports.
ABC, New York Daily News, UPI, FOX have all carried this story about the birth issue after refusing it for three years. So the "Rubicon" of Cover-up has been passed and now Ceasar (the Apocalypse) will march into Rome and claim the crown: depose Obama.
31. (ABC coverage plus 206 comments!!!!! all about the birth certificate)
32. (find the birth issue in this I can't hahahaha)
The Famine's when Obama goes into deep agony by the main news outlets picking up the story late but not last! I've seen the first TV show with it on Thursday 20 starting already and this trend will corner Obama into yielding to public pressure and giving in. Pestilency will pass on to Famine.
Then comes the Horseman of Death which will be when Obama confesses at a press conference. This'll be the biggest event in the history of Mankind. Obama's the greatest criminal of all Humanity's History: he stole the atom bombs illegally. This is the end of the world. We're facing the fall of the world's most powerful man, the US President, and the longest trial in the history of Humanity because sentencing this fraud and his accomplices for high treason, fraud, lies and perjury.
Please review the old articles here which all give the details of the things I've just related:
http://beforeitsnews.com/stories/by/0000000000003997
and also King of Shambhala (me)
http://beforeitsnews.com/stories/by/0000000000015190
BLOW UP!
The Hawai birth issue's taken off in the mainstream! Over 1000 comments on FOX
Hawaii Governor Claims Record of Obama's Birth 'Exists in Archives' But Can't Produce the Vital Document
AP
Pressure was mounting on Hawaii Governor Neil Abercrombie today amid increasing confusion over whether President Obama was born there.
Abercrombie said on Tuesday that an investigation had unearthed papers proving Obama was born in Hawaii in 1961.
He told Honolulu's Star-Advertiser: 'It actually exists in the archives, written down,' he said.
But it became apparent that what had been discovered was an unspecified listing or notation of Obama's birth that someone had made in the state archives and not a birth certificate.
1300 comments!
(update…actually going on 2000 now)
This article is exploding and it's FOX!!!! for Christ's sake!!!!!!
The machine grinds on and it's going very big news networks: 33.
(Rush Limbaugh joins the birthers now!)
34. http://www.youtube.com/watch?v=LRrmRdZARAA
http://www.rushlimbaugh.com/home/daily/site_012111/content/01125100.guest.html (Rush Limbaugh's own website)
Rush Limbaugh says:
"The president talks about growing jobs when he destroys them. He talks about free markets when he attacks them. And he talks about civility when he refuses to denounce the haters among his friends." "'The governor vowed when he took office in December that he would do his best to end the debate over Obama's birth, which began in 2008 during the presidential campaign.' Now, what's wrong with that sentence? 'The governor'… Where's the president on this?" "Oh, come on, Snerdley! Come on! Look, I know Open Line Friday is Open Line Friday, but we're not going to take a call from somebody who says she has Obama's Kenyan birth certificate. What are you trying to do to me? I knew I should've taken the day off! Jeez!" "I can't tell you how many times in a week I get e-mails from people in Nigeria who claim that they have Obama's Kenyan birth certificate and they'll give it to me if I just give them my bank account information." "This is like a bald guy saying, 'My hair's growing, but not fast enough to replace all the hair that's falling out.' You can spot those guys — they're the ones with the comb-overs — and they're still living in fantasy land, just like Obama is." "I'm telling you right now — with no offense intended for anyone, simply as a football fan — that of these four teams, there is no better Super Bowl matchup than the Steelers-Packers." "I have a question: Whatever happened to Obama's deficit reduction commission? Remember, that middle class commission that Vice President Biden was to be in charge of? Nobody messes with Joe? No, seriously, what happened to all that stuff?" "'If you can point out where the sporting goods section is at Walmart, you can change a tire.' I like that." "If the economy is growing — but not fast enough to make up for the damage done by the recession, as Obama said — well, then, how the hell can it be said to be growing? What the hell, folks? All of this is just gobbledygook PR blasphemy BS, and it's all part of a reelection campaign."
35. Politico comments hammering Obama on birth 36. Washington Post's comments hammer Obama 37.
40.
Sean Hannity on the Hawai Gov – birth certificate issue.
41. (msnbc mainstream news is seeting with the birth issue from Hawai)
HI GOV FESSES: BIRTH CERTIFICATE? NOPE
42. (MSM is everywhere) 43. (HI Gov ends it sic!) 44. (Hawaii goes crackpot crazy)
Obama mission scuttled
January 23, 2011
Barack Obama. Photo: Reuters
HONOLULU: Hawaii Governor Neil Abercrombie will end his mission to prove President Barack Obama was born in Hawaii because it is against state law to release private documents.
Mr Abercrombie, a Democrat and a friend of Mr Obama's parents, launched an effort last month to find a way to dispel conspiracy theories that the President was born elsewhere.
So-called "birthers" claim Mr Obama is ineligible to be president because they say there is no proof he was born in the US.
Me: This is the end. All hell will break loose. Hawaii can't produce the certificate!!!!!!!!!!!!!!!!!!!!!!!!! Kaboom!!!!!!!!!!!!!!!!!!
Obama I now solemnly call you out, you the Antichrist! Meet the press in a press conference and come clean "WHERE IS THAT BIRTH CERTIFICATE? AND NO MORE MONKEY BUSINESS"…Man!
Obama's henchmen fall fast:
46. http://www.youtube.com/watch?v=0hksQcQmx0I&feature=mpt%3Atop_stories
THE APOCALYPSES DEATH HORSEMAN'S SEEING OBAMA AND HIS DEMONIC SERVANTS FALL
http://theworldlink.com/news/national/article_8abbda34-54b6-5086-ab14-23559cbdff26.html
OBAMAS TURN AGAINST EACH OTHER CANNIBALIZING THEIR OWN
48. hehehe, Obots even have to carry the news that Obama's down!
49. The Obots are coming back for seconds – this newspaper DAILY NEWS below already kicked off this hysteria last week announcing the Hawaii Gov's slip-up. The Obots beat up on their own camp!
Neil Abercrombie, Hawaii governor drops mission to dispel birthers, prove Obama was born in state
Saturday, January 22nd 2011, 3:39 PM
Agostini/AP; Walsh/AP
Hawaii Gov. Neil Abercrombie, right, said he would drop his mission to prove President Obama was born in his state due to a law barring him from disclosing the information.
Hawaii Gov. Neil Abercrombie is giving up on efforts to squash claims that President Barack Obama wasn't born in his state — but it's not for lack of trying.
State Attorney General David Louie told the governor that it's against state law to release private documents, including an individual's birth documentation without the person's consent
"There is nothing more that Gov. Abercrombie can do within the law to produce a document," Abercrombie's spokeswoman Donalyn Dela Cruz said Friday. "Unfortunately, there are conspirators who will continue to question the citizenship of our president."
Abercrombie, a fellow Democrat and a friend of the President, launched an effort in December to squash conspiracy theories that President Obama was born elsewhere.
Some right-wing activists have long insisted that President Obama is ineligible to serve as President, claiming he wasn't born in the United States. Some argue he was born in Kenya, while others claim he was really a citizen of the United Kingdom or Indonesia.
This "birther movement" has persisted despite ample evidence proving that Obama was indeed born in Hawaii in 1961.
in 2008, the Obama Administration released a "certification of live birth," a shorter document that carries the same legal weight as the long one. The Administration has been reluctant to be seen as bowing to politically-motivated extremists.
"A year and a half ago, I asked that the birth certificate be put on the Internet because, Lord knows, if you have a birth certificate and put it on the Internet, what else could be the story?" Robert Gibbs, White House Press Secretary Robert Gibbs said in July 2009. "Nothing will assuage them. … But there are 10,000 more important issues for people in this country to discuss."
The state's health director said in 2008 and 2009 that she had viewed and verified Obama's original vital records and said birth notices appeared in two Honolulu newspapers within days of the President's birth at Kapiolani Maternity and Gynecological Hospital.
Abercrombie has previously told CNN that even if there is ample evidence that proves he's a U.S. citizen, conspiracy theories will still exist.
"You're not going to convince those people because they have a political agenda, or they have minds that go in that kind of direction," the governor said. "Conspiratorial theorists are never going to be satisfied."
Surprise! Hawaii Will Not Release Obama's Birth Certificate…
How shocking!…
HONOLULU (AP) — Democratic Gov. Neil Abercrombie will end his quest to prove President Barack Obama was born in Hawaii because it's against state law to release private documents, his office said Friday.

State Attorney General David Louie told the governor he can't disclose an individual's birth documentation without a person's consent, Abercrombie spokeswoman Donalyn Dela Cruz said.

"There is nothing more that Gov. Abercrombie can do within the law to produce a document," said Dela Cruz. "Unfortunately, there are conspirators who will continue to question the citizenship of our president."

Abercrombie, who was a friend of Obama's parents and knew him as a child, launched an effort last month to find a way to dispel conspiracy theories that the president was born elsewhere. The governor said at the time he was bothered by people who questioned Obama's birthplace for political reasons.

But Abercrombie's investigation reached a dead end when Louie told him the law restricted his options.

Hawaii's privacy laws have long barred the release of a certified birth certificate to anyone who doesn't have a tangible interest.
Me: BOOM BOOM BOOM! ! !
Jan. 23 Open Line
January 23, 2011 8:00 AM
"I went and asked for two tickets to 'Little Fockers' except it slipped out, and I called them, well, you know, and the ticket agent busted out laughing. So did the others in line behind me."
"Gas was $3.04 Tuesday night at the Qik-n-EZ on the west side in Springfield. Got into Jacksonville, and it was $3.18."
"To the 23-year-old who smokes pot for your skateboarding injury, you are the reason people do not want to legalize marijuana. I'm guessing you were high when you called or wrote into Open Line."
"America is more racially divided now than we were at the time of the Civil War. What must be done, so that people of different races can disagree with each other's views, without being labeled as racists? How can we permanently dispose of the race card?"
"I am a 20-year-old female. I smoke marijuana every day and have for years. I don't use it for pain. I use it for sanity. If I didn't smoke marijuana, I couldn't deal with the messed up society we live in today. I graduated high school. I'm also in college with a job, and I have a bright future ahead. More people should be open to smoking something that comes out of the ground just the same as a tomato does. It's all natural, and God put it here for a reason."
"Whoever is beating the animals to death in Schuyler County is a sick individual. If they will do it to an animal, they will do it to a human being. They should be caught and prosecuted to the fullest extent of the law."
"I'm not seeing the difference here on the Open Line. If it was supposedly ruined by going to Facebook, I sure haven't noticed a thing."
"So have you had to call the Beardstown police yet? I have, and they lost my call or disconnected me before I got a dispatcher on the line, and it took several minutes. I called back, and it still took several minutes before a dispatcher answered and took my complaint. Hence, 20 minutes later the police showed up to talk to me and remedy my problem. This is unacceptable. We need our dispatchers back in Beardstown . Cass County cannot handle the volume of calls. Bad mistake to let them go, aldermen/women and Mr. Mayor Walters, bad mistake."
"I cannot believe anyone would defend Mr. Cave or Mr. Birdsell or Mr. Handy. They all three should've lost their jobs and then Mr. Naylor should've received far more than what he received in the settlement. Those three men should be run out of Cass County for the treatment of Mr. Naylor."
"I wish restaurants would put their address on the back page reader ads. I don't know where Reichert's is or Three Star."
Editor's Note: They're both on South Main Street in South Jacksonville.
"Better to see the state insolvent than taxes almost double. They need to be prevented from borrowing any more."
"The money from Lafayette's sale is being used to fix roofs. That's OK, but the high school has had roof problems since it was built. Would the architect who bungled the high school project stand to profit from renting property to the charter school?"
"Our Republican congressman voted to repeal the health-care law. I wonder where his health insurance comes from? I don't want my insurance plan to be any better than my elected representatives, just so you know."
"When Republicans are in power and taxes are raised, liberals complain. But when the elites, the ones who know better than the rest of us, are in power, taxes are needed for myriad reasons. I've heard them all recently. But we know most of the money will go for more entitlements and unfunded programs, not the debt."
"Glenn Beck was right again. Congress is irrelevant in this country. Our problems will not be solved until Obama and his progressive buddies that really run this country are out of power. The global government is right around the corner, following our financial collapse."
"The condition of Morgan County roads the last two day is precisely why Calvin (100K/year) Hance should be fired."
"So Republicans plan to eliminate 50 government agencies, which will have a domino effect on the private sector. That must be their new jobs bill. They don't know how to create any, so they're just going to eliminate as many as possible. If you work for the government, you better prepare for your layoff and don't expect unemployment. That will no longer exist. Good luck."
"Where's the Republicans job plan? I know they don't have one and never will. They're just going to stall for the next two years with a bunch of posing and butt kissing the lobbyists and special interests that got them elected. If you voted for these clowns and you're not having buyer's remorse right about now, then you're a really big idiot."
"The decision to cover the statue in South Carolina came from the NAACP, and President Obama had nothing to do with it. Are you trying to imply that because Obama's black, everything a black organization does has his stamp of approval on it? I didn't hear you complain about the racist signs with Obama as an African witch doctor or as Hitler carried by the tea party last summer. So does that mean everything a white group does has your seal of approval? Are you trying to be Palin, hoping some nut out there will read that vile post of yours and try to wipe out that cancer you spoke about? It's idiots like you, Palin and the tea party that like to get the racists and the kooks already itching for a reason to shoot somebody all lathered up. It's like a dog whistle to them. And then when one of those nuts act out on your hate rhetoric, you cower and deny your part in spreading the hate. If you're not part of the solution then you're part of the problem, and you are a big part of the problem."
"Yes, JFK gave a great inaugural speech 50 years ago. Unlike Abraham Lincoln, who wrote his own, JFK's speech was written by a paid, professional speech writer. It was also perhaps the golden age of the slogan. His speech writer should have delivered it. It was his work after all. Have you ever had a boss or a supervisor take credit for either your or someone else's work?"
"Taxpayers at A-C Central need to start singing this song: 'Where, oh, where has the money gone, Where, oh, where can it be?' All junior high students are required to pay a $30 Industrial Arts fee, and all high school students who take Industrial Arts must also pay this $30 fee. Do the math. We are talking several thousand dollars. Yet the Industrial Arts fund is in the red, and the teacher never got any money to buy supplies this year. The administration just doesn't seem to know where it went. If the board is not going to hold the administration accountable, maybe it is time to hold the board accountable."
"I'm glad that my kids graduated from Illinois College before Professor Steve was hired. I shudder to think of the Marxist indoctrination he must be spreading in the classroom. It's sad to see a once-excellent college like IC decline in stature and reputation because of faculty members like Professor Steve."
"Who put the crosshairs on the unborn babies? It wasn't Sarah Palin."
"My sympathies to the Democrat who spews so much hate toward Sarah, but I can guarantee you that she is not going away. Sarah Palin speaks the truth, and she will get stronger as you keep spewing your lies and hate. Why are you so afraid of one lady? It makes you look childish."
"Sarah Palin, bright, beautiful, bold and very brave."
"I will give your president the same respect you gave mine."
"Dot Foods is building a big new warehouse in Mount Sterling. Why would they want a worn out dump in Jacksonville?"
"Marijuana: Don't knock it until you've tried it."
"I will vote for Sarah Palin. She is 10 times better than what we have now for sure. You people need to stop and look at what we have in the White House as of now. Any questions?"
"I'd rather face the dangers in today's post-9/11 world than lose my freedom."
"If I could pay my medical bills, I certainly would. I cannot pay them. I do pay $102 a month to Medicare for coverage. You do get payments from Medicare for me. I pay into it. So the 20 percent that isn't covered, you overcharge anyway. Everyone knows medical services are marked up three times what they are actually worth to pay for charity cases . People should also know that hospitals do not pay property taxes. The majority of them, anyway. And to get this benefit from the government they have to take so many charity cases a year, or they will lose their exemption from property taxes. The illegals in this country know that. Why don't most Americans?"
"Please develop that idea a little more fully."
"I really do not believe someone is a sociopath for putting down Gabby Giffords' friends at her bedside who said they can't wait for her to get back to Capitol Hill so they can go out for beers and pizza . There's a little too much of this type thing going on in our government. Most of us cannot afford to do that . I can understand the person's point."
"Blowhards on the Open Line? LOL. Now that is funny. I would have to say 99 percent are clueless on the Open Line."
"I'd like to know where you got your degree in psychology, the person who said I am a sociopath for saying I couldn't cry for Congresswoman Giffords. Sorry, partner, I can't manufacture alligator tears at will for someone I do not know. How does that make me a sociopath? I did say I had empathy for her and her family. I guess you didn't bother to read my post or else you simply cannot read and comprehend what you've read . My feelings are real . I do own a gun, too, and I am no sociopath. I have had a background check like all Illinois citizens who own guns. I am a responsible gun owner and a taxpaying citizen, and I vote."
"The progressives picked a black for president. So when he implements the socialist progressive agenda, anyone who complains will be called racist. Wake up, folks, before it's too late."
"I would really like to know who the person is that keeps bashing Sarah Palin. You have a form of mental disease that is curable, but you are going to have to come out from under your rock."
"The new Democrat governor of Hawaii, a big Obama supporter, said he was going to show us Obama's long form birth certificate to end the controversy. Well, he now says he can't find it. Hmmm."
"Open Line Online used to have its share of idiots, but at least there were enough voices that there were lively discussions. Now it's a ghost town. Only four people commented on Wednesday. Bring back the old system."
"With what?"
"You can tell by the posts on Open Line Online those who have and those who have not ever experienced smoking marijuana. It doesn't make you stupid or forget things. It intensifies whatever you are doing and makes it more clear to you. As for pain, it doesn't make you forget the pain. It doesn't make the pain or symptom go away. The THC in it acts as a nerve block so the body doesn't know the pain exists. Marijuana also lowers blood sugar, so if you have high blood sugar, it can drop it by 20 to 30 points. It also helps your vision in the darkness."
"The school board in Franklin had better wake up and really see what their superintendent is doing to the district. He is ruining it. Before they renew his contract, they should talk to people about how this man treats others and shows a lack of respect."
"Mayor Handy of Ashland is concerned with animal control in Ashland. I couldn't agree more. The town has gone to the dogs."
"Since the Beardstown mayor shot off his mouth and offered $500,000 to bring the courthouse to Beardstown, he can afford to pay for the levees to be recertified. The rest of us do not need to foot the bill."
"Let's ponder that a bit."
"America, the land of the greed."
"Alcohol kills, marijuana doesn't."
"Is it just me or is anyone else sensing the end of the world?"
"The biggest reason for all the financial problems from cities right up to federal government is corporations. Corporations contribute extremely large amounts of money to the Republican party to keep their outrageous profits and benefits."
————–
The article said the HI. Gov was looking for the birth certificate and failed. Then it says "anyone feel the end of the world?" just four lines above here.
Wayne Madsen: Rahm Emanuel's Family Ties to Mossad, and His Links to The Chicago Mob 1/2
http://www.youtube.com/watch?v=fQEsrU6kvks
The birth certificate announced the end and now the battle is on to unseat Obama formally: this video is aiming at cutting off Obama's head like France's King Louis XVI and wife Austrian Marie Antoinette.
Republican Leader of House Cantor has to attack Obama by speaking about the birth issue over and over and over:
DRIVING OBAMA CRAZY DRIVING OBAMA CRAZY DRIVING OBAMA CRAZYDriving Obama CRAZY
Blam Obama
350 articles about the birth issue just sweeping the world like a tornado or a tsunami – squashing everything on it' s path. House Speaker Cantor's talking about the birth issue is sweeping the world off it's feet. Obama is now forced to respond to this interest in his past's documents. The world is now laughing off it's feet.
550 articles carrying the birth issue into MSM and now sweeping the world like a tornado. It's incredible, the mind can'"t fathom what's going on.
Rush – Snerdley Don't Give Me That Caller That Say's She Has Obama's Kenyan Birth Certificate
——–
1600 hits now! Second highest in two month period!!!!!!!!!!!!! Great going!!!!!!!
————
They finally got theirs'
Obama's getting his today
When's the next Press Point?
http://www.youtube.com/watch?v=GD0U_jo2jQE
FINAL NAIL IN OBAMAS COFFIN: HI GOVERNOR ADMITS NO BC