.
A very deep analysis by a university professor and pastor, Scott Lively, on the Radical Left, Marxist agenda to destroy all culture.
"By sexual promiscuity, homosexuality is advanced and then all culture is destroyed. This is Herbert Marcuse 's agenda of the Frankfurt School of Marxism, imported into the Ivy League universities, like Brandeis Univ., in the 50s."
Lively: Obama Is The Antichrist, Working With Satanic Gays To Bring About The Apocalypse
Scott Lively, the pastor behind anti-gay laws from Uganda to Russia, appeared on TruNews yesterday to reveal to host Rick Wiles the identity of the Antichrist: President Obama. While he refused to mention Obama by name, he said that the Antichrist is the person "heading the largest superpower of the world today."
Lively explained that the Antichrist (read: Obama) will cancel all of the world's debts in 2015, end the Mideast conflict with a peace treaty between the Israelis and Palestinians and introduce a one-world economic system and secular humanist religion. – See more at: http://www.rightwingwatch.org/content/lively-obama-antichrist-working-satanic-gays-bring-about-apocalypse#sthash.WDMnZxRe.dpuf
Lively is a preacher who's a pioneer of the modern-day fight against sodomy and who says it's logical that Obama's the Antichrist. Jack Van Impe has been saying it for years now. Both emphasize aspects of the Antichrist: Lively says Sodomy is the basic tenet of the Antichrist's creed, while Van Impe emphasizes the evil of Islam and of Obama.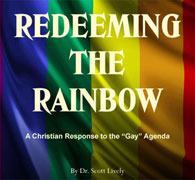 Scott Lively is a major figure of our time. He's certainly one of the Messengers of the Apocalypse but also one of the Two Witnesses.
We encourage you to Share our Reports, Analyses, Breaking News and Videos. Simply Click your Favorite Social Media Button and Share.