"Twelve years they served Chedorlaomer, and in the thirteenth year they rebelled." —Genesis 14:4
At the 50th anniversary in honor of the assassination of former United States President, John F. Kennedy, Oprah Winfrey and Bill Clinton were among the 16 people awarded the Presidential Medal of Freedom. However, if you look closely at some of the details, it seems more like a satanic Illuminati blood ritual. For a complete listing of everyone who received an award, CLICK HERE
According to Randy Demain, in his book, Nephilim Resurgence:
"In Illuminati code, the "killing of a king rite" is a sacrifice that must be made to the moon goddess to grant illuminated Freemasons a landing on the moon. Kennedy was killed under an oak tree at 12:22 p.m. on the eleventh month of the twenty-second day, at the moment when the sun was the highest, in the outdoor Temple of the Sun called Dealey Plaza. It would appear Kennedy was shot at this location as a sacrifice to the moon goddess." (My note: add the eleventh month and the twenty-second day, and it equals 33.)

And, the Dealey Plaza is the site of the first Masonic Temple in Texas. Dea in latin means goddess. Ley means law, or rule. The combined meaning of "goddess rule from this place" identified it as the sacrifice location. It's possible a fertility blood sacrifice, made in the underworld portal of Dealey Plaza, would have opened a gate to the moon. This action would have jump-started the Illuminati agenda (stalled out by Hitler's demise) of placing a man on the moon and establishing a human presence there.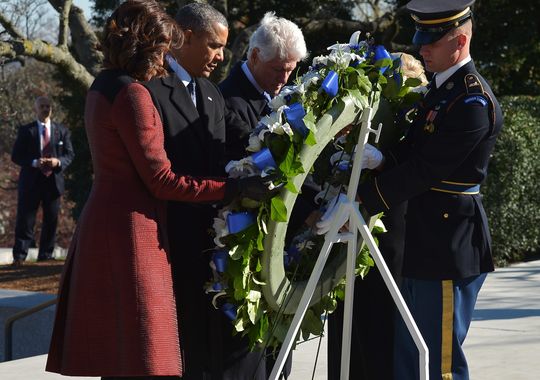 Illuminati Symbolism and Presidential Medal of Freedom
Notice in the below photo, first, the 5-pointed star, called, a pentagram. A pentagram is obviously evil, as most of us know. Then, inside the pentagram, a hexagram (six pointed star, also the most evil. See my post HERE for more information on the evil hexagram!) made up of 13 tiny pentagrams (13 is the Illuminati number of rebellion), all surrounded by five eagles (5 is the number of death). Eagles symbolize destruction and mayhem. And, let's not forget the X. The Illuminist/Masonic meaning of the X is simply this: It is the sign of Osiris, the great (Egyptian) sun God.
During the heartfelt ceremony, a bugler played Taps, while Obama, Clinton and spouses Michelle and Hillary stood nearby with their hands overtop their hearts, in front of the eternal flame that lights up Kennedy's grave at Arlington National Cemetery.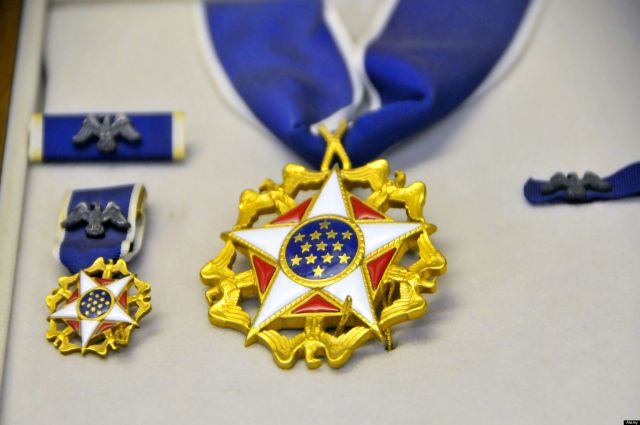 The below video provides more information about the Illuminati in our government, and in our currency:
SECRET ILLUMINATI – Eye of The Phoenix
We encourage you to Share our Reports, Analyses, Breaking News and Videos. Simply Click your Favorite Social Media Button and Share.