Headline: Bitcoin & Blockchain Searches Exceed Trump! Blockchain Stocks Are Next!
Am I A False Prophet? No. I'm The Messiah. - Answer At The Bottom.
I
V
V
First, 2 good Tea Party country songs asking where Obama was born.
Obama, Where Were You Born?
A funny thing went down in the presidential race '08
The democratic nominee was thought to be so great
But our founders made a rule and what they wrote was really clear
Only natural-born citizens are eligible…my dear

Obama ,tell us where were you born?
'Cause the media won't do their job anymore
You're grandmother in Kenya said you were born on foreign shores
So Barry tell us where oh where were you born?

You'd think that Ol' Barrack would wanna try and nip this in the bud
To settle all these lawsuits and wipe away the rumor mud
But the one thing that could prove it he won't let anybody see
A bona fide presidential birth certificate mystery

Obama ,tell us where were you born?
'Cause the media won't do their job anymore
You're grandmother in Kenya said you were born on foreign shores
So Barry tell us where oh where were you born?

Can you confirm Barrack…where were you born?
'Cause the jpeg on your website was proven forged
I gotta say pal to me this whole thing just smells rotten to the core
So Barry tell us where oh where were you born?

Barrack Hussein Obama tell us…where were you born?
You don't like your middle name spoken aloud in your side a thorn
Obama tell us where oh where were you born
I said Barack Obama tell us where oh where were you born?
.
Obama, Who's Your Daddy?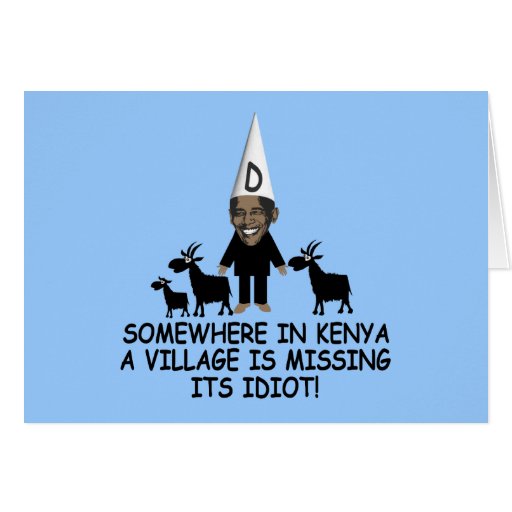 By J.T. Hatter
Why are people still talking about the birther issue? Congress and the Supreme Court have said they're not looking into it. But this issue clearly still has legs.
According to Adam Berinsky, a professor of political science at MIT, the birther issue never really went away. He's been conducting polls on the birthplace issue, which he compiled in an article called "The Birthers are (Still) Back." To wit, a lot of Americans continue to have doubts about Obama.
For the last four years, Barack Obama has been plagued by rumors that he is not a natural-born citizen of the United States and, as a result, is not eligible to serve as president. These rumors continue to show surprising resilience.
But what Berlinsky did in his polling was what the progressive defenders of the faith have always done: confused the birthplace question with other questions regarding Obama's eligibility to hold office. To many, the issue isn't where he was born. The question is, who is his father?….
Read more: http://www.americanthinker.com/2012/10/obama_whos_your_daddy.html#ixzz2oiP4C1t3
Obama: Who's Your Daddy?
—
The question of false prophets is this: "a false prophet says he's had a personal experience of God or heaven imparted only upon him but it's not true".
I'm not that case at all because I don't pretend to have had a personal experience of heaven or God relating to revealing the Antichrist Obama.
I merely witnessed along with millions of others in Chicago, Obama's hometown, on the day after Obama's election, that the lottery drew 666 in Chicago. This wasn't heavenly miracle revealed to me only and imparted solely upon me. I was just one of the multitude who saw this, one of the throng.
So, I'm not what a false prophet is called which is someone claiming to have a special relation to God or heaven. But I alone have moved to reveal this and am thus the messenger of that news of the miracle given to the world by heaven.
It can be argued that 666 isn't an exceptional draw but it is very exceptional for it to happen in that way: both when the world's most powerful man is elected and for it to be in his hometown.
But among all those millions none have taken upon themselves to warn the world, like I'm doing presently.
I tried for years to offload this work upon others and to do that I tried to find people who had spoken about it on Internet like PPSimmons; and others who had made videos.
But none will openly call Obama the Antichrist and won't involve in anything to harm Obama. The coward PPSimmons made several videos and articles to disclaim that he said Obama was the Antichrist. That was because I had made articles claiming he had said so.
——
So, reluctantly I've had to become the messenger of this revelation that Obama's the Antichrist. Now, I've chosen to come out openly and declare to the whole world that I'm the Messiah, even if that enrages Christians and other as well. But I have no qualms about saying I'm the Messiah very loudly for all to hear even in from East to West; worldwide.
The reason is because I'm doing it reluctantly and so because I've been forced to announce it. I was forced to do so by the passivity and inaction of the cowardly people of the world. That's why I've come out to declare this openly, strongly and in everybody's face. I'm the only one out here, I'm all alone talking to those deaf ears.
But I don't mind because I know it's bad for them because they'll not reach heaven because they didn't listen to me. I know there will be a few chosen and they'll number 144 000, so I'm reaching out to spread the message to those people through all media and all methods.
WHETHER YOU LIKE IT OR NOT I AM THE MESSIAH SO GO STUFF IT YOU DEMONIC FALSE CHRISTS AND LIARS.
By Geir Smith, Rudra Chakrin, The King of Shambhala aka the Universal Messiah.
I'm A False Prophet NOT - Video! I Speak
We encourage you to Share our Reports, Analyses, Breaking News and Videos. Simply Click your Favorite Social Media Button and Share.