The researcher who made the video clip below -
(who goes by "maverickstar" on Youtube) concludes:
"Time is running out maybe less than 5 years."
My research points to a POLE SHIFT event in December 2019.
Everyone who pays attention to the topic of POLE SHIFTS already knows the MAGNETIC North Pole has been racing towards Russia at an accelerating pace in our lifetimes,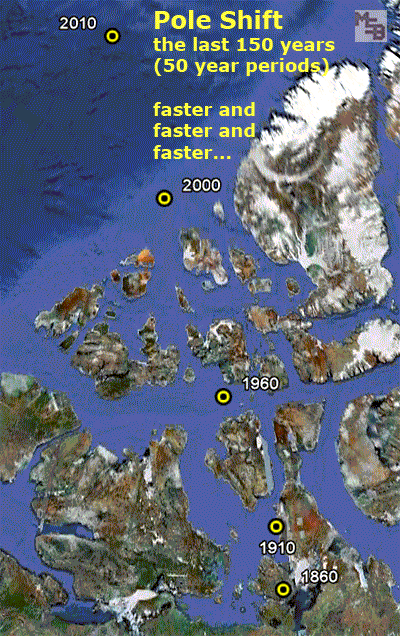 moving well over a thousand miles towards Russia in the last century, but really picking up speed in the last decade.
What if a crustal displacement – a shift of the Earth's axis compared to its current surface and equator and poles as described by Professor Charles Hapgood and Albert Einstein in "Earth's Shifting Crust" or "Path of the Pole" – happens next?
Are earthquakes and tsunamis of biblical proportions due to wipe out civilization again soon, as they did to our ancestors (Atlantis, etc) many times in the past?
I believe that the "new heavens and a new earth" from the Book of Revelation are created via a POLE SHIFT – a major rotation of the surface of our planet over the interior. Evidence across several sciences proves such catastrophic events have happened many times before, and will continue in predictable cycles, which I conclude point to another civilization-ending POLE SHIFT in December 2019.
Read "The History and Truth About Pole Shifts" article here for general info – or -
if you understand that Isaiah 24:1 sounds like a pole shift: "Behold, the Lord lays the earth waste, devastates it, distorts its surface and scatters its inhabitants" and that Revelation 6:14 warns: "The sky was split apart like a scroll when it is rolled up, and every mountain and island were moved out of their places" maybe you would appreciate reading End Times and 2019 for a more prophetic prospective.
.
We encourage you to Share our Reports, Analyses, Breaking News and Videos. Simply Click your Favorite Social Media Button and Share.