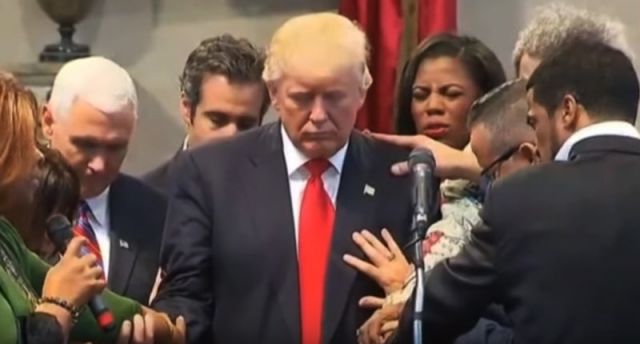 Donald Trump is locked in a war with Satan.
At an event in Cleveland on Wednesday, an evangelical pastor warned the Republican presidential candidate that he was fighting none other than Lucifer himself.
Pastor Darrell Scott said that five years ago, an unnamed "nationally known preacher" claimed that if Trump ran for president, he would come under a "concentrated satanic attack." Scott said the preacher warned of "a demon, principalities and powers, that are going to war against you on a level that you've never seen before."
What's more, Scott affirmed that this satanic attack was taking place right now.
"I'm watching it every day," Scott said in a clip posted online.
Scott then held a ritual where he and others laid hands on Trump as the pastor's wife, Belinda, asked God to "give him the anointing to lead this nation."
From RW:
Appearing at an Christian gathering in Cleveland on Wednesday, GOP presidential nominee Donald Trump was put under the protection of God by a bevy of evangelicals after the host of the conference said the New York businessman needed to be protected from a "concentrated Satanic attack."
After Trump addressed a few African-American pastors and a whole lot of white people at the Midwest Vision and Values Pastors Leadership Conference, pro-Trump pastor and co-host of the event, Darrell Scott, took the mic.
Speaking to the attendees, Scott claimed that a "nationally known" — but unidentified — preacher had forewarned Trump "that if you choose to run for president, there's going to be a concentrated Satanic attack against you."
In video captured by RW, Scott can be seen announcing, "He said there's going to be a demon, principalities and powers, that are going to war against you on a level that you've never seen before and I'm watching it every day."
Taking the microphone, Scott's wife, Belinda, led the plea to the almighty by praying: "Now God I ask that you would touch this man, Donald J. Trump. Give him the anointing to lead this nation."
Source RWatch.org and Huffpost and YOUTUBE
Check out more contributions by Jeffery Pritchett ranging from UFO to Bigfoot to Paranormal to Prophecy