Headline: Bitcoin & Blockchain Searches Exceed Trump! Blockchain Stocks Are Next!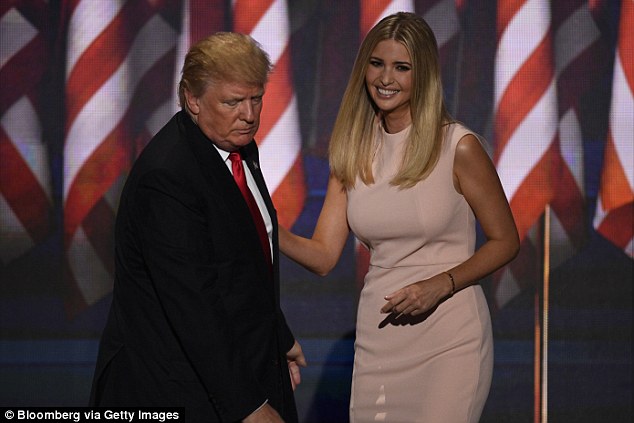 Ivanka Trump is going to have to back off from her father's campaign, because the hateful and sexist rhetoric of Donald Trump is severely hurting Ivanka's clothing and lifestyle brand.
Women are turning on Ivanka Trump as she continues supporting her father despite allegations of sexual harassment against him and a 2005 audio tape capturing him bragging in lewd terms that he can do whatever he wants to women.
Now, the growing group of women are boycotting her line of clothing, jewelry, perfume and accessories sold as part of the Ivanka Trump Collection. They are also calling on the stores that carry the brand, including Nordstrom, Bloomingdale's and Macy's, to stop selling it.
It has even created its own hashtag, #Ivankant, as well as #GrabYourWallet.
From The Daily Mail:
'If Ivanka Trump had distanced herself from the campaign I would not be boycotting her,' Shannon Coulter, who called on Americans to boycott the brand earlier this month, told the Guardian.
'But something changed for me when that tape was released.'
Coulter, who shared her own experience of sexual harassment at the hands of a male superior, launched the hashtag 'GrabYourWallet' on October 11, a reference to Trump's offensive 'grab them by the p***y' remark from the audio tape.
The problem obviously for Ivanka, is that Donald Trump's base, for the most part, doesn't shop at Bloomingdale's or Nordstrom, which are two of the largest stores that carry her clothing line, along with Macy's.
What are your thoughts, should Ivanka's business be hurt because of the actions of her father?
From Politico:
The New York Times cited a deposition from a woman who claimed that Donald Trump groped her under the table decades ago, but the presumptive Republican presidential nominee is certainly not a groper, his daughter said Wednesday.

"Look, I'm not in every interaction my father has, but he's not a groper," Ivanka Trump said in an interview broadcast Wednesday on "CBS This Morning." "It's not who he is. And I've known my father obviously my whole life and he has total respect for women."

The billionaire businessman launched a Twitter salvo the "failing" newspaper for its "false, malicious & libelous story," catapulting the story to become the newspaper's most popular of the year, according to assistant news editor Theodore Kim.

—

Ivanka Trump said she read the Sunday cover story and "found it to be pretty disturbing, based on the facts as I know them, and obviously I very much know them" as a daughter and an executive who's worked alongside him for more than a decade.

"I was bothered by it, but it's largely been discredited since," she said, referring to Brewer Lane's criticism of the report. Brewer Lane, the ex-girlfriend whose first run-in with Donald Trump was used as the lead anecdote for the article, titled "Crossing the Line: How Donald Trump Behaved With Women in Private," accused the newspaper of putting a negative connotation on her words.

"Most of the time when stories are inaccurate they're not discredited, and I will be frustrated by that, but in this case I think they went so far," Ivanka Trump continued. "They had such a strong thesis and created facts to reinforce it and, you know, I think that narrative has been playing out now and there's backlash in that regard."
Check out more contributions by Jeffery Pritchett ranging from UFO to Bigfoot to Paranormal to Prophecy