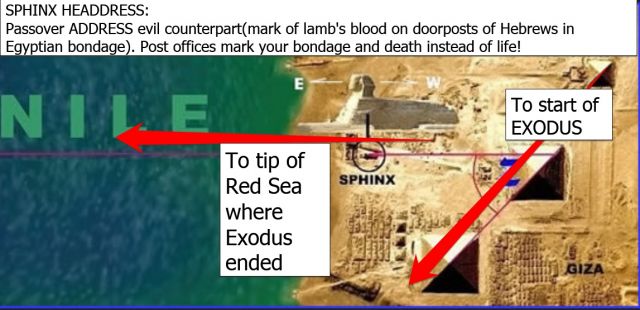 The mystery of the Sphinx has finally been solved. The headdress of the Sphinx is the 'address' of Passover death. During ancient times, Egypt enslaved Hebrews against the will of God. The plagues descended on Egypt, the final one being the death of all firstborn whose 'address' or 'doorpost' (postman) did not have the blood of a lamb marked on it. God 'passed over' the marked doors with the correct address. After this last plague, Pharaoh finally let God's people go.
To add to the mystery, the pyramids align directly to where the first leg of the exodus began. Also, the Sphinx is oriented towards the tip of the Red Sea, where the exodus ended with the death of Pharaoh.
Now, here is where things get really interesting. The prominent United States Post Offices of Dallas and Lower Manhattan (near Ground Zero) are shaped liked Sphinxs. In close proximity to each of these post offices is a are three inline buildings which are laid out precisely in the same orientation as the Sphinx and pyramids in Egypt
So, now we have a pattern; Sphinxs, post offices, doorposts and architecture that confirms the connections. See the video below for views into Google Earth that confirm these findings. And, most importantly, you must decide spiritually if your door is marked for life in Christ or death in Egypt.
We encourage you to Share our Reports, Analyses, Breaking News and Videos. Simply Click your Favorite Social Media Button and Share.