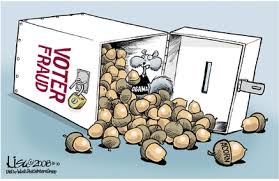 Video footage posted on Twitter shows an African-American man attempting to vote for Donald Trump in Pennsylvania but the voting machine refusing to select any other option than Hillary Clinton.
You'll have to go to this link to see the video because it will not embed here and not on YOUTUBE yet.
"This is what I was talking about, they fixed it but it was on some nut sh*t at first," the man tweeted, adding that a poll worker helped him fix the problem.
"LOL funny that the "errors" and "calibration" always favors the Statists. Things that make you go hmmmm….," responded another Twitter user.
The African-American voter said he complained that the polling station appeared to be using old machines.
"I just thought about it, I didn't have to show ID to vote either," he subsequently tweeted.
As we reported earlier, Trump supporters are also seeing voting machines change their votes in Philadelphia while others have been harassed.
Source InfoWars.com
We encourage you to Share our Reports, Analyses, Breaking News and Videos. Simply Click your Favorite Social Media Button and Share.