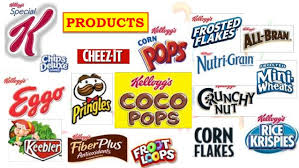 Kellogg's cereal hates conservatives and doesn't like our values. The food giant just revealed they are discriminating against Conservative news outlet Breitbart in the latest attack against us. Media analyst Mark Dice has the story. © 2016 by Mark Dice
The Breitbart News Network is seeing some of its advertisers head for the exit doors and is responding in typical Breitbart fashion: by going on the counteroffensive, labeling one of them as "un-American" and calling it a war on conservatism.
What do you think about Kellogs doing this to websites across the web? Will you stop eating their products? Let us know in the comments section.
Check out more contributions by
Jeffery Pritchett
ranging from UFO to Bigfoot to Paranormal to Prophecy
~~~~~
BIN NOTE: If by now you haven't figured out that Facebook and Google are in cahoots with the corrupt government, then I feel for you, but for those who are well aware of the issues it's high time you switched over to Seen.life. It is a website that is similar to Facebook but without all the censorship
We encourage you to Share our Reports, Analyses, Breaking News and Videos. Simply Click your Favorite Social Media Button and Share.