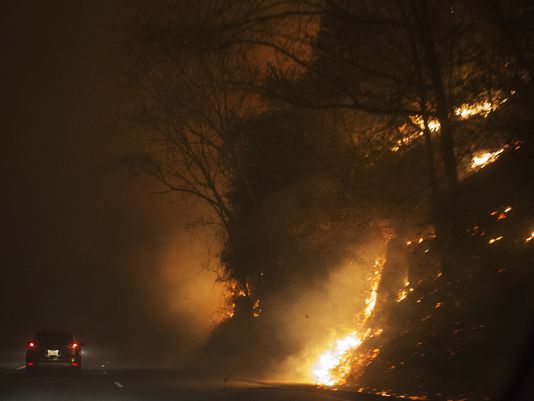 You won't believe what they just found in the Tennessee Wildfires..
The wildfires spread with little warning Monday from the Great Smoky Mountains into inhabited areas of Sevier County, including the town of Gatlinburg and an area around Pigeon Forge. While some major tourist attractions were spared, more than 250 buildings in the county were damaged or destroyed in a dizzying 24-hour period, officials said.
Some fires continued to burn Wednesday morning, and authorities continued to block off Gatlinburg, from which about 14,000 residents and tourists had been evacuated Monday.
Evacuees said they were forced to leave with only the clothes on their backs as fire surrounded their homes.
Joel 1:17-20
17 The seeds are shriveled
beneath the clods.
The storehouses are in ruins,
the granaries have been broken down,
for the grain has dried up.
18 How the cattle moan!
The herds mill about
because they have no pasture;
even the flocks of sheep are suffering.
19 To you, Lord, I call,
for fire has devoured the pastures in the wilderness
and flames have burned up all the trees of the field.
20 Even the wild animals pant for you;
the streams of water have dried up
and fire has devoured the pastures in the wilderness.
Check out more contributions by
Jeffery Pritchett
ranging from UFO to Bigfoot to Paranormal to Prophecy
~~~~~
BIN NOTE: Most people who use social media have figured out that Facebook and Google are in cahoots with the government. For those who are well aware of the issues, it's high time you switched over to Seen.life. It is a website that is similar to Facebook but without all the censorship. Firearm friendly, you may buy sell or trade anything allowed by site TOS rules.
We encourage you to Share our Reports, Analyses, Breaking News and Videos. Simply Click your Favorite Social Media Button and Share.