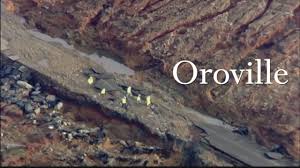 A powerful Pacific storm blew into Southern and Central California on Friday with wind-driven heavy rains that downed power lines and electrocuted a man, stranded others in flooded areas and disrupted hundreds of flights at airports.
With the storm feeding on an atmospheric river of moisture stretching far out into the Pacific, precautionary evacuations of homes in some neighborhoods were requested due to the potential for mudslides and debris flows.
More than 300 arriving and departing flights were delayed or canceled at Los Angeles International Airport.
On Wednesday, authorities raced to drain more water from the lake behind the battered Oroville Dam as new storms began to roll into Northern California. Rain followed by showers and light rain is expected in the area Thursday into Sunday, said weather.com chief meteorologist Jon Erdman.
Then you also have the Earthquake situation in California..
A concentrated geoogical disturbance is underway not far from California's 2.5 million year old lake, "Clear Lake" in Northern CA. | Storms begin to POUND California's shoreline, making their way inland with large amounts of rain and in some cases 80 mile per hour wind gusts.
Via Jim Stone at JimStone.is
Proof of weather mod at Oroville?
There is a radar anomaly happening near Oroville, only it might not be an anomaly because it has now shown up in some form on Weather.com's radar, and clearly on Beale Air Force Base weather radar for WAY TOO LONG to be a glitch.. I am going to post this, because Beale's weather radar has shown this anomaly clearly in all updates for approximately 2 hours. And what does it seem to be doing? DISSIPATING THE STORMS OVER OROVILLE. Yep, at the center of this bullseye the storms are consistently fading as they pass over.
Keep in mind that this really does look like a common weather radar anomaly, caused by it being out of sync, but usually this only happens for one frame of radar, and this has kept going for hours. Additionally Weather.com's radar is acting funky in this area also. But ACCUWEATHER RADAR SHOWS NOTHING ODD HERE. So maybe different systems reacting differently to whatever it is? If it is anything at all?
I am going to stick with "they got caught, and are now trying to stop a disaster at Oroville, rather than cause one to save their sorry butts." We will know if that "11 inches of rain that is supposed to hit" turns into no consequence for the dam, one way or another.
Most people who use social media have figured out that Facebook and Google are in cahoots with the government. For those who are well aware of the issues, it's high time you switched over to Seen.life.
Seen.life is a website that is similar to Facebook but without all the censorship. Firearm friendly, you may buy sell or trade anything allowed by site TOS rules.
Check out more contributions by Jeffery Pritchett ranging from UFO to Bigfoot to Paranormal to Prophecy
We encourage you to Share our Reports, Analyses, Breaking News and Videos. Simply Click your Favorite Social Media Button and Share.