Earlier it was reported from GodlikeProductions forum about a Masonic Pyramid being built and its possibly detonation. You can find the post here..
There was a t-shirt found that is already talking about this event as if it is a 911 pre-planned event.
Is this going to be ground zero of a new Chernobyl event? Chernobyl, WTC, Pyongyang. Who exactly is blowing this thing up? Is it going to the USA dropping Nukes on it or a self sacrifice situation with North Korean's maniac dictator?
The Ryugyong Hotel (Chosŏn'gŭl: 류경려관; sometimes anglicised as Ryu-Gyong Hotel or Yu-Kyung Hotel) is an unfinished (although topped-out) 105-storey, 330 metres (1,080 ft)-tall pyramid-shaped skyscraper in Pyongyang, North Korea.
Could this be planned as a human sacrifice via North Korea? So many possibilities as we stare at the creepy t-shirt and watch the creepy videos about North Korea's Hotel of Doom!
This obviously could be the site of something nasty brewing on the horizon. Now we will break down the history of the hotel. Which is also what the included videos discuss as well.
Dubbed by Esquire magazine as "the worst building in the history of mankind", and given the names "Hotel of Doom" and "Phantom Hotel" by other media sources, the 105-story Ryugyong Hotel is in the news once again after North Korea supreme leader Kim Jong-un restarted work on the project in the capital of one of the world's most reclusive and destitute countries.
Pyongyang North Korea, 1987. Construction begins on the Ryugyong Hotel, a project intended to show the world just how powerful and glorious the North Korean regime is, was halted in 1992, resumed in 2008 with the exterior reportedly finished in 2011. Work was halted again in 2013, and the planned opening suspended. How in 2017, army conscripts were seen working at the site in July, and on the anniversary of the Korean War armistice, two broad new walkways leading to the the building were revealed. But the hotel, nearly four million empty square feet of space, is still not finished 30 years later, making it the Half Life three of construction projects.
Bureau 39 is another North Korean secret location, but this time we have no confirmed pictures of the building, because this is the site of some extremely shady goings on. Bureau 39 is reportedly where Kim Jong Un's Korean Workers Party orchestrates and executes various illegal activities which take place across the globe, and the CIA estimate that the operations conducted within this one building are responsible for counterfeit US currency production, illegal weapons sales, narcotic production and distribution, and an international insurance fraud scheme, all of which rake in between five hundred million and one billion dollars per year.
It's three in a row for North Korea as in 2015 this ominously designed building was opened – the North Korean Science and Technology Complex known as Ssuk Islet. See how it's shaped like a giant atom? Like something a super-villain would do to his super-secret volcano base? That can't be good, that can't be good at all. Construction began in 2014 but Kim Jong Un wanted it built quicker than that.
Bill Gates is also connected financially to this hotel and the following information has been found regarding this connection. A connection between Bill Gates and Melinda Gates has also been found to the hotel. In 2017, there were some signs of activity with army conscripts working on the site.
Source WikiPedia Says
The Ryugyong Hotel (Chosŏn'gŭl: 류경려관; sometimes anglicised as Ryu-Gyong Hotel or Yu-Kyung Hotel) is an unfinished (although topped-out) 105-storey, 330 metres (1,080 ft)-tall pyramid-shaped skyscraper in Pyongyang, North Korea. Its name ("capital of willows") is also one of the historical names for Pyongyang. The building is also known as the 105 Building, a reference to its number of floors. The building has been planned as a mixed-use development, which would include a hotel.
Construction began in 1987 but was halted in 1992 as North Korea entered a period of economic crisis after the fall of the Soviet Union. After 1992 the building stood topped out, but without any windows or interior fittings. In 2008 construction resumed, and the exterior was completed in 2011. It was planned to open the hotel in 2012, the centenary of Kim Il-sung's birth, but this did not happen. A partial opening was announced for 2013, but this was also cancelled. As of 2017, the building remains unopened and has been called the tallest unfinished building in the world.
It also says, " In 2017, there were some signs of activity with army conscripts working on the site. "
The main website for the site can found here. http://ryugyong.org/
Also it was said Eric Schmidt went there with "fixer" Bill Richardson. Also who is selling these t-shirts? The store is here.
Also Google Executive Chairman Lands In North Korea For Controversial Trip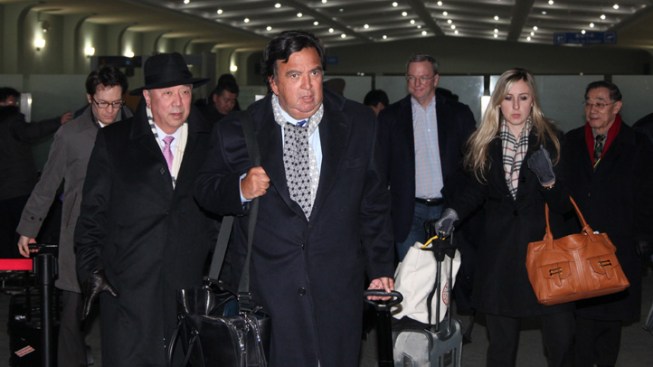 In this photo provided by China's Xinhua News Agency, former New Mexico Gov. Bill Richardson, center, and Google Executive Chairman Eric Schmidt, third right, arrive at an airport in Pyongyang, North Korea, Monday, Jan. 7, 2013. The Google chairman wants a first-hand look at North Korea's economy and social media in his private visit Monday to the communist nation, his delegation said, despite misgivings in Washington over the timing of the trip. (AP Photo/Xinhua, Zhang Li)
So Bill Gates invests 1 billion in Orascom in 2013 and then lands a construction contract with North Korea with his new company? The first nuke could go off on American soil. Source here below. Unfortunately for the bloomberg post you have to be a subscriber but you can still see a source connectiong Bill Gates.
What is about to go down here? We don't know for sure. But it could very well be something insane and huge.
I host the Church of Mabus radio show and it is going on 8 years. I've been in the paranormal community for 20 years. I provide content from a network of sources and guests and allies. Ranging from Politics to the Paranormal and the Spiritual. You can check out my other articles here at my BIOGRAPHY at BIN and you can check out my free radio show at this link HERE. Thanks for showing your support and stopping by!
We encourage you to Share our Reports, Analyses, Breaking News and Videos. Simply Click your Favorite Social Media Button and Share.