At least 139 people are dead after a 7.1-magnitude earthquake hit Mexico, causing gas line explosions, toppling buildings and forcing thousands to be evacuated into the street, the country's Civil Defense Authority said.
The tremor hit just hours after emergency drills around the nation on the anniversary of another devastating quake that killed thousands in Mexico City in 1985.
Today's quake hit near the Puebla state town of Raboso, about 76 miles southeast of Mexico City, at a depth of 32 miles, the US Geological Survey said.
Horrifying images coming out of the country's capital show rubble strewn across roads and enormous chunks of collapsed buildings laying on the ground with hundreds of terrified locals fleeing onto the streets.
As structures fell around her, local resident Georgina Sanchez, 52, said: 'I'm so worried. I can't stop crying. It's the same nightmare as in 1985.'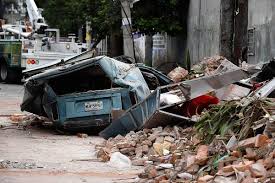 It comes just days after another powerful quake – measuring 8.1 – hit Mexico, killing at least 98 people.
Mexico City Mayor Miguel Angel Mancera said 50 to 60 people were rescued alive by citizens and emergency workers in Mexico City.
The federal interior minister, Miguel Angel Osorio Chong, said authorities had reports of people possibly still being trapped in collapsed buildings. He said search efforts were slow because of the fragility of rubble.
'It has to be done very carefully," he said. And "time is against us.'
Mariana Morales, a 26-year-old nutritionist, was one many who spontaneously participated in rescue efforts.
She wore a paper face mask and her hands were still dusty from having joined a rescue brigade to clear rubble from a building that fell in a cloud of dust before her eyes, about 15 minutes after the quake.
Morales said she was in a taxi when the quake struck, and she out and sat on a sidewalk to try to recover from the scare. Then, just a few yards away, the three-story building collapsed.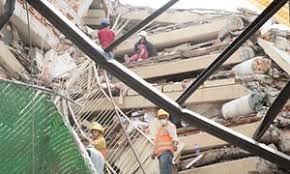 Gala Dluzhynska was taking a class with 11 other women on the second floor of a building on the trendy Alvaro Obregon street when the quake struck and window and ceiling panels fell as the building began to tear apart.
She said she fell in the stairs and people began to walk over her, before someone finally pulled her up.
"There were no stairs anymore. There were rocks," she said.
They reached the bottom only to find it barred. A security guard finally came and unlocked it.
Much of Mexico City is built on former lakebed, the soil of which can amplify the effects of earthquakes centered hundreds of miles away.
I host the Church of Mabus radio show and it is going on 8 years. I've been in the paranormal community for 20 years. I provide content from a network of sources and guests and allies. Ranging from Politics to the Paranormal and the Spiritual. You can check out my other articles here at my BIOGRAPHY at BIN and you can check out my free radio show at this link HERE. Thanks for showing your support and stopping by!
We encourage you to Share our Reports, Analyses, Breaking News and Videos. Simply Click your Favorite Social Media Button and Share.