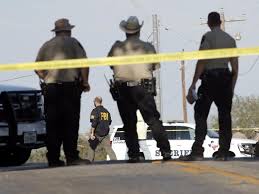 It ought to be clear by now that the Texas church massacre in Sutherland Springs, Texas was yet another false flag attack on innocent Christians right in the heart of Trump country.
As for who perpetrated such a cowardly and despicable act, and why they carried out the black operation on Sunday, this exposé explains the overall scheme
Satanic ritual sacrifice
All of these fastidiously engineered mass murders are actually conducted as highly organized satanic ritual sacrifices.
The specific location, the time, the sacrificial lambs are all carefully chosen for reasons that are well beyond the scope of this article.
False Flag Operation
Just because this massacre was executed a false flag operation does not mean that it was a hoax. The false flag component only means that the attack is being blamed, as usual, on a former military patsy who was psychologically controlled to kill.
In this case the media reports have identified the gunman, who died after the rampage as usual, as follows:
Police identified the gunman only as a "young, white male" but US media named him as Devin Patrick Kelley, 26.

Kelley is reported to have been discharged from the US air force in 2014 following a court martial for assaulting his wife and child.
The motive for the killings is not yet clear.
(Source: Sutherland Springs: Men chased Texas church shooting suspect)
The suspect perfectly fits the pattern of the many other lone gunman over the years who are often singled out and trained during their military service for such CIA-directed black operations.
Conclusion
False flag operations in the form or mass shootings and bombings are purposefully designed to terrorize the citizenry. With each successive violent attack the American people are becoming more and more vulnerable to giving up their constitutional gun rights.
By conducting these false flag attacks on venues that are located in places that have never seen such violence, the message of the real perps is clear. No one is safe anymore, no matter where they live, work and play.
This premeditated strategy of tension is very similar to Operation Gladio which was run all over Europe for decades by NATO (sometimes known as the North Atlantic Terrorist Organization).
Operation Gladio has also been carried out throughout the USA for decades, except that very few were aware of it. It's high time for every American patriot to get with the program, before the nation passes the point of no return. via StateOfTheNation
Let's discuss, among many other current exposures showing the dismantling and fall of the Globalist Satanic Network, the latest CIA/Soros/Clinton funded False Flag Psyop that is the Church Shooting at the First Baptist Church in Sutherland Springs, Texas—and recognize for what it is: a CIA psyop to create Civil War after failing in their past attempts by using their Antifa scum stooges as bait.
Let's look primarily at how the pyramid of power in the hierarchical structure of the evil globalist NWO empire is being destroyed in a transversal and symmetric fashion from all sides as whistleblowers and victims come forward and the alternative media continue to expose the truth from the bottom up.
Local government officials are placed in office ahead of false flag events by the numbers by the Kabbalist gang of liars running our country and the mainstream media. Watch this video to see how it's done. See my work on Hurricane Harvey and the Las Vegas shooting to see the same thing in action.
What is the reason? Gun control? Seems to keep going hand in hand with it to me. Let us know what you think in the comments and thanks for stopping by. Stay tuned for more breaking news!
I host the Church of Mabus radio show and it is going on 8 years. I've been in the paranormal community for 20 years. I provide content from a network of sources and guests and allies. Ranging from Politics to the Paranormal and the Spiritual. You can check out my other articles here at my BIOGRAPHY at BIN and you can check out my free radio show at this link HERE. Thanks for showing your support and stopping by.
We encourage you to Share our Reports, Analyses, Breaking News and Videos. Simply Click your Favorite Social Media Button and Share.