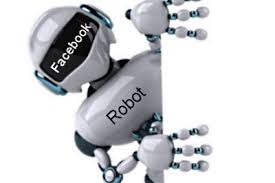 Facebook plans to use artificial intelligence to fight terrorism and suicide. By locating posts thru A.I. that can report the posts and call authorities. Which is fine and dandy and helpful. But also there seems to be talk of more A.I. and retina scanning to log unto Facebook etc. What is next? Facebook is going to chip us with a barcode to scan for the mark of the best? Down on internet highway 666 the devil is well and loving it down by the crossroads.
From Reuters
Facebook will expand its pattern recognition software to other countries after successful tests in the U.S. to detect users with suicidal intent, the world's largest social media network said on Monday.
Facebook began testing the software in the United States in March, when the company started scanning the text of Facebook posts and comments for phrases that could be signals of an impending suicide.
Facebook has not disclosed many technical details of the program, but the company said its software searches for certain phrases that could be clues, such as the questions "Are you ok?" and "Can I help?"
If the software detects a potential suicide, it alerts a team of Facebook workers who specialize in handling such reports. The system suggests resources to the user or to friends of the person such as a telephone help line. Facebook workers sometimes call local authorities to intervene.
From USAToday
Facebook says it's able to remove 99% of Islamic State and Al Qaeda terrorist content before it's flagged by users thanks to advances in artificial intelligence that are helping stop the spread of terrorist content.
Once Facebook is aware of the terrorist content, it removes 83% of it within an hour of it being uploaded, the company said Tuesday.
My question is this if they are using it for all the above. Then what is next? Anti-Government posts? People speaking out against the corrupt? Tagged. This is probably already happening on many levels than we could possibly imagine. Facebook is already making weird robot androids with this type of tech. Check out the videos below.
I host the Church of Mabus radio show and it is going on 8 years. I've been in the paranormal community for 20 years. I provide content from a network of sources and guests and allies. Ranging from Politics to the Paranormal and the Spiritual. You can check out my other articles here at my BIOGRAPHY at BIN and you can check out my free radio show at this link HERE. Thanks for showing your support and stopping by.
We encourage you to Share our Reports, Analyses, Breaking News and Videos. Simply Click your Favorite Social Media Button and Share.