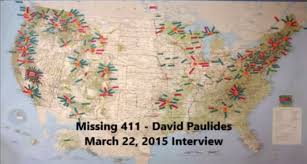 Missing-411 is the first comprehensive research about people who have disappeared in the wilds of North America. It's understood that people routinely get lost and some want to disappear, but this story is about the unusual. Nobody has ever studied the archives for similarities, traits and geographical clusters of missing people, until now.
A tip from a national park ranger led to this 4+ years and a 9000 hour investigative effort into understanding the stories behind people who have vanished. The book chronicles children, adults and the elderly who disappeared, sometimes in the presence of friends and relatives. As Search and Rescue personnel exhaust leads and places to search, relatives start to believe kidnappings and abductions have occurred. The belief by the relatives is not an isolated occurrence; it replicates itself time after time, case after case across North America.
The research depicts 28 clusters of missing people across the continent, something that has never been exposed and was a shocking find to researchers. Topography does play a part into the age of the victims and certain clusters have specific age and sex consistency that is baffling. This is not a phenomenon that has been occurring in just the last few decades, clusters of missing people have been identified as far back as the 1800's.
The manuscript for the research was extremely large so the story was split between two books, Missing 411 Western United States and Canada and Missing 411 Eastern United States. The Eastern version will be released in late March and will include a list of all missing people in each edition and a concluding chapter that draws both books together for conclusions.
Some of the issues that are discussed in each edition:
• The National Park Service attitude toward missing people
• How specific factors in certain cases replicate themselves in different clusters
• Exposing cases involving missing children that aren't on any national database
• Unusual behavior by bloodhounds/canines involved in the search process
• How storms, berries, swamps, briar patches, boulder fields and victim disabilities played part in helping the missing.
I host the Church of Mabus radio show and it is going on 8 years. I've been in the paranormal community for 20 years. I provide content from a network of sources and guests and allies. Ranging from Politics to the Paranormal and the Spiritual. You can check out my other articles here at my BIOGRAPHY at BIN and you can check out my free radio show at this link HERE. Thanks for showing your support and stopping by.
We encourage you to Share our Reports, Analyses, Breaking News and Videos. Simply Click your Favorite Social Media Button and Share.