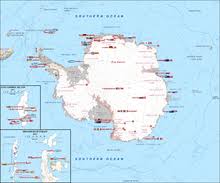 Antarctica's Dirty Nuclear Secret, Reactor Malfunctions 438 Times In 9 Years
According to Leak Project this is why Antarctica. Also included a Ted Talk on WW3. Either way it appears hell is coming.
For the first time in decades, it's hard to ignore the threat of nuclear war. But as long as you're far from the blast, you're safe, right? Wrong. In this sobering talk, atmospheric scientist Brian Toon explains how even a small nuclear war could destroy all life on earth — and what we can do to prevent it.
A professor in the Department of Atmospheric and Oceanic Sciences at the University of Colorado-Boulder, Brian Toon investigates the causes of the ozone hole, how volcanic eruptions alter the climate, how ancient Mars had flowing rivers, and the environmental impacts of nuclear war.
He contributed to the U.N.'s Nobel Peace Prize for climate change and holds numerous scientific awards, including two NASA medals for Exceptional Scientific Achievement. He is an avid woodworker. This talk was given at a TEDx event using the TED conference format but independently organized by a local community.
Antarctica, the southernmost continent and site of the South Pole, is a virtually uninhabited, ice-covered landmass. Most cruises to the continent visit the Antarctic Peninsula, which stretches toward South America. It's known for the Lemaire Channel and Paradise Harbor, striking, iceberg-flanked passageways, and Port Lockroy, a former British research station turned museum. The peninsula's isolated terrain also shelters rich wildlife, including many penguins.
I host the Church of Mabus radio show and it is going on 8 years. I've been in the paranormal community for 20 years. I provide content from a network of sources and guests and allies. Ranging from Politics to the Paranormal and the Spiritual. You can check out my other articles here at my BIOGRAPHY at BIN and you can check out my free radio show at this link HERE. Thanks for showing your support and stopping by.
We encourage you to Share our Reports, Analyses, Breaking News and Videos. Simply Click your Favorite Social Media Button and Share.