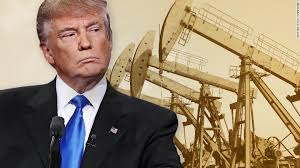 If Gulf countries do not increase oil outputs to cover the shortfall left by Iran, America may not defend them, US President Donald Trump has warned in a tweet.
America wants to cut Iran's oil exports to zero by November. Should it succeed and Tehran's two million barrels a day be taken off the market, the cost of oil is likely to soar and cause a major headache for Trump domestically; the American public are known to be hostile to anything that increases the cost of filling up their cars.
Trump's plan is to get the Gulf countries to commit to increase output by over two million barrels per day to offset falling supplies elsewhere. Saudi Arabia agrees with Trump on the importance of keeping prices down but has not committed to increasing output sufficiently. Riyadh has the spare capacity to help meet any additional demand in the market, but has stopped short of saying it will immediately start adding the full two million barrels per day.
Trump, however, seems impatient and wants Gulf allies to play ball. Taking time out from US Independence Day celebrations, Trump sent a strongly worded message to the heads of the Organisation of the Petroleum Exporting Countries (OPEC) in a tweet.
"The OPEC Monopoly must remember that gas prices are up & they are doing little to help," he wrote. Irritated by what he feels is a lack of cooperation from the Saudis who head OPEC, added: "If anything, they are driving prices higher as the United States defends many of their members for very little $'s. This must be a two way street. REDUCE PRICING NOW!"
Weather this threat would cower the Saudi's into doing something they have so far been reluctant to do is yet to be seen. According to the Financial Times, traders and analysts have said that adding the full two million barrels per day requested by Trump would stretch the Kingdom to its limit and leave global spare capacity close to zero, with little buffer should there be further supply outages.
The situation has put Saudi in a precarious position and it's probably one which the Kingdom has not foreseen having pushed the US to take such a hard line against the Iranians. Trump seems to want to have his cake and eat it; he wants to cut Iran's oil export to zero and keep the price of gasoline at a moderate level. Analysts however say that he cannot have both; the White House can either drive Iran's oil exports to zero, or it can have moderate US gasoline prices, but it probably cannot have both.
The Saudi's meanwhile have said they could produce 12 million barrels per day if necessary but it would require at least six months, with additional drilling and investment required. With the Kingdom's constant fudging there will remain an awkward tension between the administration's foreign policy priority (tough Iran sanctions) and its electoral calculation (to keep gasoline prices low).
I host the Church of Mabus radio show and it is going on 8 years. I've been in the paranormal community for 20 years. I provide content from a network of sources and guests and allies. Ranging from Politics to the Paranormal and the Spiritual. You can check out my other articles here at my BIOGRAPHY at BIN and you can check out my free radio show at this link HERE. Thanks for showing your support and stopping by.
We encourage you to Share our Reports, Analyses, Breaking News and Videos. Simply Click your Favorite Social Media Button and Share.