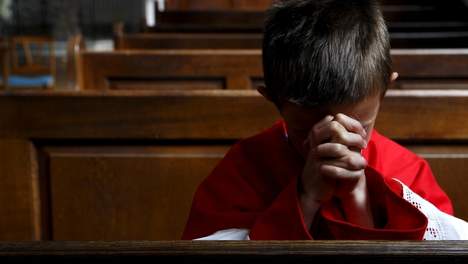 HE WAS RAPED BY THE PRIEST HIMSELF!
http://www.youtube.com/watch?v=6aq5i4VeqXw&feature=youtu.be
Gepubliceerd op 29 okt 2012 door Evangelische EindtijdSpace
OCT 28, 2012 FROM BERLIN THEY OFTEN DROVE TO ENSCHEDE TO SHOP, AND FOR THE FRIED FISH! AS A CHILD HENNY WAS RAPED BY A PRIEST! THIS IS NOT A REASON TO LET GO OF JESUS, ​​YESHUA, SAID THE LORD.
Please share and do not change © BC
Full view:
Hello! On October 28th, 2012, a messenger angel of God brought on the following message to Benjamin Cousijnsen.
Shalom, Benjamin Cousijnsen! I greet you in the mighty name of Yeshua HaMashiach, Jesus Christ.
I tell you about Henny from Germany, Benjamin.
His wife is called Mona, and they have three children. They often drove with their car from Berlin to Enschede to shop, and for the fried fish. Henny also bought fish to take home. And then they went into one store and out the other again. Henny had one child from a previous relationship and Mona had two children, as well as from a previous relationship.
Henny knew very well that he had formely gone to church as a child.
He was always a faithful helper and helped the priest to place the booklets on the chairs in the Catholic Church. Henny was eight years old. What happened in 1958 would change Henny's life, forever!
He was raped in the Catholic church by the priest himself, whom he quite liked.
I tell you, All the hidden things are being revealed to the Lord your God. Nothing is unknown to the Lord. He knows your thoughts, and He knows how your heart is.
Henny, listen once, and also you, who has experienced something similar.

Psalm 34, verse 15 and 16 The LORD's eyes are toward the righteous. His ears listen to their cry. The LORD's face is against those who do evil, To cut off the memory of them from the earth.
Psalm 34, verse 18 and 19 and20 The LORD is near to those who have a broken heart, And saves those who have a crushed spirit. Many are the afflictions of the righteous, But the LORD delivers him out of them all. He protects all of his bones. Not one of them is broken.
1 John 2, verse 16 and 17 For all that is in the world, the lust of the flesh, the lust of the eyes, and the pride of life, isn't the Father's, but is the world's. The world is passing away with its lusts, but he who does God's will remains forever.
1 John 2, verse 10 and 11 He who loves his brother remains in the light, and there is no occasion for stumbling in him. But he who hates his brother is in the darkness, and walks in the darkness, and doesn't know where he is going, because the darkness has blinded his eyes.
Matthew 6, verses 14 and 15 For if you forgive men their trespasses, your heavenly Father will also forgive you.But if you don't forgive men their trespasses, neither will your Father forgive your trespasses.
I tell you, This is no reason to let go of Yeshua HaMashiach, Jesus Christ!
Build up your soul in an evangelical church. This I say, the Lord. Do you want to be lost because of the past? Satan loves it! I do not! Repent and take the road of Yeshua HaMashiach. He saves you all!
Ruacha, Jeshu, Shalom!
Note: Full text display for the deaf, hearing impaired and speakers of other languages… Use like Google Translate and bookmark it.
Copyright: Dear people, spread this message without making changes!
ALERT! Obama will soon ensure that these messages are removed from the Internet, therefore print and burn it as soon as possible – Benjamin.
More videos, in English, Spanish and Dutch, go to:
http://www.youtube.com/user/eindtijdspace/videos
MORE: http://eindtijdnieuws.blogspot.nl/search/label/prophecyand http://eindtijdnieuws.blogspot.nl/p/prophecy-2012.html
We encourage you to Share our Reports, Analyses, Breaking News and Videos. Simply Click your Favorite Social Media Button and Share.