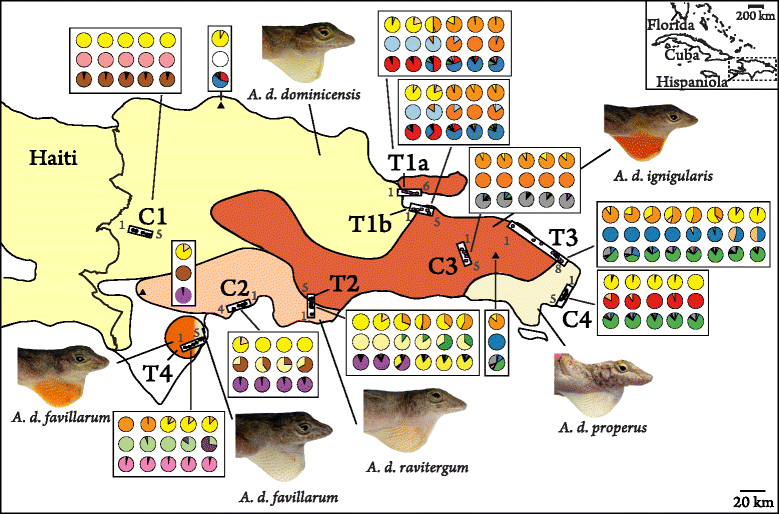 Figure 1 from Ng et al. 2016 showing the transect sampling spanning Anolis distichus populations differing in dewlap color (T1-4) as well as control transects (C1-4). Pie charts show dewlap color variation (top row), mitochondrial clade membership (middle row) and nuclear genetic cluster assignments (bottom row).
We sure love dewlaps here on Anole Annals! These flashy signals are incredibly diverse in size, color and pattern, and always make for a gorgeous image (e.g. 1, 2). Yet, we still have much to learn about why there is such a diversity of dewlaps and, furthermore, what are the consequences of such diversity? Previous work by Leal and Fleishman (2002, 2004) suggests that some of this dewlap diversity is due to adaptation for more efficient communication in different habitats. In a recent paper, we sought to identify whether the consequence of such adaptive trait divergence was speciation, or whether locally adapted dewlaps are maintained despite gene flow.
Anolis distichus shows remarkable geographic variation in dewlap color that predictably varies with habitat in a manner consistent with adaptation (Ng et al. 2013). This variation in color across Hispaniola gave us a great opportunity to conduct replicated analyses to identify whether adaptive differences in dewlap color consistently leads to the same genetic outcome.
We sampled populations in the Dominican Republic along five transects that transitioned from populations with orange dewlaps to those with cream or yellow dewlaps. For a comparison, we also sampled four 'control' transects where all populations shared a similar dewlap color. If dewlap differences are associated with speciation, we expected to see genetic differentiation between populations at either ends of the transect as this would suggest some level of reproductive isolation. Otherwise, transects showing no evidence of genetic structure would suggest that individuals are freely mating regardless of dewlap color.
Looking at the genetic structure of both nuclear and mitochondrial DNA along each transect, we found that geographic variation in dewlap color is associated with both speciation and gene flow. Three transects showed distinct genetic structure consistent with speciation, with one in particular only showing evidence of hybrids at one site which was a mere 0.89-1.55km away from other sampled sites. On the other hand, the other two transects did not look much different to the control transects, suggesting ongoing gene flow regardless of phenotypic differences.
Considering all transects together, I think there are two main take-aways from our results. First, finding evidence of gene flow across a sharp geographic shift in dewlap color must mean that strong selection is maintaining geographic variation in dewlap color; perhaps due to adaptation to different habitat types. Second, it appears that dewlap divergence does not necessarily lead to speciation. More work, however, is needed along these lines to understand whether the dewlaps we are characterizing as different are actually different from an anole's perspective or in particular light environments (e.g. 1).
Source:
http://www.anoleannals.org/2016/10/26/the-genetic-consequences-of-adaptive-dewlap-divergence/
We encourage you to Share our Reports, Analyses, Breaking News and Videos. Simply Click your Favorite Social Media Button and Share.