Lead author, Kirsten Tyler, reports on her recent Journal of Herpetology paper with K. Winchell and L. Revell:
Urbanization creates drastic changes to habitats leading to differences in microclimate, perch characteristics and distribution, and ecological communities (competitors, prey, and predators) when compared to natural (forest) habitats. Studies have found increased rates of mortality of many urban species due to generalist urban-tolerant predators such as raccoons, feral cats, and domestic animals (Ditchkoff 2006). Anolis lizards are able to voluntarily drop their tails ("autotomize") when challenged by a predator, enabling their escape in many instances. The maimed lizards are able to regenerate their lost tails, though the replacement tail is a rod of cartilage and not the original bony vertebrae. The regenerated tail portions are often a different color and texture, and the lack of vertebrae / cartilage rod are clearly visible in X-rays.
We hypothesized that autotomy rates would be more similar between urban areas in different municipalities than to natural areas in the same municipality due to similar predator regimes in urban sites across the island. We compared the frequency and pattern (number of caudal vertebrae remaining) of caudal autotomy of A. cristatellus between urban and natural areas in Puerto Rico.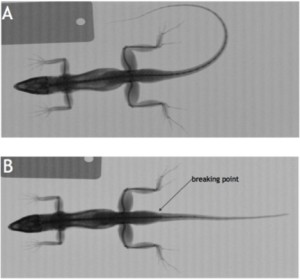 X-rays of our samples with an intact tail (A) and an autotomized tail (B).
We sampled A. cristatellus from paired natural and urban sites in four Puerto Rican municipalities: San Juan, Mayagüez, Ponce, and Arecibo. The natural sites were high quality natural forests and the urban sites were high-density residential areas. Urban sites were dominated by asphalt and other impervious surfaces, had sparse tree cover, and a large fraction of potential perches were manmade surfaces such as walls and fences. We scored 967 X-rays from these eight sites for caudal autotomy and counted the number of remaining tail vertebrae. We tested for an effect of urbanization on caudal autotomy by fitting a logistic regression model with municipality (San Juan, Mayagüez, Ponce, Arecibo) and site type (urban, natural), and their interactions, as model factors, and body size as a covariate.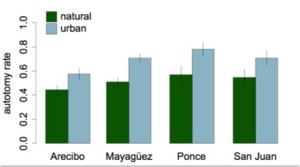 Our data shows that lizards found in urban sites have a larger probability of having autotomized tails.
Interestingly, we found higher rates of autotomy in all urban populations compared to nearby natural areas. Differences in autotomy might be explained by differences in predator density and efficiency (Bateman 2011). For example, inefficient predators (those that more often than not fail to capture their prey) tend to leave behind more lizards with broken and regenerated tails (Schoener 1979). In addition, a greater abundance of predators could result in more predation attempts. Unfortunately, we did not collect data on predator abundances or community composition, so we cannot distinguish between these (non-mutually exclusive) explanations. Higher rates of autotomy in urban areas could thus reflect any of a variety of factors, including (but not restricted to) inefficient predators in urban areas, a shortage of refuges offering protection from predators, or an increase in predator density.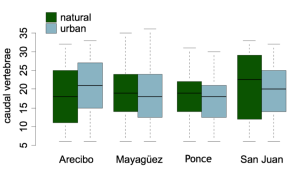 For lizards with autotomized tails, we found no significant difference in caudal vertebrae number between urban and natural sites.
Lastly, we did not find that lizards with autotomized tails in urban areas had lost more (or less) of their original tail to caudal autotomy. Since regenerated tails cannot be autotomized past the original break point (i.e. cartilage cannot autotomize), this suggests that lizards in urban areas are no more likely to be subject to multiple unsuccessful predation attempts (resulting in caudal autotomy) than lizards in natural forest. Future investigation quantifying predation attempts or predator community composition in urban and forest habitats could help us better understand the source of this intriguing pattern.
R. Kirsten Tyler, Kristin M. Winchell, and Liam J. Revell (2016) Tails of the City: Caudal Autotomy in the Tropical Lizard, Anolis cristatellus, in Urban and Natural Areas of Puerto Rico. Journal of Herpetology: September 2016, Vol. 50, No. 3, pp. 435-441.
References:
BATEMAN, P. W., AND P. A. FLEMING. 2011. Frequency of tail loss reflects variation in predation levels, predator efficiency, and the behaviour of three populations of brown anoles. Biological Journal of the Linnean Society 103:648–656.
DITCHKOFF, S. T. 2006. Animal behavior in urban ecosystems: modifica- tions due to human-induced stress. Urban Ecosystems 9:5–12.
SCHOENER, T. W. 1979. Inferring the properties of predation and other injury-producing agents from injury frequencies. Ecology 60:1110–1115.
Source:
http://www.anoleannals.org/2016/11/17/tails-of-the-city-caudal-autotomy-of-anolis-cristatellus-in-urban-and-natural-environments/
We encourage you to Share our Reports, Analyses, Breaking News and Videos. Simply Click your Favorite Social Media Button and Share.