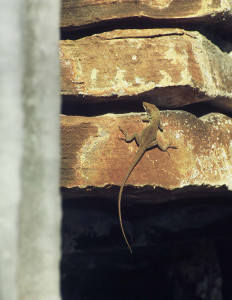 Anolis carolinensis basking mid-winter in the Great Smoky Mountains National Park. Note the icicle in the left foreground. Photo by Sandy Echternacht from The Reptiles of Tennessee (UT Press 2013), and used with permission of the photographer and publisher.
Having recently moved to North Carolina, I am naturally inclined to get out and look for anoles. The state encompasses portions of the northern extent of the green anole (Anolis carolinensis) along the eastern seaboard, and a number of researchers are interested in both the evolutionary history of green anoles (Tollis et al. 2012, Campbell-Staton et al. 2012, Tollis and Boissinot 2014; Manthey et al. 2016) as well as, in particular, their ability to adapt to highly season regions (Jaffe et al. 2016). For a subtropical lizard to survive in areas that regularly see snow and ice is potentially an important study in regional adaptation. Indeed, this dramatic photograph below illustrates that anoles and icicles can coexist in both space and time.
This comes from work done by Sandy Echternacht and David Bishop at the University of Tennessee Knoxville. These researchers have shown that the green anoles in the Great Smoky Mountains National Park (yes, they occur there!) exist mostly on south-facing rocky slopes, and that they do not hibernate during the colder months. Instead, they will often bask on the rock faces when the sun shines directly on the rock (even when ambient temperatures are near freezing). During warmer months, the lizards move from overwintering sites into the forest, often along rivers (Bishop and Echternacht 2003, 2004). South of the Park, this species can be found in abundance along the banks of larger rivers.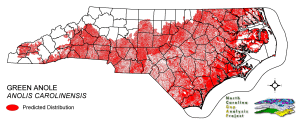 North Carolina GAP Analysis Project
In North Carolina, green anoles range up the Atlantic coast to Virginia, but have a more jagged latitudinal distribution moving west across the state. Known records (Palmer and Braswell 1995) decline in latitude as one approaches the city of Charlotte from the east, tapering to just barely north of the South Carolina border. Then, some curious incursions and apparently disjunct populations are recorded from west of the I-77 corridor (what generally constitutes Western North Carolina).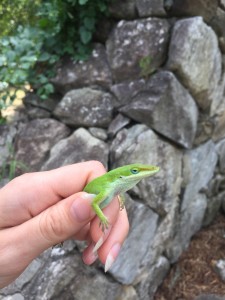 Anolis carolinensis from Chimney Rock, NC.
With one season under the belt, so to speak, my Herpetology class at the University of North Carolina Asheville and I have found what we think might be the closest population of green anoles to Asheville, North Carolina. This population occurs in a steep valley near Chimney Rock, North Carolina. Interestingly, they have access to steep south-facing rocky slopes above the valley. I thought I would poll the group and see if anyone has any hot tips on anole populations in the east Tennessee/Western North Carolina region. We are considering making this a Herpetology class project in the future- to map out the anole populations in this part of the state to see if they are in fact disjunct and whether any additional populations can be found. We will keep AA posted.
Source:
http://www.anoleannals.org/2016/11/11/western-north-carolina-green-anoles/
We encourage you to Share our Reports, Analyses, Breaking News and Videos. Simply Click your Favorite Social Media Button and Share.