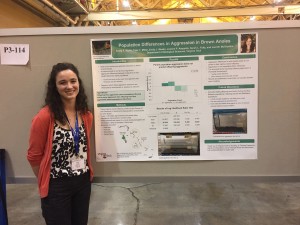 Emily Watts with her poster in NOLA at SICB 2017.
Great new aggression work from the McGlothlin lab! Emily Watts, an undergraduate student, presented a poster on Saturday about differences in aggression between island populations of A. sagrei.
Previously, the McGlothlin lab quantified aggression of brown anoles from Eleuthera, Exuma, North Andros, and San Salvador in the Bahamas. They found that individuals from Exuma and North Andros were more aggressive than from Eleuthra and San Salvador. Emily wanted to know if these population-level differences were a result of genetics or of the environment.
To test this, she bred lizards from Eleuthra and Exuma in the lab using a full cross design and raised the offspring in a common garden environment. When the males were one year old, Emily used enclosure trials to quantify aggression for each individual. The results were not what she expected. She found that aggression was independent from where a lizard's parent came from, but was instead influenced by the environment.
Next, Emily will be testing offspring from the North Andros – San Salvador crosses they also performed. Additionally, because aggression was not repeatable for individuals, Emily will be testing each male again against a mirror to quantify individual aggression independent of partner aggression.
Thanks for sharing, Emily! We look forward to next year's presentation.
Source:
http://www.anoleannals.org/2017/01/08/sicb-2017-aggression-in-brown-anoles-from-the-bahamas-is-environmental-not-genetic/
We encourage you to Share our Reports, Analyses, Breaking News and Videos. Simply Click your Favorite Social Media Button and Share.