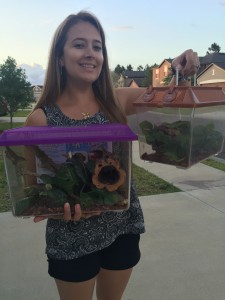 Photo courtesy of Catalina Mantilla
This post was written by Brittney Ivanov, research technician in Michele Johnson's lab at Trinity University.
Catalina Mantilla, a Ph.D. candidate at Florida International University working with Tonia Hsieh of Temple University, is interested in how anoles use their toepads and claws when they run. For most animals, movement on vertical perches such as tree trunks or buildings usually requires specialized morphologies to adhere to these substrates. While many species have evolved adaptations for moving through complex arboreal habits (e.g., prehensile tails or feet, sticky pads, spines), anoles evolved enlarged toepads and distinct claws, presumably to allow for better adhesion. The morphologies of these specialized structures can greatly impact performance; for example, greater toepad area is associated with greater clinging ability. Catalina wanted to better understand how toepads and claws work together to enhance running performance.
Catalina collected 17 males from four Anolis species (A. carolinensis, A. sagrei, A. cristatellus, and A. distichus). Each male was tested in four different running courses to test performance at difference inclines and on different substrates. Two of the courses were positioned at a 45° incline and two at a flat (0°) incline. Plexiglass covered one course at each incline to allow the use of toepads and eliminate the use of claws. Nylon mesh covered the other course at each incline to test the use of both toepads and claws. Performance was evaluated using mean relative sprint speed, relative stride length, and stride frequency.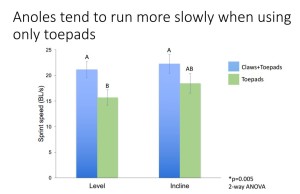 Catalina found, unexpectedly, that when the lizards ran on the level plexiglass they ran slower, took shorter strides, and increased their stride frequency, than when they ran on the inclines. These results suggest that anoles are less stable when they can't use their claws! In the future, Catalina hopes to increase the number of species in this study to determine the effect of ecomorph on claw and toepad interactions during running, and evaluate limb function changes when running across different inclines.
Source:
http://www.anoleannals.org/2017/01/13/sicb-2017-are-anoles-less-stable-when-running-without-using-claws/
We encourage you to Share our Reports, Analyses, Breaking News and Videos. Simply Click your Favorite Social Media Button and Share.