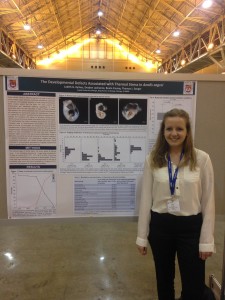 Judy Kyrkos presenting her poster at SICB
Anole biologists are focusing more and more on thermal ecology and the adaptations associated with heat stress in adult lizards, but what happens when an egg experiences heat stress? Judy Kyrkos, a senior undergraduate in Thom Sanger's lab at Loyola University, Chicago, presented a fantastic study addressing this question in Thursday's poster session.
Judy and Thom conducted two experiments to determine the effects of thermal stress on embryonic development in Anolis sagrei. In the first, they incubated 533 eggs at one of five temperatures (ranging from 27-39°C) for 12 days. As predicted, they found that eggs at higher temperatures – and particularly those over 33°C – experienced lower survival and a higher rate of developmental abnormalities, most of which occurred in facial and brain development. In the second experiment, they heat-shocked 60 eggs at 39°C for one hour on the day they were laid, and then incubated them at 27°C until hatching. 50 of those 60 eggs exhibited abnormal morphologies. Further, overall growth of embryos in heat-stressed eggs was also reduced. Comparing embryos at developmental stage 9-10, lizards incubated at 36°C had smaller SVLs than those heat-shocked in the second experiment, which were in turn smaller than the lizards incubated at 27°C. Altogether, these are a lot of challenges for a vulnerable embryo, and Judy's results suggest that the rising temperatures anticipated as a function of climate change may affect anoles more dramatically than we've yet recognized.
Source:
http://www.anoleannals.org/2017/01/07/sicb-2017-how-to-make-a-lizard-with-two-heads-or-thermal-stress-on-eggs-produces-embryonic-abnormalities/
We encourage you to Share our Reports, Analyses, Breaking News and Videos. Simply Click your Favorite Social Media Button and Share.