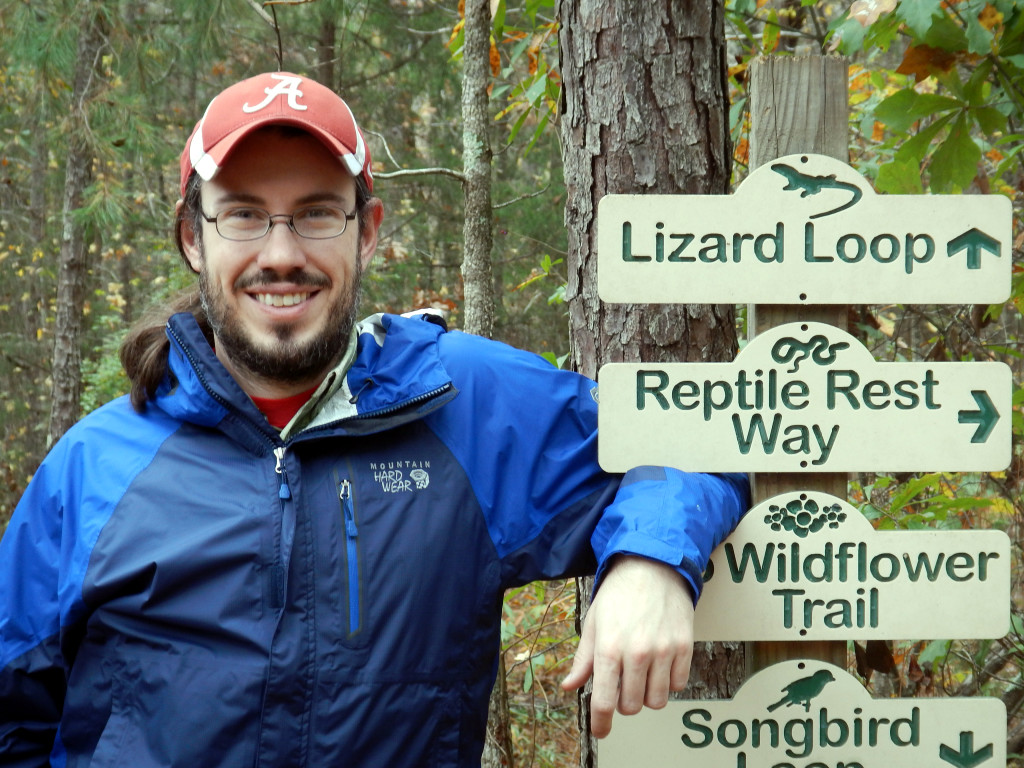 Chris Thawley at a crossroads.
Urban environments are widespread and expanding across much of the earth, and this urbanization likely affects the flora and fauna in its path. Anoles are no exception and are frequently observed perching on anthropogenic structures. Thus, Chris Thawley, a post-doc in Jason Kolbe's lab at the University of Rhode Island, and colleagues wondered how the abiotic and biotic changes in urban areas influence anole traits.
Thawley compared populations in urban and natural habitats of two species that we're quite familiar with on Anole Annals – the Brown Anole (Anolis sagrei) and the Puerto Rican Crested Anole (Anolis cristatellus). Thawley found that A. sagrei prefers warmer temperatures than A. cristatellus, but that urban anoles do not differ in thermal preference than natural anoles for either species. Alternatively, urban male A. cristatellus and both sexes of urban A. sagrei were larger than their natural counterparts. As for parasites, A. sagrei had a higher parasite prevalence than A. cristatellus, but urban anoles did not differ from natural anoles in either species in parasite prevalence. However, for the A. sagrei that were parasitized, urban A. sagrei had higher parasite loads than natural A. sagrei.
These findings show that urbanization can influence anole morphology and parasite ecology. Thawley has just begun this work, and I look forward to seeing his future research on anole adaptation to urban environments!
Source:
http://www.anoleannals.org/2017/01/11/sicb-2017-impacts-of-urbanization-on-morphology-thermal-preference-and-parasitism/
We encourage you to Share our Reports, Analyses, Breaking News and Videos. Simply Click your Favorite Social Media Button and Share.