Story Views


Now:
Last Hour:
Last 24 Hours:
Total:
SICB 2017: Thermal Ecology and Invasion Biology: Anolis cristatellus Invades Dominica
Tuesday, January 10, 2017 21:22
% of readers think this story is Fact. Add your two cents.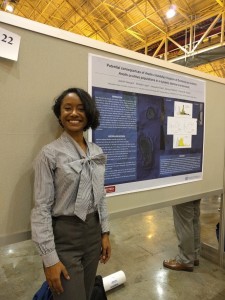 Jeanel Georges with her poster at SICB.
The beautiful island of Dominica used to be home to only one anole (Anolis oculatus), but about 20 years ago, the Puerto Rican crested anole (Anolis cristatellus) showed up. Jeanel Georges, a graduate student in Matt Watson's lab at Midwestern State University in Wichita Falls, Texas who is originally from Dominica, noticed that while A. oculatus occurs in all the ecological zones of the island, A. cristatellus is absent from the cooler, wetter uplands. With an international group of collaborators, Jeanel examined the thermal habitat use, sprint speed, and bite force of both species to determine what may limit the spread of A. cristatellus across the island.
At a lowland site where the two species co-occur, both species had higher body temperatures that the operative temperatures randomly available in the environment. In the much cooler upland site, A. oculatus had much higher body temperatures than the operative models, but these body temperatures were cooler than that species experiences in the lowland site. Jeanel also found that the two species had stronger bite forces and higher sprint speeds in the lowland site than A. oculatus had in the upland site. These data suggest that A. cristatellus and A. oculatus are partitioning the thermal environment of Dominica, and as climate change alters the temperatures available to lizards on the island, the interactions between these two species may change.
Source:
http://www.anoleannals.org/2017/01/10/sicb-2017-thermal-ecology-and-invasion-biology-anolis-cristatellus-invades-dominica/