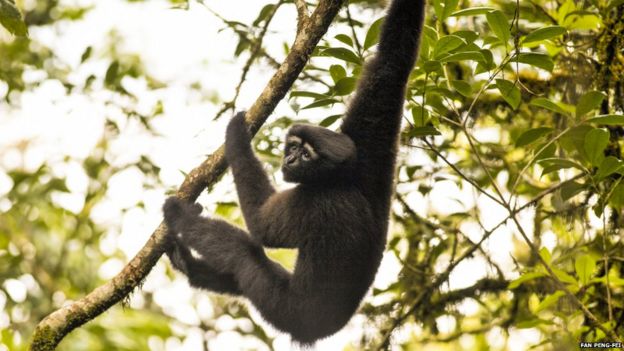 Image credit: Fan Peng-Fei
Researchers have uncovered a new species of gibbon living in the rainforests of Southwest China, according to a report published in the American Journal of Primatology.
Although researchers had been investigating the primate for quite a while, a recent study showed it truly is a distinct species.
In a tribute to the Star Wars films, the new gibbon has been named the Skywalker hoolock gibbon. The name is also a nod to the fact the Chinese characters of its scientific name, Hoolock tianxing, which means "Heaven's movement."
"In this area, so many species have declined or gone extinct because of habitat loss, hunting, and general human overpopulation," study author Sam Turvey, from the Zoological Society of London, told BBC News. "So it's an absolute privilege to see something as special and as rare as a gibbon in a canopy in a Chinese rainforest, and especially when it turns out that the gibbons are actually a new species previously unrecognized by science."
Studying a New Species
Researchers said they first thought the gibbons they were investigating in China's Gaoligongshan nature preserve might be distinct due to basic contrasts in the common white facial markings. Gibbons are well known for their loud singing, which they use to tag their territory, and the songs of these particular gibbons sounded unique, to the team of researchers.
A complete genetic and anatomical comparison with other gibbons validated that they had discovered a new species.
The researchers said around 200 Skywalker gibbons reside in China and also most likely in adjoining Myanmar, the study team said. They suggested the species should be categorized as endangered. Habitat reduction and fragmentation of populations is making the gibbons susceptible to extinction.
In the Gaoligongshan preserve where the gibbons were found, researchers had to make their way up to elevations of more than 8,200 feet to locate suitable habitat as "everywhere below there has been logged," Turvey said.
In 2013, it was reported that many small dams on the Nu River, located in the same province as the Skywalker gibbons, could significantly threaten the surrounding environment. One particularly detrimental impact of the small dams is their diversion of significant river water to hydropower stations that leaves several miles of river bed dewatered.
—–
The post 'Star Wars gibbon' unveiled as a new primate species appeared first on Redorbit.
redOrbit.com
offers Science, Space, Technology, Health news, videos, images and reference information. For the latest science news, space news, technology news, health news visit redOrbit.com frequently. Learn something new every day."
Source:
http://www.redorbit.com/news/science/1113417080/star-wars-gibbon-unveiled-as-a-new-primate-species/
We encourage you to Share our Reports, Analyses, Breaking News and Videos. Simply Click your Favorite Social Media Button and Share.