Sperm of Anolis sagrei. Picture by Ariel Kahrl.
Caribbean anoles are making their way to Florida in all sorts of ways. Swimming across the sea is not one of them; however, once they arrive, some consistent and interesting patterns begin to emerge for something that swims inside them.
Sperm morphology can vary widely among individuals and between species, and this variation can be due to both intrinsic (genetic) and environmental factors. Large genetic variation in a trait means that the raw materials for evolution are abundant, and populations can diverge over space and time in relatively few generations. Much of this variation, however, could also be the result phenotypic plasticity since the environment that males experience during their lifetime can impact the shape and size of their sperm. Although previous studies have documented how sperm morphology can differ among populations, no studies have determined how introduction into novel habitats might influence this morphology.
Novel environments can influence traits through adaptive evolution, plastic responses to new conditions, or through random changes in gene frequencies (genetic drift and/or founder effects). Random changes in gene frequencies are likely to occur when populations expand into a new range because the founding population tends to be small and thus the gene pool is limited. By studying independent evolutionary trajectories (e.g. multiple species, or independent populations of the same species), we can rule out random changes in gene frequencies if the patterns we find are consistent among groups. As usual, anoles make excellent models for this work.
Ariel Kahrl and Bob Cox examined testis size and sperm morphology (head length, midpiece length, and tail length) for three species of Caribbean anoles (A. cristatellus, A. distichus, and A. sagrei) in their native ranges (Puerto Rico, Dominican Republic, Bahamas, respectively) as well as in Florida where each species is naturalized.
Although the results differed among species for some measures of sperm morphology, they found a few consistent patterns: sperm from introduced anoles had shorter tails and longer midpieces than those collected from native congeners (Figure 1). Furthermore, introduced populations had smaller testes than those from the native range.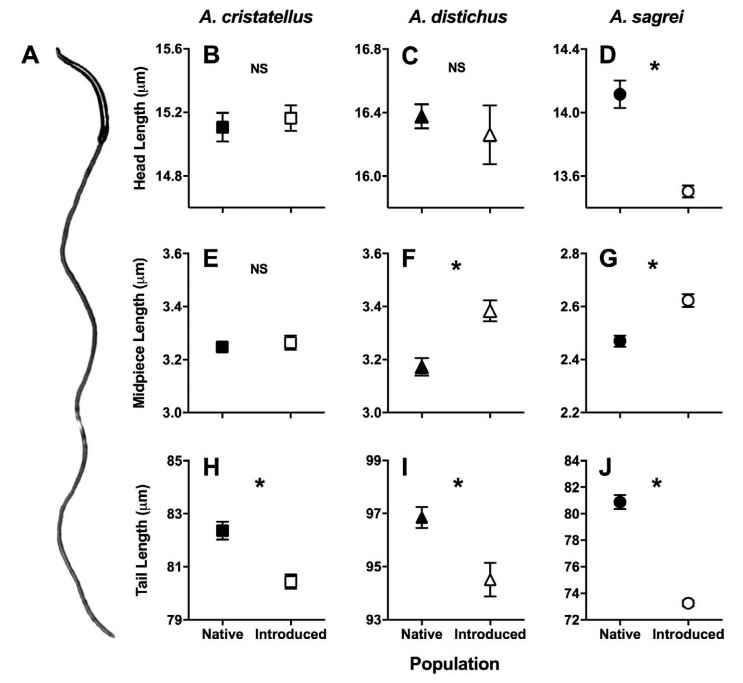 Figure 1. Anolis spermatozoa (A). Population means +/- SE calculated from individual mean values (across 15 cells per male) for length of the sperm head, midpiece, and tail in native (black symbols) and introduced (white symbols) populations of three species of Anolis lizards. Significant differences between populations (P < 0.05) were determined using Tukey's HSD test and are noted with an asterisk.
There are two main reasons that differences in sperm morphology between native and introduced populations are probably not the result of random genetic shifts. First, the size of the midpiece and tail correlate with swimming speed in sperm. The midpiece of the sperm is the housing unit for the mitochondria which powers the cell as it moves, and the length of the tail can directly influence the speed at which the sperm swims (longer tail = greater speed). Because the observed changes in morphology likely impact function, adaptive evolution may be the source of these population differences. Second, the observed differences between the native and introduced populations are fairly consistent among species. Were these changes due to genetic drift or founder effects, it is unlikely that all three species would demonstrate similar changes in morphology. This pattern is more indicative of convergent evolution or phenotypic plasticity because the south Florida environment may generate similar plastic responses in all three species.
What is left to be determined are the proximate causes of these changes in sperm morphology. The observed changes could be due to the process of introduction per se, or they could be caused by unique features of the south Florida environment. Conveniently, many anole species have been introduced to new areas on multiple, independent occasions. Adding more species from other introductions (e.g. green anoles in Hawaii; brown anoles in California or Taiwan) would provide further insight.
Kahrl, A.F. and Cox, R.M., 2017. Consistent Differences in Sperm Morphology and Testis Size between Native and Introduced Populations of Three Anolis Lizard Species. Journal of Herpetology, 51(4), pp.532-537. http://www.bioone.org/doi/abs/10.1670/16-184
Source:
http://www.anoleannals.org/2018/02/09/swimming-across-the-ocean-sperm-morphology-differs-between-native-and-introduced-anoles/
We encourage you to Share our Reports, Analyses, Breaking News and Videos. Simply Click your Favorite Social Media Button and Share.