As written in previous articles, it is my firm conviction that we will be involved in a World War that will be initiated by an Electromagnetic Pulse (EMP) weapon detonated over the continental United States.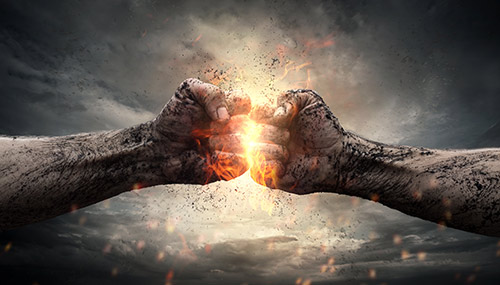 That being said, this piece summarizes recent events that reinforce such a conclusion, a conviction that is shared by world leaders, senior military personnel, and prominent analysts, as well as being a general consensus of opinion worldwide. As of this writing, the German government has instructed its citizens to prepare for a forthcoming disaster by stockpiling at least 10 days-worth of food and 5 days of water. In Berlin, they are considering bringing back mandatory conscription (a draft) in view of the influx of Muslim aliens entering Europe.
This concern is mirrored by Hungary and the Czech Republic who, in light of an influx of more than a million Muslims entering Europe are calling for an army in Europe representing the EU to be able to deal with this crisis affecting their borders.
"We must give priority to security, so let's start setting up a joint European army."

Hungarian Prime Minister Viktor Orban
Such words are not being spoken only in Europe. In the United States, Obama recently gave a speech in June as an ominous, veiled warning of things to come for Americans to be "prepared for a disaster." He also stressed that all Americans are responsible for disaster preparation by "having an evacuation plan," as well as "having a fully-stocked disaster supply kit." SHTFplan.com just released a report that revealed the DHS has ordered approximately $20 million of radiation detection equipment.
As most readers are aware, North Korea successfully test-launched an SLBM (Submarine-Launched Ballistic Missile) on August 24th that traveled approximately 300 miles. Identified by the DOD as a KN-11 missile, the test launch confirms that it is feasible to strike the United States from a submarine launch off the West Coast, as the Chinese probably tested with the missile plume detected off of the California coastline in 2009. With miniaturization of nuclear warhead capability, believed by Dr. Peter Vincent Pry to have already been obtained, the North Koreans do have the ability to launch an EMP strike against the United States.
The North Korean statements as reported by KCNA news agency pertaining to their test are as follows:
"A test-fire of strategic submarine-launched ballistic missile was successfully conducted under the guidance of [North Korean leader Kim Jong Un, and he] appreciated the test-fire as the greatest success and victory…. The SLBM [Submarine-launched ballistic missile] test-fire was successfully carried out without any adverse impact on neighboring countries."
The news agency quoted Kim Jong Un as saying the following:
"The US vicious nuclear threat and blackmail against the DPRK only resulted in bolstering up its nuclear attack capability hour by hour and the US mainland and the operational theatre in the Pacific are now within the striking range of the KPA, no matter how hard the US tries to deny it."
The actions of the North Koreans have been preceded by the deployment of the THAD anti-missile system in South Korea and the Sea of Japan, as well as the recent redeployment of nuclear-armed B-52 bomber aircraft by the U.S. to the island of Guam. In addition, a total of 75,000 U.S. and South Korean troops have been engaged in military exercises in South Korea that have infuriated the North Koreans. The exercises began shortly before the North Korean missile test.
A Sputnik News report says that Russian TU-22M3 long-range Backfire bomber aircraft will now be armed with the new Russian Kh-32 cruise missile. The capabilities of this missile are astounding: it can fly at speeds of up to 600 mph to an altitude of almost 25 miles, and when it reaches the proximity of its target, fly downward at a speed of almost 3,000 mph with a total range of almost 600 miles.
We already know that the Russians have been constructing bunkers for their citizens numbering in the thousands since at least 2012 in and around Moscow and throughout Russia.
This report deserves continuous monitoring, especially in light of last week's military maneuvers and movements conducted by Russia's infantry and airborne forces, as well as their naval assets and air force in and around the borders of the Baltic nations, primarily Latvia, Lithuania, and Estonia, as well as Ukraine and Poland. Recent reliefs of command (and/or purges) of several senior members of the Kremlin and the Russian military suggest (as can be read in detail in other articles) that Prime Minister Vladimir Putin may be clearing out any of his advisors that may oppose future military operations in Europe.
To increase tensions further, it has been reported that on Wednesday, August 24th, Turkish military forces have invaded Syria. The offensive has been comprised of Turkish armored units, special forces teams, and aircraft supported by "coalition" aircraft of the U.S. The purported objective was to dislodge ISIS from proximity to the Turkish border and to stem advances made by Kurdish militia. The actions were strongly condemned by the Foreign Ministry of Syria who also stated that Syria's borders and national sovereignty have been violated.
This proposes a major dilemma that escalates by the day, as the Turks are backed by NATO and the U.S., and the Syrians are backed by Russia. Sputnik News also reported another disturbing piece of information regarding this situation:
"Lt. Gen. Stephen Townsend, recently-appointed US Commander of American Forces in Iraq and Syria has told reporters that the coalition forces have officially informed Moscow and Damascus of possible countermeasures should the US forces 'feel threatened' by Syrian forces."
This is alarming, as the U.S. has been playing an indirect cat-and-mouse game with Russia since the Russian bombing campaign to aid Assad's government commenced and closed, with a subsequent withdrawal of most of the Russian units. Most. There is still a sizable contingent of Russian forces based in Syria in support of the Damascus government and the ability to deploy forces rapidly into the area by Russia at a moment's notice exists without question.
So there we have it. The overall situation: the world's economies are cascading, there is civil unrest throughout Europe, civil unrest is developing in the United States, the U.S. government and the nations' governments are preparing for disaster and war, and powder-kegs exist in Syria, Ukraine, and with North Korea that can be touched off at any time. As everyone watches these developing scenarios, keep in mind that time is of the essence for preparing yourselves and your families. Possibly…and probably…we don't have much time between now and the U.S. election, an event that may or may not occur in light of a world on the edge of a precipice, and World War III.
History has shown us many times that it can all fly away in a split of a second.The biggest misstep that you can take now is to think that this can never happen in America or to you!Call me old fashioned; I don't care…but I completely believe in America and what our ancestors stood for.They all had a part in turning this land into one of the most powerful countries in the world.Many died and suffered before a creative mind found an ingenious solution to maybe a century old problem. Believe it or not, our ancestors skills are all covered in American blood. This is why these must be fought for, protected, and handed on for them to do the same for our children and our children's children.Our ancestors laid the bricks and built the world's strongest foundation…that we are about to -irreversibly forget! I don't want to see our forefathers' knowledge disappear into the darkness of time…and if you care for your family…and what America stands for…then neither should you! Watch the video below and learn more:
If you found this article useful, please like our Facebook page and stay up to date with the latest articles.
http://www.bioprepper.com/2016/09/07/green-beret-warns-world-governments-preparing-war/
CHECK OUR survival and prepping solutions
What to read next:
B.O.B. MISTAKES THAT CAN GET YOU KILLED
17 PANTRY STAPLES THAT CAN LAST JUST ABOUT FOREVER
A RETURN TO THE OLD PATHS: HOW TO MAKE PEMMICAN LIKE THE NATIVE AMERICANS
20 LOST RECIPES FROM THE PIONEERS: WHAT THEY COOKED IN THEIR JOURNEY WESTWARD
SEVEN CLASSIC GREAT DEPRESSION ERA RECIPES GRANDMA USED TO MAKE
POTTED MEAT: A LOST SKILL OF LONG TERM MEAT STORAGE
BACK TO BASICS: HOW TO MAKE AND PRESERVE LARD
THE BEST WAY TO STOCKPILE VEGETABLES OFF-GRID
OLD FASHIONED PRESERVING-GRANDPA'S RECIPE FOR CURED SMOKED HAM
HOW TO MAKE GUNPOWDER THE OLD FASHIONED WAY
SURVIVAL HERBAL RECIPES FROM OUR ANCESTORS