As the daylight hours become shorter and the cold and wet of Winter takes over the garden, having more than stark architectural shapes to show against the grey days of snow and rain are a must for any garden.
Consider some of the broadleaf, evergreen rhododendron with their dark green, leathery foliage throughout the year. Come springtime, the bushes will be covered in flowers, attracting bees and hummingbirds. Displays are most effective when rhododendron bushes are massed together.
The Catawba rhododendron variety (Rhododendron catawbiense) comes with white, lavender rose or red flowers, requires acidic well-drained soil and prefers a shady location. Bushes can reach a height of 6-8 feet, with a spread of 4-6 feet. Listed for USDA planting zones 4-8, they are native to the southern part of the Appalachians ("Virginia through Georgia," according to the North Carolina State Extension).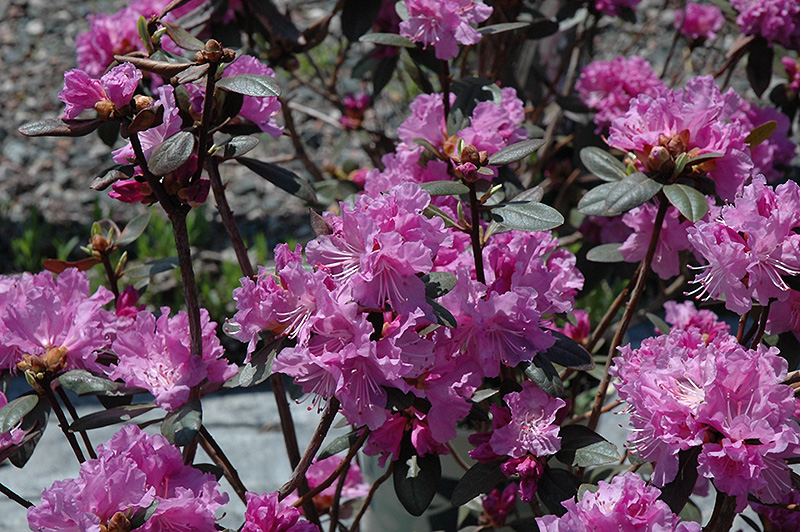 One of the toughest of the rhododendrons is P.J.M. rhododendron (Rhododendron x 'P.J.M.'), with flowers of white or a pinkish-lavender. The green leaves of this bush are evergreen, with the foliage turning to a mahogany color in winter and adding year-round interest to the landscape. Bushes can reach a height of 4 feet, with a spread of also 4 feet, and listed for USDA planting zones 4-8.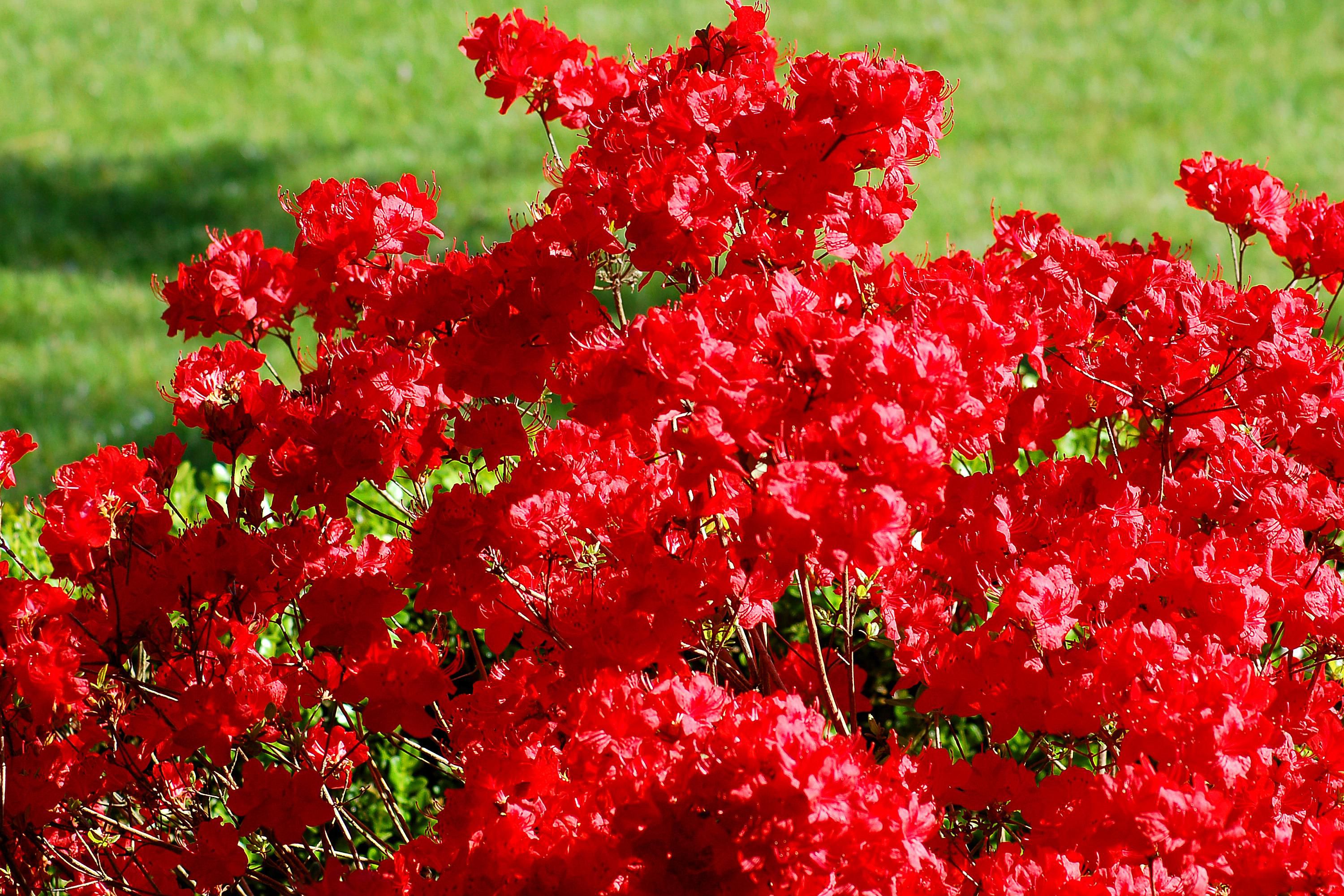 Another evergreen in the same genus is the Stewartstonian azalea (Rhododendron x Gable 'Stewartstonian'), with flowers of red. This is another bush whose green summer foliage yields to a mahogany color in winter. Bushes can reach a height of 5 feet, with a spread of also 5 feet, and listed for USDA planting zones 5-8. This evergreen azalea grows best in part shade and in acidic, well-drained soil.
The recommended planting time for balled-and-burlapped evergreen rhododendron and azalea plants is late fall or early spring. In either case, water well after planting the bushes, but do not apply fertilizer at the time of planting because new foliage and roots are not yet ready to handle the high salt content of fertilizer, and they can be damaged.
Be sure the surrounding shade trees also like acidic soil and are deep root, not shallow root like these evergreen bushes and in competition for resources. An often suggested shade tree is the red oak (Quercus rubra). This tree is a fast grower, eventually reaching a height of 60-75 feet, with a spread of 40-50 feet. The red color of its autumn leaves makes it a fine fall foliage plant for USDA zones 4-8. In addition, the red oak is a pollution-tolerant tree, perfect for urban and suburban landscaping.
After the bushes have settled in the planting location, the next step in caring for these bushes is fertilizing. Be very careful not to over-fertilize. There are standard fertilizers for use on rhododendrons and azaleas bushes, the mixes available from nurseries and other store garden departments. Be sure to cut in half the amount of fertilizer recommended in the instructions on the label. It is usually better to be conservative about applying fertilizer so that you do not risk burning your plants. A good time to fertilize evergreen rhododendrons and azaleas is immediately after the bushes have finished blooming.
Another essential care step is mulching. These shallow-rooted bushes need the protection which mulch gives against temperature extremes of heat and cold, and against their roots drying out. While they like well-drained soil, evergreen rhododendrons and azaleas do not like to be dry. So placing mulch at the roots will help retain moisture at their roots without leaving the bushes sitting in water for long periods and causing their roots to rot.
For long term health and growth of these evergreen rhododendrons and azaleas, pruning will need to be done annually. This action should occur immediately after the bushes finish blooming (often as early as June in USDA zone 5). Waiting later to prune these bushes risks interfering with their development of next year's buds. Begin by pruning off dead or injured branches, which could cause disease and insect problems in the future. Then prune back tall, gangling limbs shooting out of the top of the bushes to promote a more attractive, compact shape.
A proper routine for pruning azaleas and rhododendrons, along with all the other care tips offered above, will help these flowering evergreen rhododendrons and azaleas bushes provide your landscape with eye-opening hedges or specimen plants for years to come.
SOURCE: https://www.thespruce.com/varieties-of-azaleas-and-rhododendrons-2131197
Summer drought contributed to this PJM Rhododendron blooming in the fall. The red leaves are an indication the plant was stressed over the summer. PJM leaves will turn red when the plant gets dry and when temperatures drop near freezing.
We encourage you to Share our Reports, Analyses, Breaking News and Videos. Simply Click your Favorite Social Media Button and Share.