Spectacular Night Sky Show: Moon, Venus, Saturn and Mars After Sunset on Nov. 1-6
The night sky tonight and on any clear night offers an ever-changing display of fascinating objects you can see, from stars and constellations to bright planets, often the moon, and sometimes special events like meteor showers.
In early November, the waxing crescent moon sweeps past Venus and Saturn, then goes on to pass Mars.
In the next few evenings, look for the moon and the planets Venus and Saturn in the sky some 45 minutes (or less) after sunset.
Look for the moon to partner up with Mars on November 5 and 6.
EarthSky
http://earthsky.org/tonight
Clips, images credit: ESO, ESA/HUBBLE & NASA
Music credit: YouTube Audio Library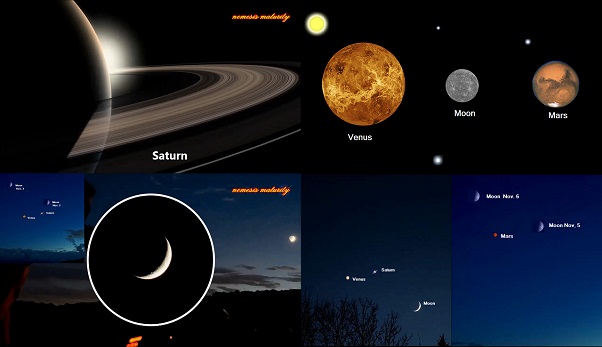 We encourage you to Share our Reports, Analyses, Breaking News and Videos. Simply Click your Favorite Social Media Button and Share.